If you're either considering or using Bluehost to host your WordPress website, then this blog is for you.
Bluehost is one of the leading hosting providers, but

Is it the best for your WordPress website?

Is it fast enough to load your website in less than 2 seconds?
What if there is a WordPress specific host that proves to be a better Bluehost alternative?
One that has WordPress optimized servers and provides even faster loading websites?
Well, that is exactly what we are going to see.

WebSpaceKit, a relatively new hosting provider, is proving to be the best Bluehost alternative in India.
To understand why we say WebSpaceKit is the Bluehost alternative, let's look at,
Bluehost
Bluehost is one of the most popular hosting providers, powering over 2 million websites worldwide. Founded in 2003, Bluehost has been providing hosting services for quite some years now.
They offer Shared, Dedicated and VPS hosting, along with two types of WordPress hosting, namely Shared hosting and Managed WordPress hosting. Apart from hosting, Bluehost also provides domains, Email and even marketing services.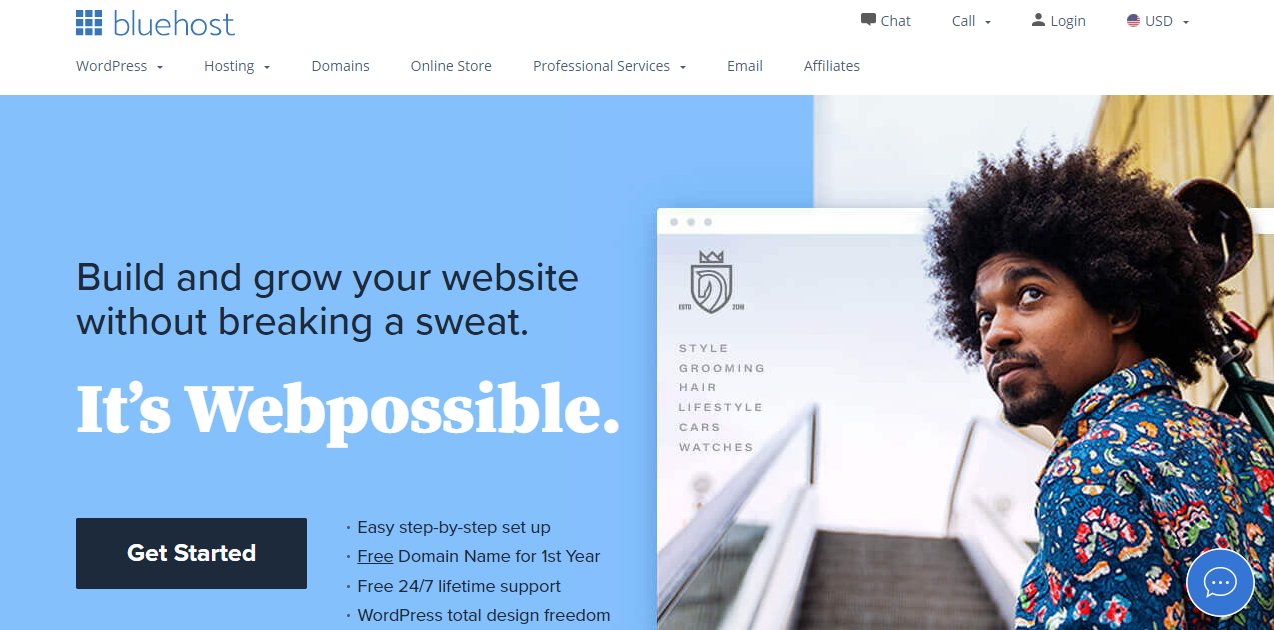 WebSpaceKit is a relatively new hosting provider that has been built specifically for WordPress websites. Known to be the fastest WordPress hosting provider in India, WebSpaceKit comes with four different WordPress hosting plans. With fast website loading times, WebSpaceKit is growing to become the favourite for websites with the most traffic from India.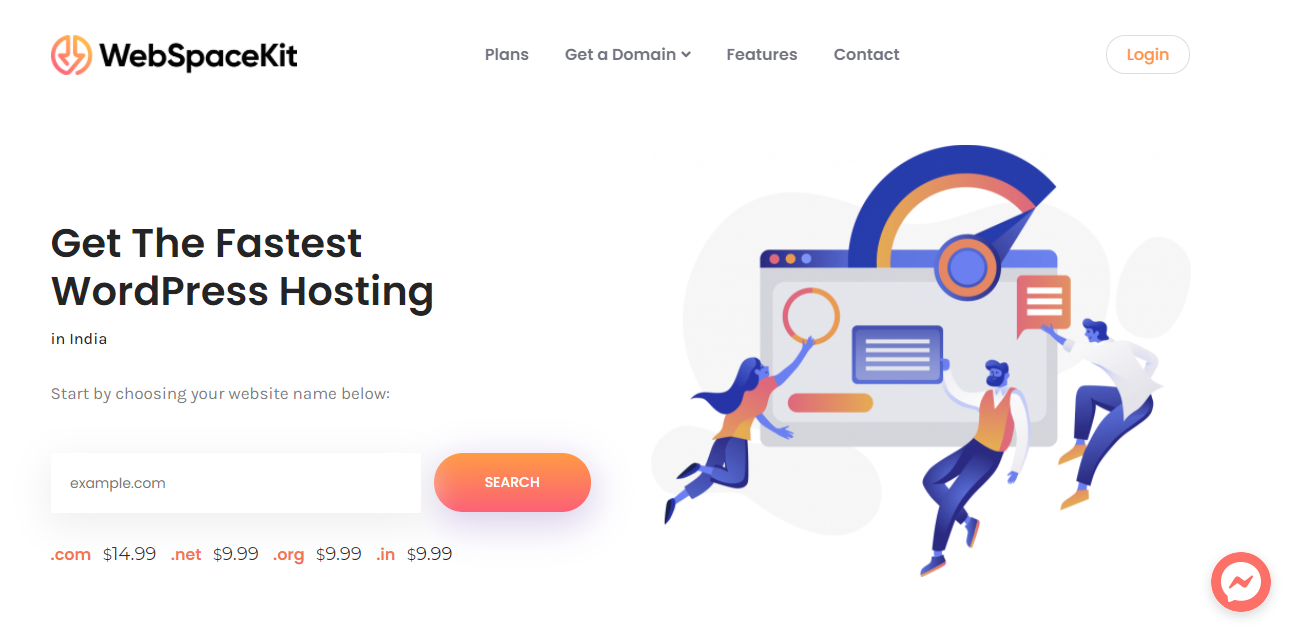 Pros and Cons
And that is the brief introduction of the two hosting providers. To learn whether WebSpaceKit is the best Bluehost alternative in India, let's look at the Pros and Cons and then go on to compare them.
Bluehost Pros
Bluehost Cons
WebSpaceKit Pros
WebSpaceKit Cons
Bluehost Pros
Different types of Hosting
Bluehost provides a wide variety of hosting plans that are suitable for everyone from an absolute beginner to a large enterprise. The normal web hosting in itself has several plans from shared, VPS to dedicated hosting.
When it comes to WordPress, Bluehost has two types of hosting, namely WordPress hosting and WP Pro. While WordPress hosting refers to shared hosting, WP Pro has plans that are Managed WordPress hosting. Equipped with these many plans, Bluehost is suitable for a variety of people, be it casual bloggers or entrepreneurs.

Officially recommended by WordPress
One of the reasons why Bluehost is extremely popular and widely used around the world is because it's one of the official WordPress recommended hosting providers. This official recommendation from WordPress itself gives credibility to Bluehost and makes more customers trust the hosting provider.
Bluehost Cons
Keeping aside the affordable pricing, Bluehost is quite infamous for its high renewal prices. This means that once the initial plan you signed up for is over, you can expect a steep increase in the renewal prices.
Say you sign up with a Choice Plus plan for ₹299/month. Once the introductory period is over, you will then be levied with the slashed price of ₹919/month.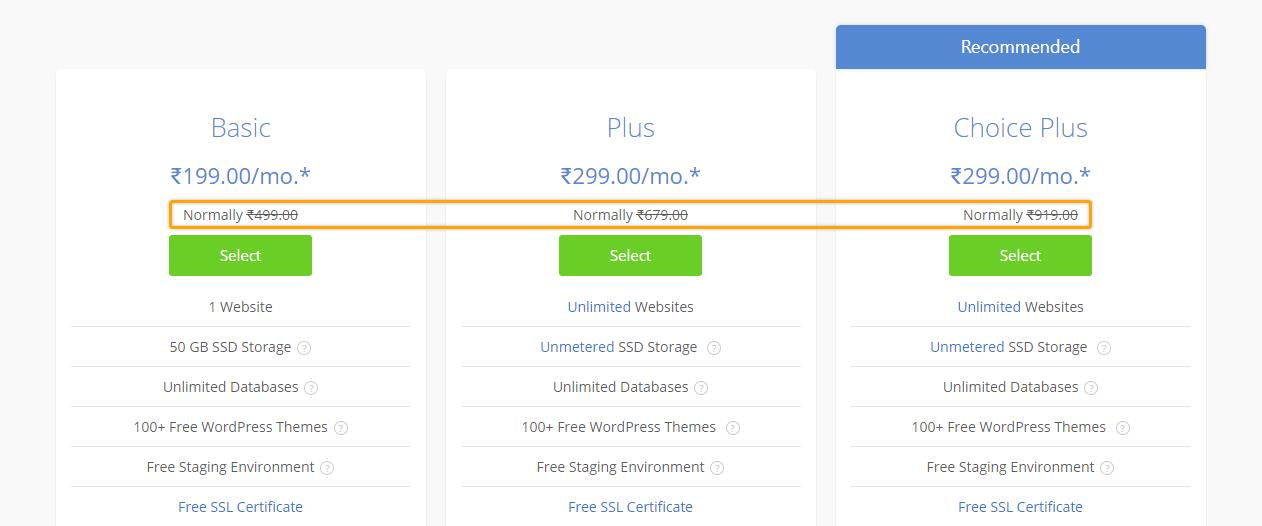 This surprise jump in renewal price stops most users from renewing the hosting plan for their website and makes them wonder if there is a better Bluehost alternative.

Website speed is yet another issue when it comes to Bluehost hosting. If your website visitors are mostly from India, Singapore, or anywhere in Asia, Bluehost takes a lot of time for your website to load because its servers are located mostly in the US.

WebSpaceKit Pros
WebSpaceKit is the fastest WordPress hosting in India. We're saying this because they have servers that are right next to website audiences in India. But how does it help to make your website faster? Let us explain.
When a visitor requests particular information on your website, the request is sent to the server (wherever it is located) and there it's processed and sent back. The time taken to complete this to-and-fro process decides the speed of your website's load time.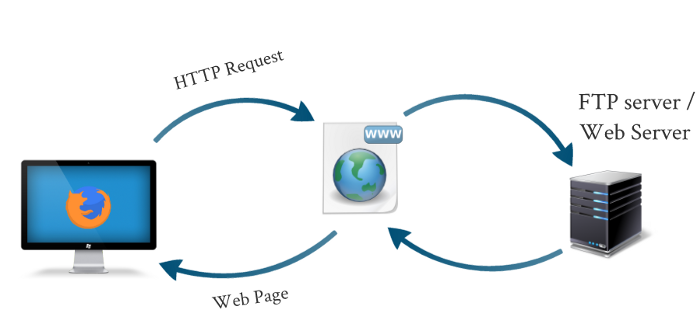 Unlike other hosting providers who mostly have their servers in the US, WebSpaceKit has strategically placed its servers in India and Singapore, thus increasing the speed of websites in India.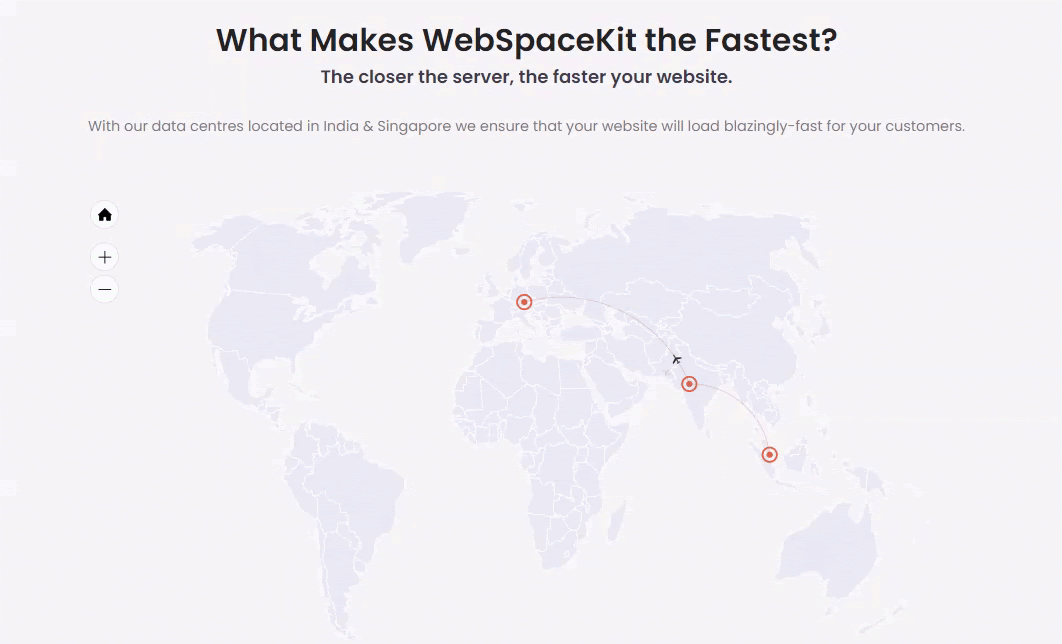 So, the closer the geographical location of the servers, the faster the websites will load. By well thought out location of their servers in India and Singapore, WebSpaceKit provides the fastest WordPress hosting in India and proves to be one of the best Bluehost alternatives.
No surprise renewal prices
Another reason why WebSpaceKit truly stands out as a Bluehost alternative is the same renewal prices they offer. They are known for the same renewal price as the signing up price and not for including any surprise jump in prices.
Most website owners are unaware of these sneaky renewal prices that come with hosting plans. WebSpaceKit doesn't take advantage of the situation and that is why they promise no surprise renewal prices. The price stays the same as what you opted for during signing up for your website.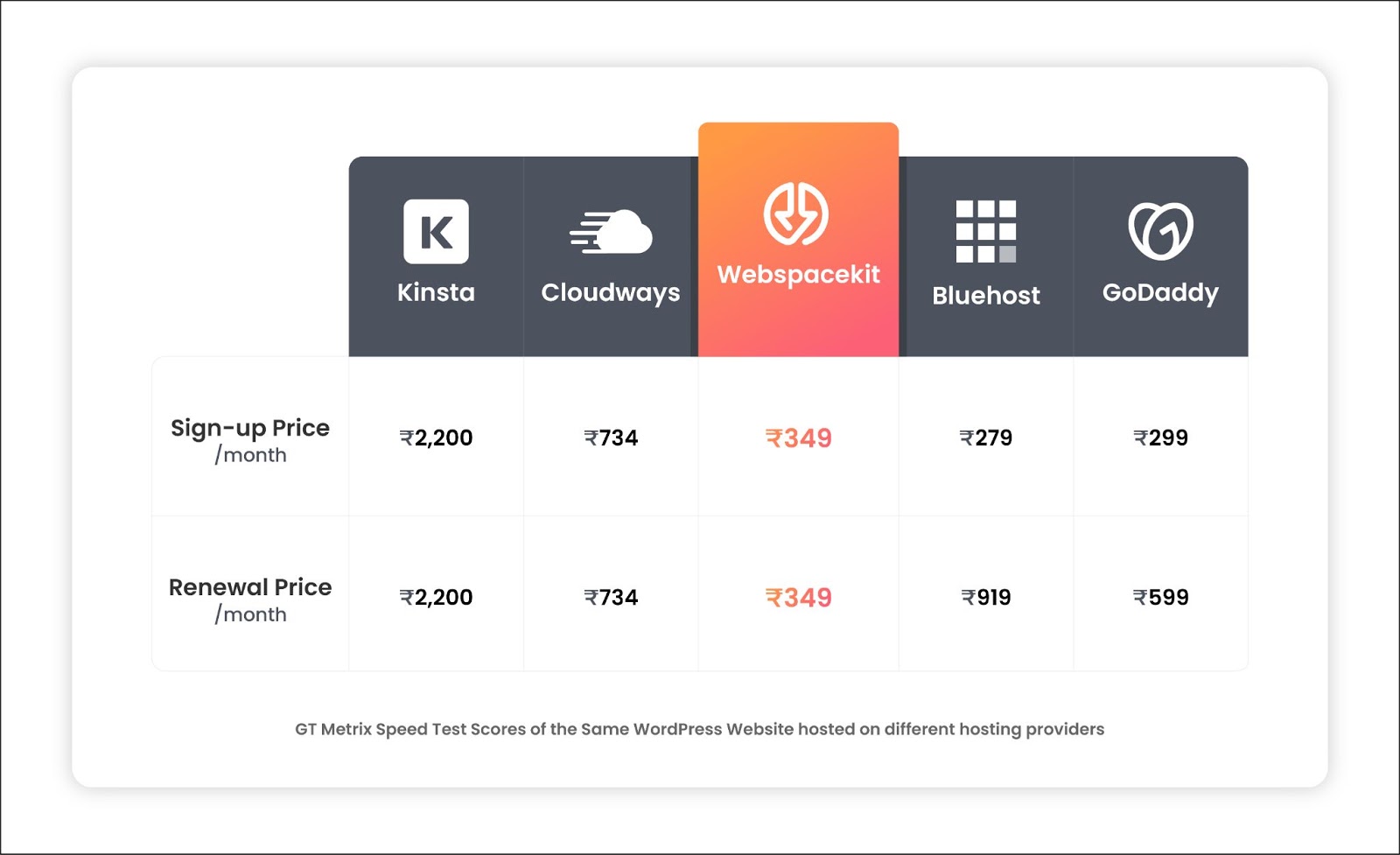 Beginner-friendly dashboard
WebSpaceKit, with its innovative dashboard, serves as a one-place stop for all the site management a website owner needs to do. It starts with some basic information like the hosting plan you are on, the active domain, and the amount of Data and Bandwidth usage on your website.
Apart from this, you can manage every single part of your account by making use of several sections like Email accounts, FTP accounts, Backups, and a WordPress manager, making it the ideal Bluehost alternative.
WebSpaceKit Cons
Limited websites and Storage
One thing about WebSpaceKit that's notably different from the other hosting providers is the limited number of WordPress websites and disk space you get with the hosting.
The sight of seeing '5 WordPress Install', or even '5GB Disk space' may seem different from the typical 'Unlimited websites' and 'Unlimited Storage' on Bluehost and other hosting providers.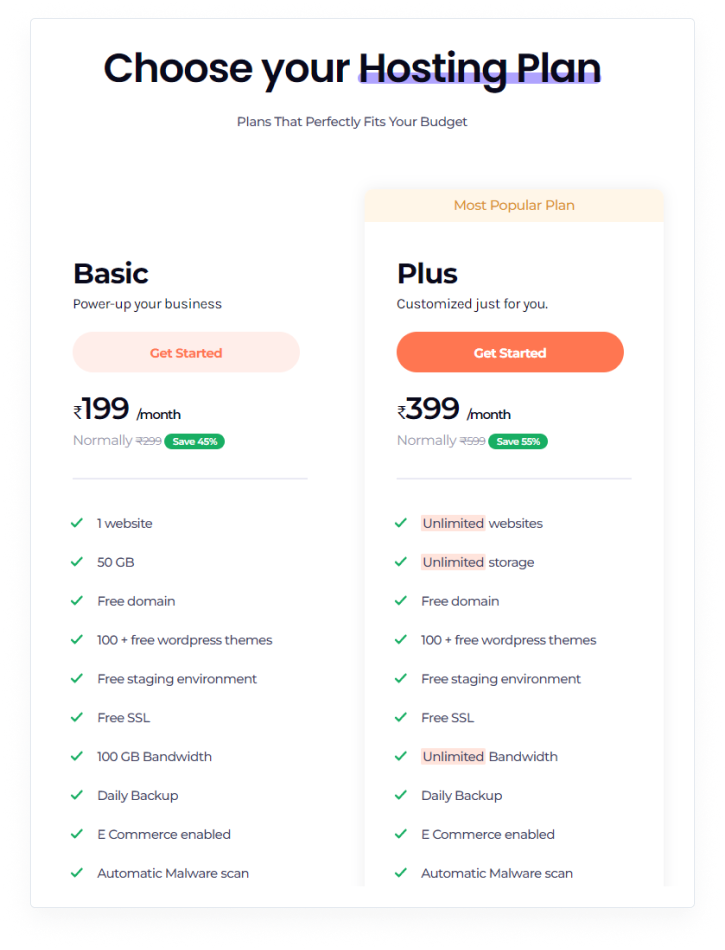 But, at the end of the day, these resources are unlimited only on paper. No hosting provider delivers unlimited disk space and they all have limitations mentioned in the terms and conditions, meaning there is no such thing called Unlimited hosting.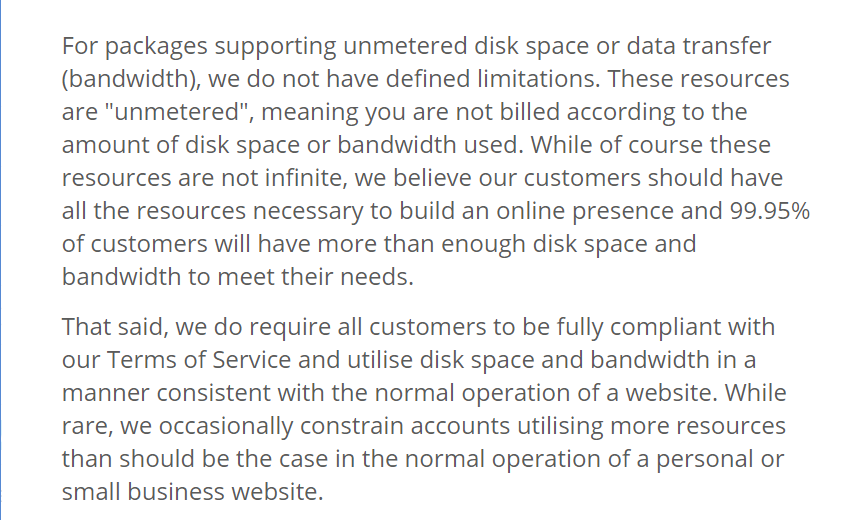 Bluehost vs WebSpaceKit
We now have a brief idea of Bluehost and WebSpaceKit along with their pros and cons. To check whether WebSpaceKit is really one of the best Bluehost alternatives for WordPress websites, let us compare them both on the most important factors,
Speed
We already saw how the geographical location of the server plays a role in the website load time. To learn more about that, let's imagine two different scenarios for a website visitor from India, one with the website's server in the USA, and the other with the server in India.
Considering the geographical locations, the website load time from the Indian server will be much faster than the one in the US. This means that, for an Indian website with the majority of its visitors from India, having a server in the US doesn't make much sense.
Bluehost primarily has its servers in the US and it does a pretty good job for the audience there. But when it comes to websites with visitors from in and around India, the response time obviously increases more than usual.
WebSpaceKit, as we discussed, has its servers in India and Singapore, thus making it the ideal option for websites that have the most traffic in India. The speed test report from GTmetrix further shows us how fast WebSpaceKit is, compared to the other hosting providers.
For the same basic WordPress site in India, Bluehost takes 4 seconds to load, whereas WebSpaceKit only takes 1.1 seconds.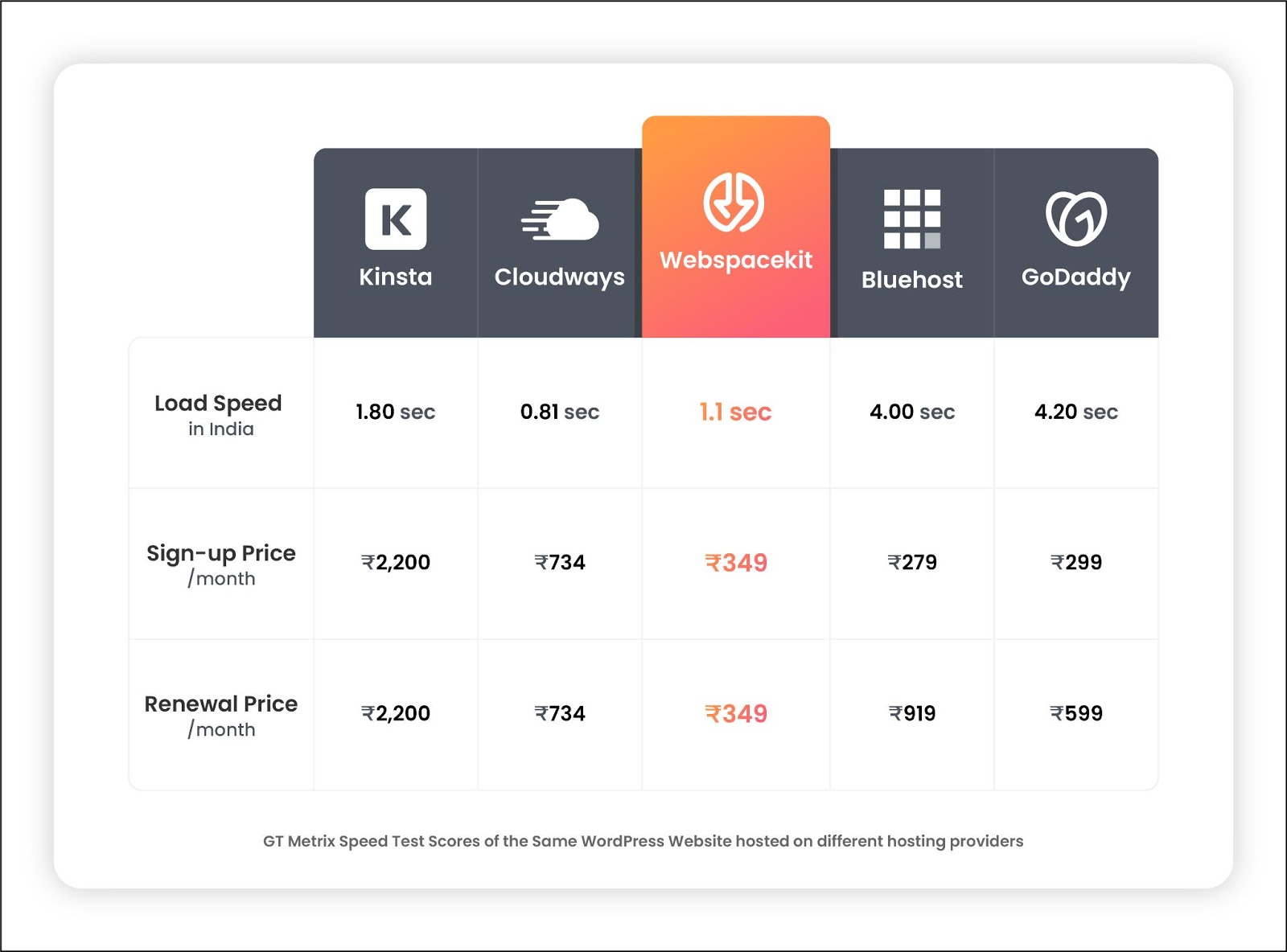 For a WordPress e-commerce website in India, Bluehost takes 3.6 seconds while WebSpaceKit takes only 1.5 seconds.
But you may ask,
What good will happen in improving your website's load time?
Well, a lot can happen!!
In fact, More than 40% of visitors will leave a website that takes more than 3 seconds to load.
So, faster page load times are often associated with better visitors' satisfaction. And obviously, the more satisfied your visitors are, the more conversions. So, faster load times will eventually result in more revenue for your website and business.
WebSpaceKit's speed is also attributed to the servers equipped with NVME SSDs that are 25x faster than the other hosting providers. With the website files stored on such cutting edge technology, your website will perform extremely well and this enhances your visitors' experience.
Verdict:
WebSpaceKit, known to be the fastest WordPress hosting in India, definitely has an upper hand when it comes to Speed. The strategically placed server locations help WebSpaceKit to make the dream of lightning-fast websites true.
Pricing
If there is one thing that makes or breaks the deal, it's the pricing of the hosting provider. Obviously, users want a hosting provider that provides maximum features at an affordable price.
To create a WordPress website, Shared WordPress hosting in Bluehost starts from ₹199/month for a Basic plan and goes on to ₹299/month for plans with Unlimited websites and Storage.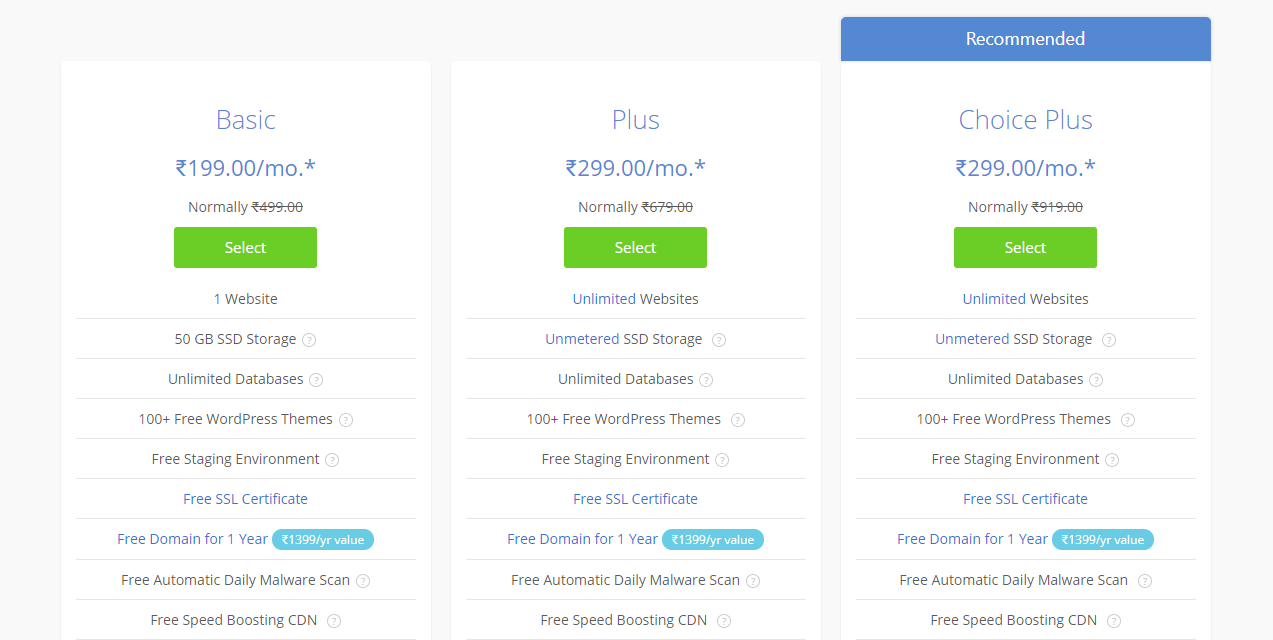 Bluehost also provides three different plans for Managed WordPress hosting. A basic website with managed WordPress hosting costs around ₹1259/month, and an advanced plan made for eCommerce websites costs around ₹3059/month.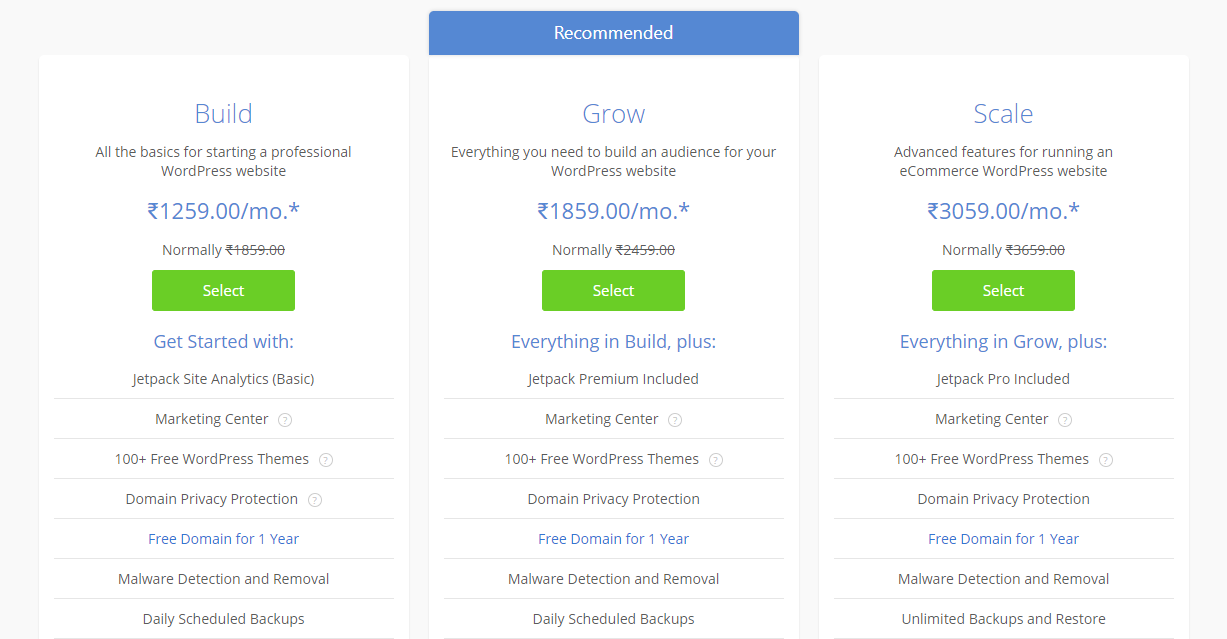 And be it Shared WordPress hosting, or Managed WordPress hosting, Bluehost provides a 30-day money-back guarantee for all the hosting costs.
WebSpaceKit comes with four different Managed WordPress hosting plans, namely Starter, Pro, Business, and Geek. The Starter plan is priced at only ₹199/month, ideal for the beginners like casual bloggers who are on a budget.
And rightly named, the Geek plan comes at ₹1,699/month with 50GB disk space, ideal for professionals and big enterprises. Also, the plans vary depending on the number of WordPress websites and how much disk space is allotted to a website.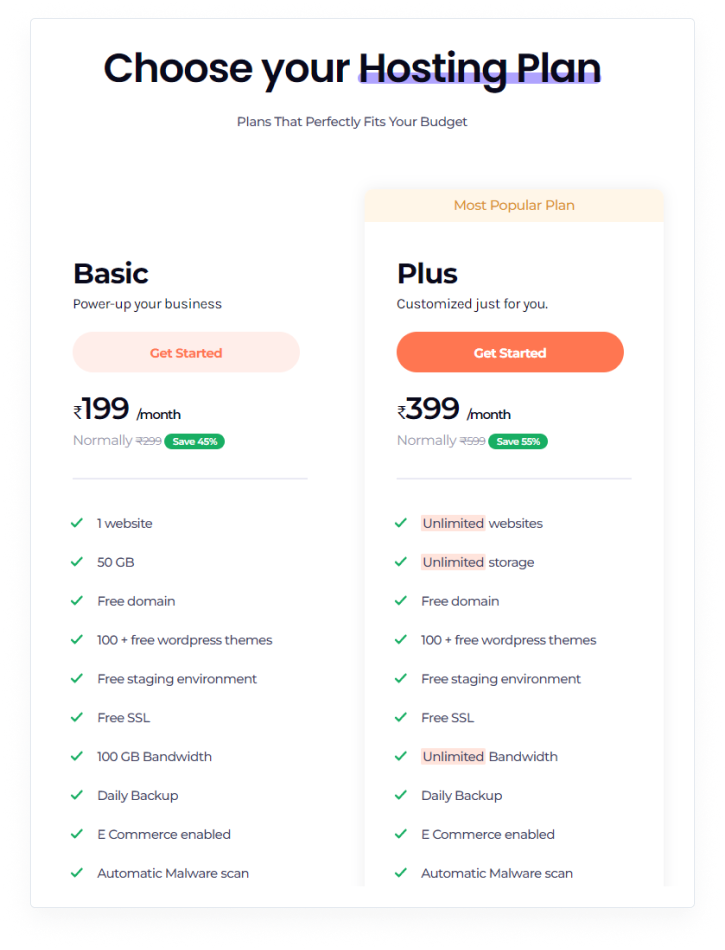 With the Geek plan you choose initially during sign up, the price remains the same even during renewal. WebSpaceKit stands out from other hosting providers by not coming up with sneaky increases in renewal prices.
Verdict:
It's a Tie! Both the hosting providers come with separate budgets as well as premium hosting plans making it easy for everyone to build websites. Also, both the hosts have more or less the same pricing, thus forming a tie in Pricing.
But, if we consider renewal prices too, then definitely WebSpaceKit shines as the Bluehost alternative as they provide the same renewal price, without any steep increase.
Security
One of the deciding factors in choosing the right hosting provider is how secure they keep your website. With the growing threats and attacks on the Internet, website security is not something that can be compromised.
Bluehost, trusted by over 2 million websites, has several security mechanisms to secure your website. They start with providing a free SSL certificate in all their hosting plans. And they come with their own firewall to prevent the basic level of external threats.
Bluehost also has advanced security mechanisms like domain privacy protection, server backups, and one can even opt for the SiteLock integration which helps against malware attacks.
On the other hand, WebSpaceKit comes with premium security features like CageFs technology that makes sure that all your website files and data can be accessed by no one except you, the website owner. It encloses user information and website files into a separate entity, hiding it from other users and thus preventing a large number of attacks.

Plus, WebSpaceKit comes with a Free SSL that's included with all of their hosting plans. This ensures that all your website and visitors data will be encrypted and protected from any malicious attacks.
Verdict:
Though both the hosting providers come up with similar security features, WebSpaceKit with its CageFs technology clearly has an advantage in the security race.
How WordPress-friendly is it?
We are talking about WordPress websites, so obviously we need to check on how WordPress specific our hosting providers are. Hosting for WordPress is different from that of regular hosting. In WordPress hosting, the servers will be used to run only WordPress, and this will optimize and deliver the maximum performance to your website.
As we discussed, Bluehost has several types of hosting that's made for a variety of users keeping in mind the different kinds of websites. It has a couple of hosting packages for WordPress including Managed WordPress hosting. This means that WordPress hosting is just yet another feature, and not all of Bluehost's servers are optimized for WordPress.
WebSpaceKit on the other hand is exclusively built for WordPress. With WordPress specific plans, WebSpaceKit is crafted with everything you would need on a WordPress website. They provide Managed WordPress hosting that comes with WordPress optimized servers and data centres, thus making your websites load faster and more securely.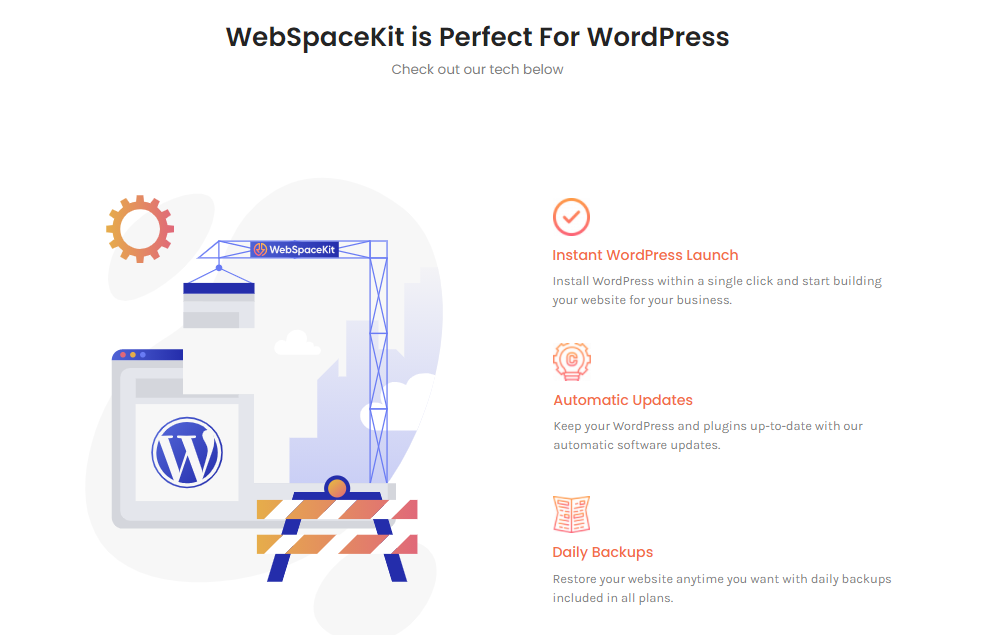 Verdict:
We need to give it to the WebSpaceKit. They are entirely built for WordPress, with servers and data centres optimized exclusively for WordPress websites. Being a WordPress-specific host, WebSpaceKit makes the entire process easier than a normal hosting provider.
Customer Support
In website hosting, things are not always smooth and there are bound to be doubts and queries from time to time. While some of the doubts can be solved by yourselves, some definitely need expert assistance. So, you need to choose a hosting provider that helps you with the queries and provides support when you need it.
Bluehost has an extensive knowledge base including hundreds of articles and step-by-step guides, with which most queries can be solved in a matter of search. In case that's not of much help, you can contact Bluehost's support team either via Chat or Phone. As they don't offer customer support via the commonly used channel of Email.

WebSpaceKit, with its WordPress experts, has its own Knowledge base that can solve most common customer queries. However, they provide support to the customers via Email, Phone and even Live chat. Customers can get Live chat support every day during business hours 9 am to 6 pm.
Apart from this, WebSpaceKit has a ticket-based support system, with the option to open a new Ticket right from the user's dashboard.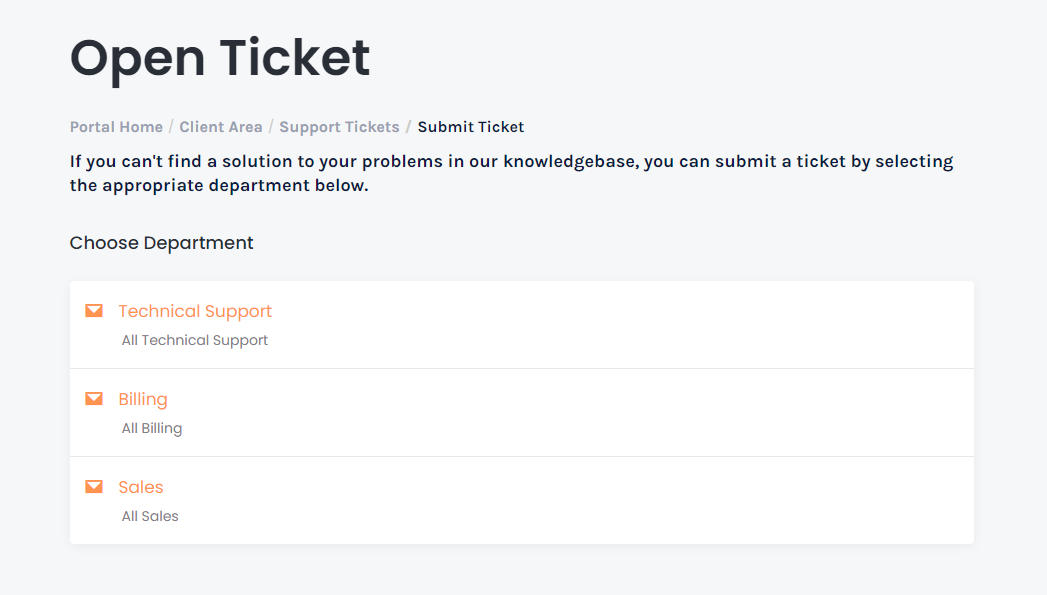 Verdict:
It's a Tie! Both Bluehost and WebSpaceKit have made it clear in supporting their customers in all ways possible, be it through Phone or Live chat. While Bluehost excels in providing quicker responses for queries, WebSpaceKit has its own ticket-based system to resolve the queries.
And that is the comparison between Bluehost and WebSpaceKit. We know what you are thinking. Why compare a relatively new hosting like WebSpaceKit to the widely known and commonly used Bluehost? Because that's exactly what we thought at first!
But looking at the unique features WebSpaceKit provides, and most importantly the speed they promise and deliver, leaves us with the question…
Is WebSpaceKit the Bluehost alternative?
If you don't want to put up with the slow loading speeds and are looking for the fastest, best WordPress optimized hosting, WebSpaceKit is the right fit for your WordPress website rather than Bluehost.
Though Bluehost is one of the most widely used hosting providers, considering the loading time we saw earlier, it is not the ideal option for WordPress websites in India. And not to forget the high renewal prices that come with it!
These are the same reasons why we believe WebSpaceKit will act as the best Bluehost alternative. With WebSpaceKit, the websites load in no time, and also hosting plans come with no surprise renewal rates. It is exclusively built for WordPress with servers located right in India.
And although WebSpaceKit is a little pricey for beginners, considering the website speed, that's sort of a long term investment on your WordPress journey. And this investment pays off soon too, as website speed is one of the crucial factors to get higher rankings on Google search results.
In short, WebSpaceKit is like a dream come true for beginners looking to host their WordPress websites, making it the Best Bluehost alternative in India.
Frequently Asked Questions (FAQs)
Is Bluehost a good host?
Yes. Bluehost is one of the most popular hosting providers preferred by people around the world. It comes with a wide variety of plans to suit the needs of everyone. Though it's reliable, WordPress websites are not considering Bluehost as the ideal choice for the hosting provider.
So, this raises more questions like whether Bluehost is good for WordPress, and if not, what are the ideal Bluehost alternatives for WordPress.
Is Bluehost good for WordPress?
Not exactly! Though Bluehost is widely used by websites across the world, it's not exactly cut out for WordPress. WordPress hosting is just one of its features and not all of its servers are WordPress optimized.
It is advisable to choose a WordPress optimized hosting provider like WebSpaceKit for a WordPress website.
Which hosting is better than Bluehost?
Considering the longer load time and infamous renewal rates of Bluehost, WebSpaceKit is the best Bluehost alternative. With websites that load in around 1 second, WebSpaceKit is better than Bluehost to host a WordPress website in India.
Which is the fastest WordPress hosting provider in India?
WebSpaceKit. With strategically placed servers in India and Singapore, WebSpaceKit offers the fastest load time in India of all the hosting providers. So, when it comes to WordPress websites, it is ideal to choose WebSpaceKit as the hosting provider.
What is the best alternative for Bluehost 2022?
Owing to the fast website loading time and affordable pricing, we believe WebSpaceKit will be the best Bluehost alternative in 2022. This relatively new hosting provider has been creating a buzz lately in the hosting scenario.
Thanks to their hosting servers that are located in India, WebSpaceKit provides one of the fastest website loading times of all the other hosting providers in India.