Do you run an eCommerce business?
Does it involve your customers tracking the shipments?
Then, you must be tired of all the post-purchase enquiries you receive from your customers.
You want them to be satisfied with the shipment process,
But don't have time to work on shipment queries?
Yes, we have all been there! As an eCommerce owner, your job doesn't end when a customer completes the purchase. That's when another phase of eCommerce begins, Shipment tracking. The ability to track the shipment and know the exact delivery date brings a new level of customer satisfaction.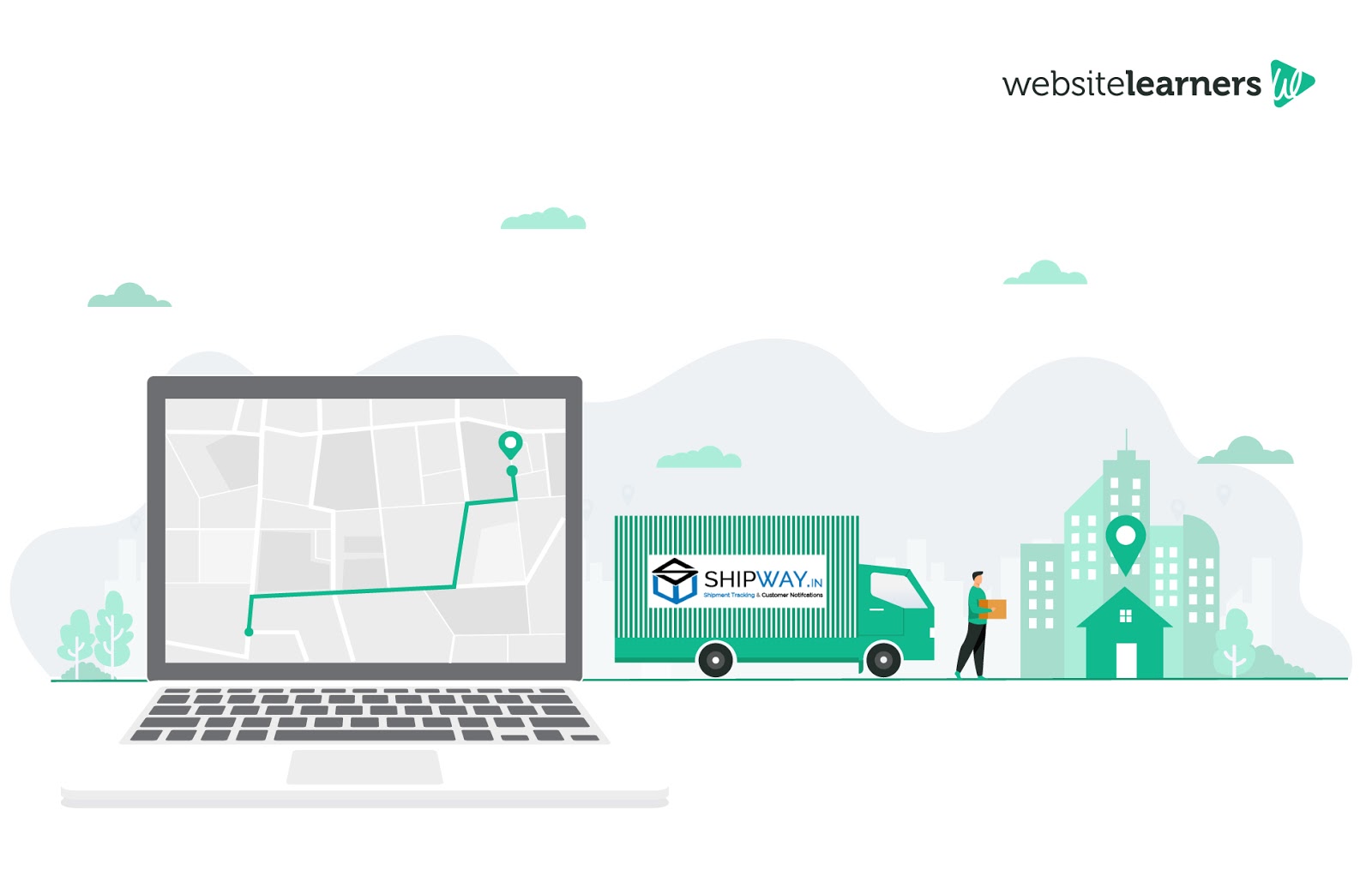 Is Shipment Tracking that Important?
Yes! Shipment tracking is one of the most important aspects of the eCommerce industry as it lets the customer know about everything, right from order acceptance to delivery. It keeps them in the loop, making them a part of the process.
The exact information of shipment and delivery makes people trust your business and makes it more dependable. This, in turn, helps in building a sense of trust in the producer-consumer relationship.
There are more than a hundred plugins in WordPress that can track the shipments going out from your business. Most of them are courier-specific and lack the necessary features to be the right fit for your business and customers.
But what if there was a WordPress courier tracking plugin that supports most of the prominent couriers around the world?

At the same time, notify your customers about the real-time tracking updates?
It's a dream come true for all E-commerce Website Owners!
That's what we are going to see today. A WordPress tracking plugin that seamlessly integrates with your website, making it easy for your business to provide real-time shipment information.
Introducing… Shipway
Shipway delivers an excellent post-purchase experience for your customers. It includes every single step of notification after purchase, from order dispatch to transport to the estimated delivery.
It also enables the customers to give reviews for their orders, thus helping the business owners to improve on their products, carrier performances, and thus customer satisfaction.
Shipway Features
To start our Shipway review, let us look at some of the standout features of this shipment tracking plugin,
Branded Shipment tracking
Shipway provides real-time shipment tracking of all your customers' orders. From your customers' standpoint, they will be able to track their orders at every stage from placing the order to receiving the delivery. And they'll be able to do all that through your website.
You, as a business owner, can track the entire process in your tracking account under the 'Manage Shipments' tab. As the name suggests, you can find the current status of any shipment you want, with details like Order ID, Pickup date, Estimated delivery and the destination itself.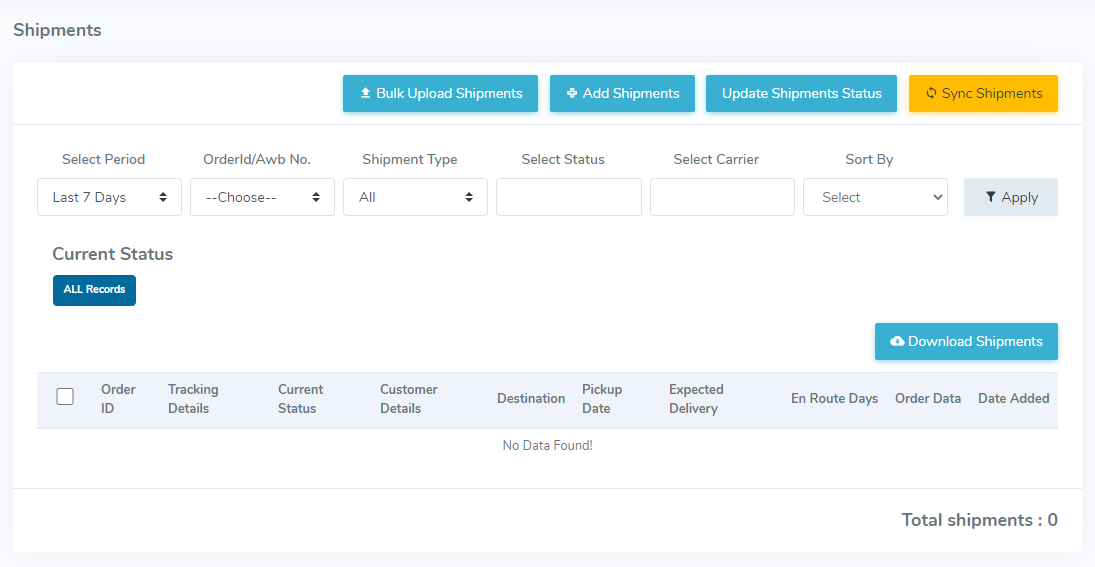 Customer notification through SMS, Whatsapp and email
Shipway tracking makes it easy for your customers by notifying them of every movement of the shipment. This includes essential notifications like Shipment Booked, In Transit, Out for Delivery, Delivered, and even After Delivery Feedback.
And you, a business owner, can send notifications to your customers via one, two or all three channels, namely Email, SMS and Whatsapp. Every single channel has a default template that you can easily edit to suit your needs.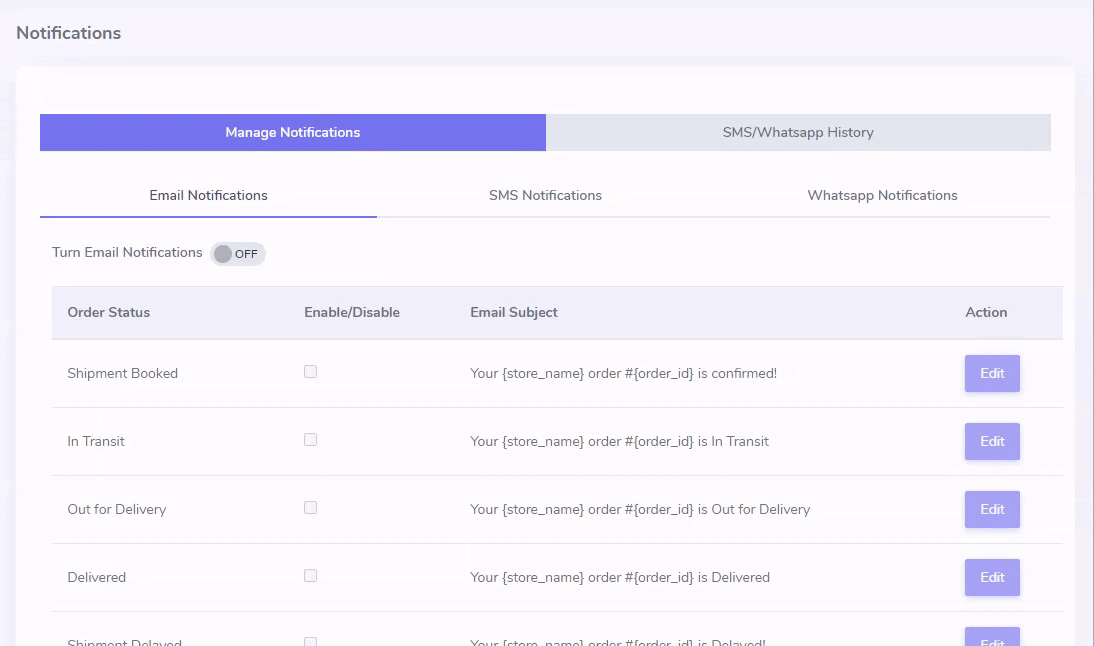 Customer feedback
What makes this WordPress Tracking plugin stand out is that it doesn't stop once the delivery is done. With its customer feedback feature, your customers can easily review every single aspect of the process, be it the product quality, packaging, courier or the delivery in itself. You can easily integrate this feature by adding the customer review widget to your website.

Apart from the general review, you can also generate a Net Promoter Score which determines the customers' satisfaction with your products and how likely they are to promote your business to their friends and family. This score is calculated by asking your customers to rate how satisfied they are, on a scale from 0 to 10.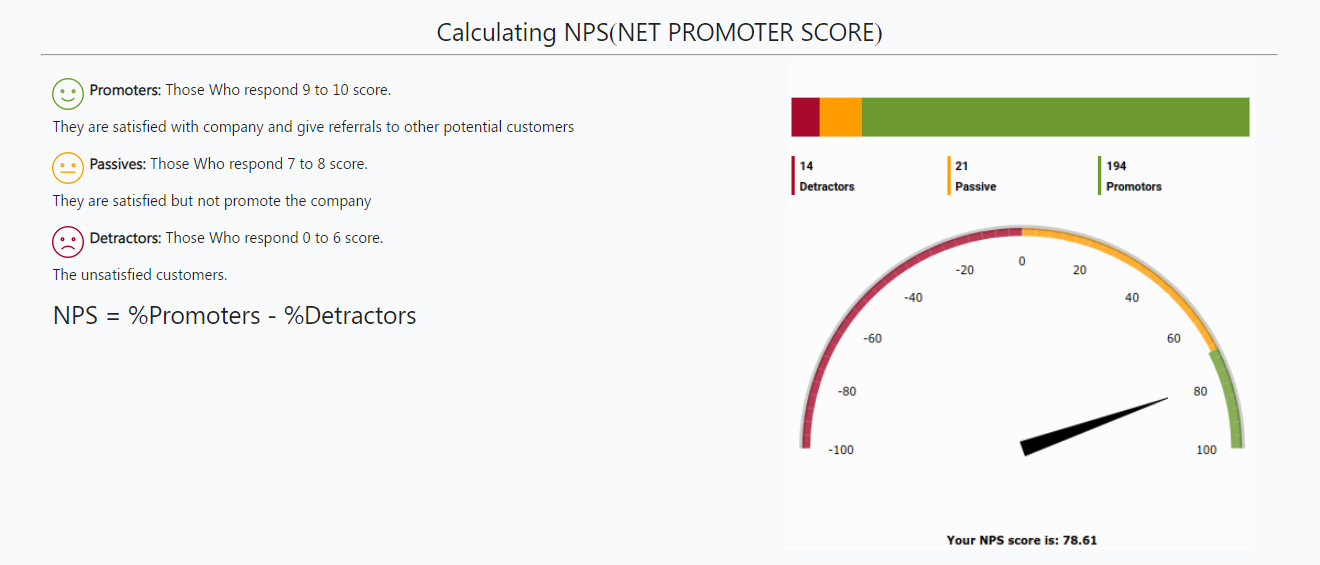 Now that's about the leading shipment tracking tool you can use on your business website.
Shipway is ideal for small-scale businesses, but what if you manage bulk orders daily? Then, Ezyslips is the right solution for you.
Ezyslips
Ezyslips is a back-office shipping solution by Shipway that processes orders from multiple channels and produces bulk invoices in a matter of a few clicks.
Features
Order Fulfilment – Ezyslips seamlessly integrates with the leading shipping solutions and warehouse management systems, with even automatic allocation of carriers based on the pin codes.
Easy Invoices – Ezyslips is capable of generating shipping labels for bulk orders in a few clicks. It also excels in producing GST-compliant Invoices in bulk.
Return Automation – Ezyslips enables a same-day refund to the customers looking for fast resolution on returns.
Fraud Detection – Intelligent tool that auto-detects fraud orders by analyzing invalid phone numbers, and shipping addresses. It checks for suspicious user behavior and thus saves business costs in the long run.
Shipway Pros and Cons
What we like…
Fewer Customer queries – Shipway makes the entire post-purchase phase simpler than before, thus reducing the number of customer queries regarding orders.
Clear Insights – With detailed information on every single order and timely shipment status change, it is a dream tool for the merchants. It also makes it easy for the customers with its hassle-free and detailed tracking process.
What we don't like in Shipway…
No dedicated mobile application – Though Shipway seamlessly integrates with the business website, they don't have a dedicated mobile app to make it easy for the customers.
Why do we recommend Shipway?
With hundreds of WordPress Shipment tracking plugins out in the market, what makes Shipway stand out?
500+ Couriers
One of the best things about Shipway is that it supports more than 500 couriers worldwide. That 500 includes the most popular courier services in the world like FedEx, DHL, UPS, Bluedart, etc.
So, as it supports these many couriers all around the world, there is no need to worry for both merchants and customers about tracking the shipment.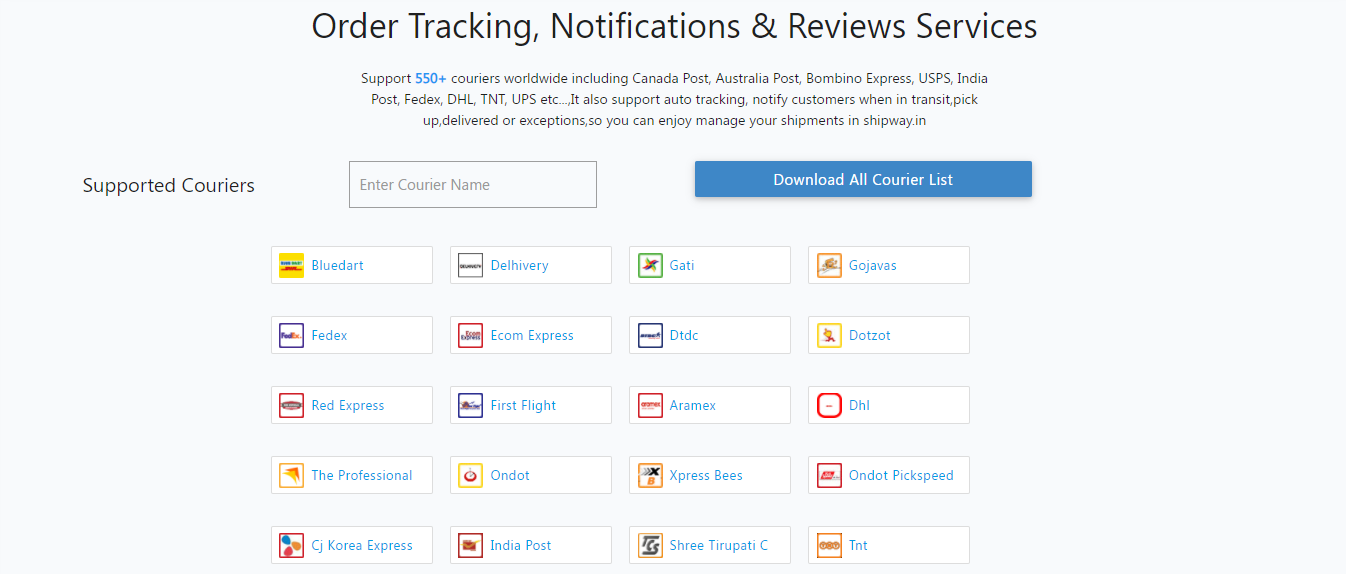 Branded Tracking Pages
With Shipway, you can create branded tracking pages that will have your brand name, logo along with the shipment tracking URL. This kind of customisable branded tracking page matches the theme of your website with the help of the Shipway widget.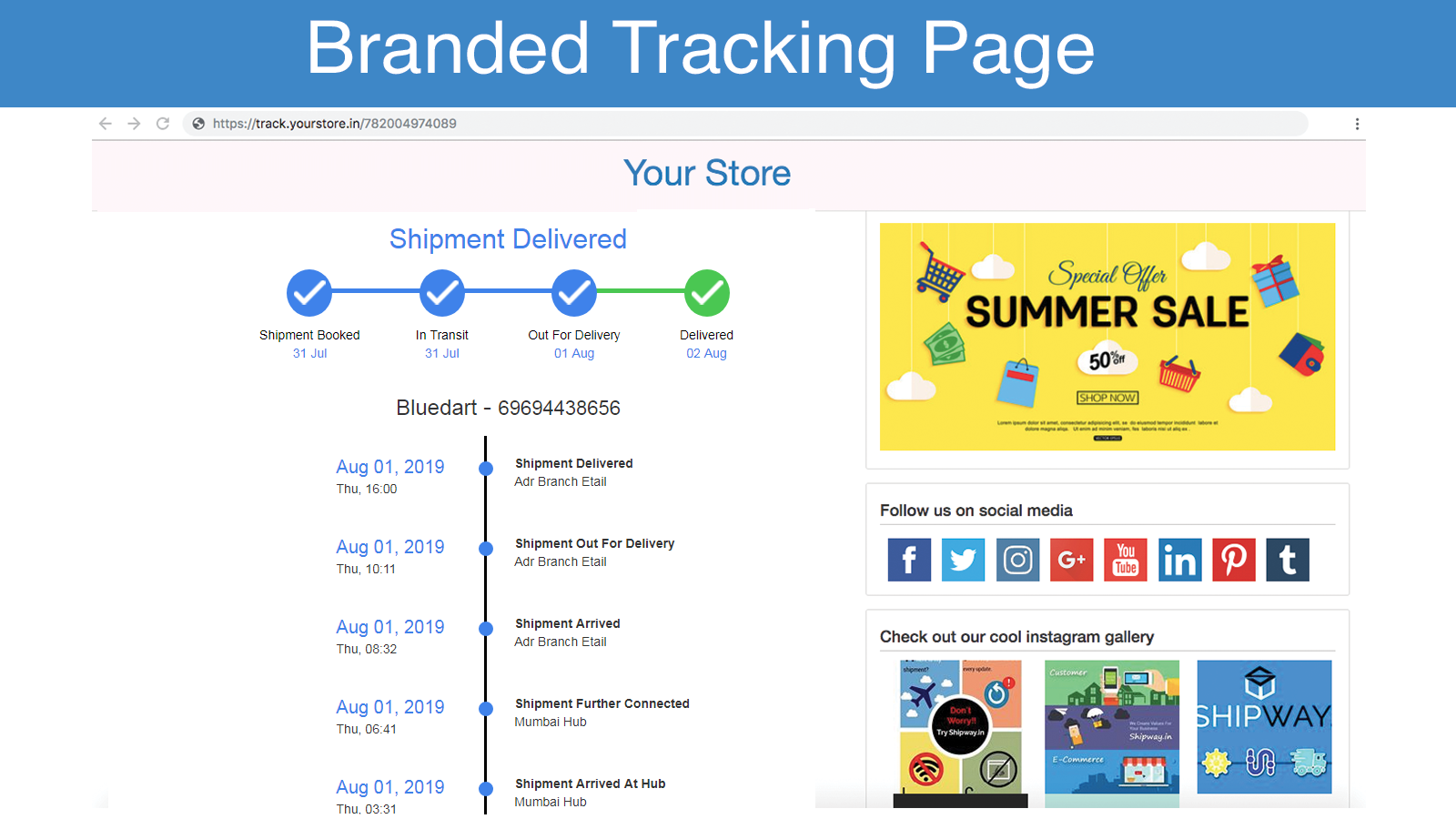 Such custom tracking pages help in increasing brand recall value and also make it easy for your customers. Instead of struggling on a courier's website filled with their branding, your customers can easily access the shipment tracking via a branded tracking page.
Shipway Pricing
Shipway offers a free trial for 7 days with a limit of 500 shipments. Apart from the trial version to get you started, Shipway provides a variety of premium plans depending on the number of shipments per month. It includes four different packages, ranging from 1 month to an entire year.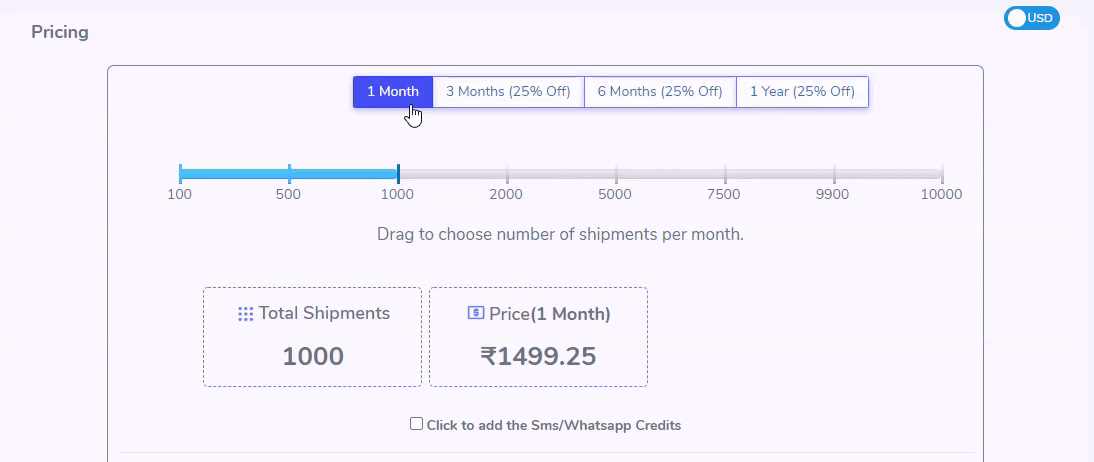 Here, you can see how the price varies depending on the number of months, for the same 1000 shipments per month. So, Shipway pricing not only depends on the number of months you opt for but also the number of shipments per month
With such flexible pricing, Shipway is highly cost-effective and thus will be the right choice for your business.
Best Shipment Tracking Plugins – A Comparison
Now that we have learnt everything about Shipway, let us compare it with some other shipment tracking plugins available in WordPress, in this part of the Shipway review.
Shipway Vs Advanced Shipment Tracking (AST)
One thing that makes Shipway stand out from Advanced Shipment Tracking (AST) is the number of shipping providers & carriers. With more than 500 shipping providers around the world, Shipway has an upper hand over AST that only integrates with around 300 carriers.
Shipway Vs TrackFree
The major difference between Shipway and TrackFree is the pricing, where Shipway is much more affordable compared to TrackFree.
Shipway provides real-time shipment status, and also sends notifications to customers on every shipment status change. This kind of updating the customers for each of the status changes is absent in TrackFree.
Conclusion
Most businesses dedicate their time only until a customer makes the purchase. But the shipment and delivery phase after that is as important as making a customer complete the purchase. Because your customers will want to know the whereabouts of their order and when it'll reach them. Failing to provide them with such information, your business will get more queries and less satisfied customers.
That is why you should make use of this incredible WordPress shipment tracking plugin, Shipway. With custom tracking pages and notifications for every status change, Shipway makes it a lot easier for business owners and in turn, increases the customers' satisfaction.
Shipway has become the perfect solution for business owners as they can spend less time assisting the customers and more time working on their business instead. With supporting more than 500 couriers worldwide, there is no reason why a business website shouldn't use Shipway.
So, what do you think?

Is Shipway the best Shipment Tracking plugin for WordPress?
Frequently Asked Questions (FAQs)
How do I track my Shipway Courier?
Shipway provides real-time shipment tracking of all the customers' orders. As a business owner, you will be able to find the current status of any shipment, along with details like Order ID, pickup date, and Estimated delivery.
From a customer's point of view, they will be able to track their order right from placing it on the website to receiving it themselves.
How many couriers does Shipway support?
Shipway supports more than 500 couriers worldwide, including popular services like FedEx, DHL, Bluedart, etc. With tracking so many couriers across the world, it makes it really easy for both sellers and customers. This definitely makes Shipway stand out from the other shipment tracking plugins in WordPress.
Get 10 Best Free Themes for your WordPress eCommerce website