With everything getting digitized, websites are essential now more than ever to assert your digital presence. A well-planned out website can help establish you or your business as a brand. They help market your business and give you an upper hand over your competitors.
According to a recent study, 8 out of 10 customers are likely to engage with your business if it has a website.

source
So, how much should you pay for your online presence?
You are one google search away from finding yourself among the list of companies who are willing to provide you with free websites. With a small budget and minimal experience, you may find these free websites appealing. You may even consider them to be a blessing. But you will soon realize that the deal is not as good as it sounds.
Here are 10 good reasons on why creating a free website is a bad idea,
Before going into the reasons, let's first understand what a "free website" is.
What is a free website?
A free website is the one where a web hosting service provides you with free web hosting and a free domain name. Hosting is the server where your website's files get stored. Domain name is the address of your website, the one your visitors enter in the browser.
They provide you with free hosting and domain, but what's the catch? Are you making any sacrifices when you're starting a website with zero cost?
Why creating a free website is a bad idea?
Free websites may sound good initially but won't hold up in the long run. You will spend more money and time than you thought initially. This may end up costing you more than the initial cost for a paid website.
Here are 10 reasons why creating a free website is a bad idea,
1) Unprofessional URL – Your URL/website address is the first thing your visitors notice while entering your website. Consider yourself as a visitor, and say there are two websites, mybusiness.com and mybusiness.oux.com. Which one do you think looks more credible and trustworthy? Which one are you most likely to click? The website with the URL mybusiness.com, right? It's because the domain mybusiness.com is custom-made for their business website, whereas the other one is generic.
When you create a free website, you can only get a generic domain name like mybusiness.oux.com. What good could a website be if it doesn't even have a custom made domain? If you want to update to a custom domain, you need to pay for these "free" web hosting services.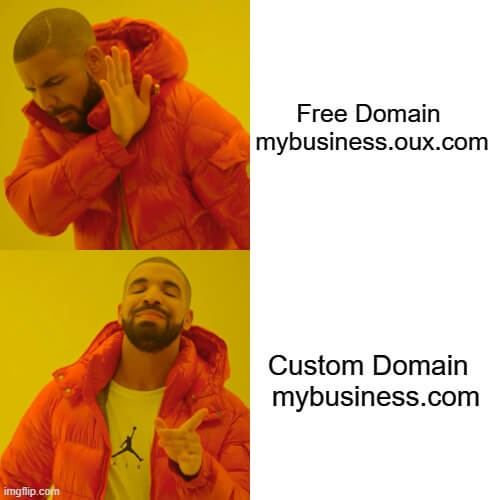 2) Longer load time – Imagine a webpage taking forever to load, in this millennial world!! Not cool, right? On having a free website, you run a high risk of such extremely slow web pages. It happens because hosting services may put your website along with several other websites on the same server, sharing the same bandwidth and resources.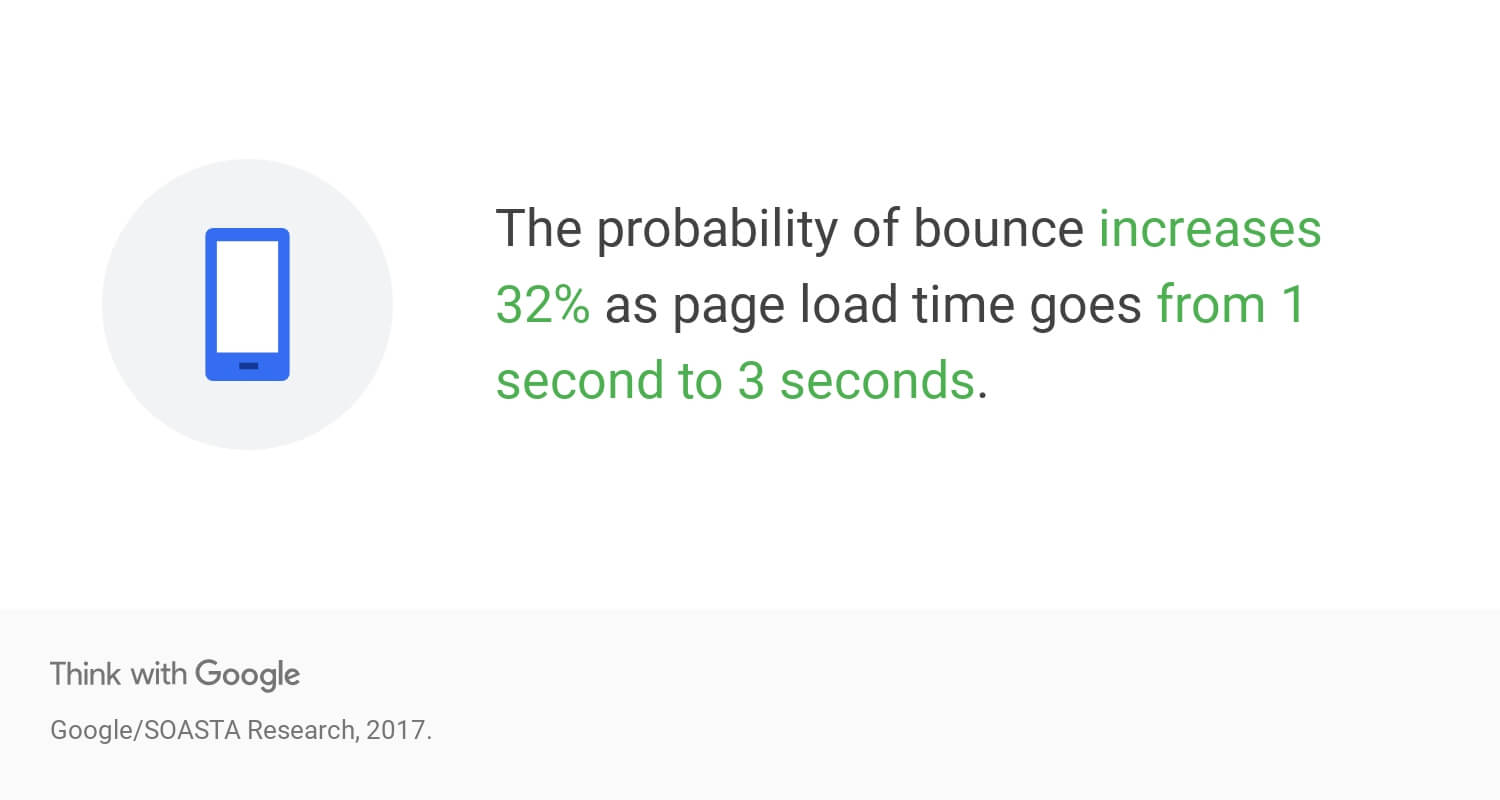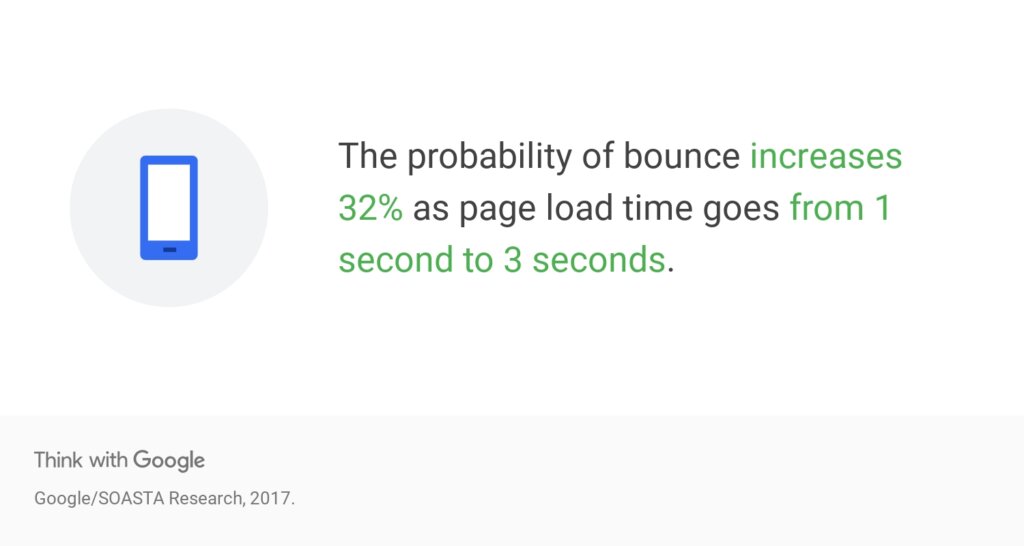 Slow websites are a thing of the past, and you shouldn't punish your visitors by making them wait forever. It results in a poor user experience, which eventually leads to bad SEO.
To know more about SEO and how it impacts your business, check out our blog on why SEO is important for your business.
3) Limited Bandwidth & Disk storage – Free web hosting services have strict restrictions on the bandwidth limit and storage because they put more websites on the same server. Bandwidth is the amount of the data transferred from your web browser to the web server and vice versa.
Say you have a lot of traffic to your website lately, they may even issue a warning of going over the bandwidth limit. And having to share the same space with several other websites, storage is restricted too.
4) Not really free – To upgrade your storage plan, or to have a custom domain, one way or the other, you will eventually need to pay for these so-called free websites. You will soon realize that what you signed up for is a free trial and nothing more than that.
And they may even levy high charges for additional services like FTP access, image hosting, a scheduler, etc.
5) Random advertisements – When you think about it, even these free website services are running a business and need to make money. So, one of their sources of revenue is advertisements. They end up showing irrelevant advertisements on your website and make money out of your content.
6) No Monetization – These website services may restrict you to run your ads on the website that are relevant to your content. This doesn't help your website from the monetization point of view. This makes it less likely for you to make money using programs like Google Adsense.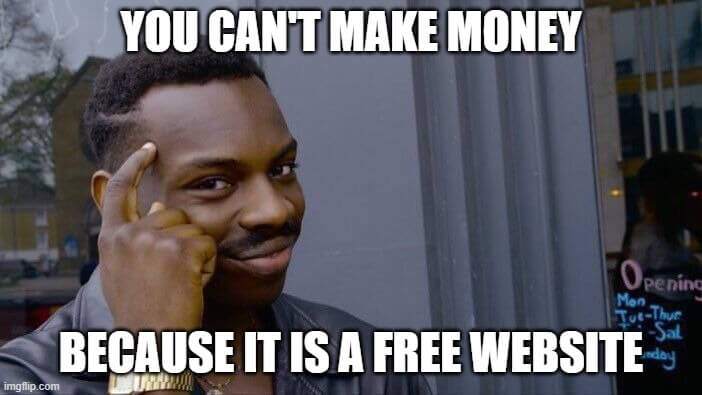 7) Not Search engine friendly – It is quite difficult for you to generate organic traffic with your free website. According to Google, With an unprofessional URL and irrelevant advertisements running on your website, search engines may question the credibility of your website. It may eventually lead to your website not getting a better rank in SERPs ( Search Engine Result Pages).
So, to get a better ranking and to make your website more likeable for the search engines, paid websites are the way to go.
8) Limited customer support – Everything about these free web hosting services is restricted, and so is their customer support. Unfortunately, if your site goes down, you need to figure it out all by yourself, with almost no assistance from their side.
In case of any queries or errors, you will be on your own for the most part, waiting for the email support to respond.
9) No backup – It is always advisable to have a full backup of your website data with the entirety of its content. It is crucial because in case someone hacks your website, or you delete something unintentionally, the backup will be your saviour.
Unlike paid websites, these free services do not regularly back up your website content. So, if anything goes sideways, you may end up losing your website.
10) Can disappear easily – You can also end up losing your website if the website hosting services decide to call it a day and close their business. In doing so, they will shut down the server on which your website is running, thus shutting down your website.
Their terms and conditions make it legal for them to shut down anytime, even without giving you a reason.
Conclusion
The thought of creating a free website may sound exciting but are you willing to make some sacrifices on your content and traffic? Free websites don't help to meet your expectations as a business and may not bring the right amount of traffic your content deserves.
So, the first step is moving from your current free hosting to a paid hosting provider. Check our video tutorial on how to migrate your existing website to another hosting provider.
However, if you are serious about your website and thinking of it in the long run, you better start from scratch, with a good domain. You can choose your domains depending on the budget here.
And then watch our video tutorial to create your own website in 10 minutes.
For tutorials on how to customize your WordPress website, subscribe to our YouTube channel.
Frequently Asked Questions (FAQs)
Why is having a free website a bad idea?
While it may sound tempting to create a website for free, there are several downsides to having a free website,
Limited Resources
Unprofessional URL
Can't monetize the website
Vulnerable to security attacks
Not SEO friendly
What is the difference between a free website and paid website?
Most times, a free website comes with an unprofessional URL that isn't just the website name. But with a paid website, you get a custom domain that's unique for your website. Also, free websites are vulnerable and not much secure compared to a paid website.
How much does a WordPress website cost?
The cost of creating and managing a WordPress website depends on the hosting provider and the type of hosting you choose. To create a WordPress website, we need to purchase a domain and hosting from a third-party hosting provider.
So, the cost depends on your preferences and choice of hosting for your WordPress website.
Learn the 7 Must-Do things After Launching your WordPress Website