Do you want to start a website but are still stuck on which platform to choose?
With all the website builders, do you feel confused about which one has the best built-in features for your website?
Well, ultimately you want to choose a website builder where you can build websites with ease and no coding (Well, to be frank, Not Everybody can code!).
With several website builders available in the market, here we are going to compare the two most popular front-runners. The two widely used website builders that are loved by beginners starting out on website creation.
On one side, the most popular Content Management System/website builder WordPress, and on the other, the popular website builder, Wix.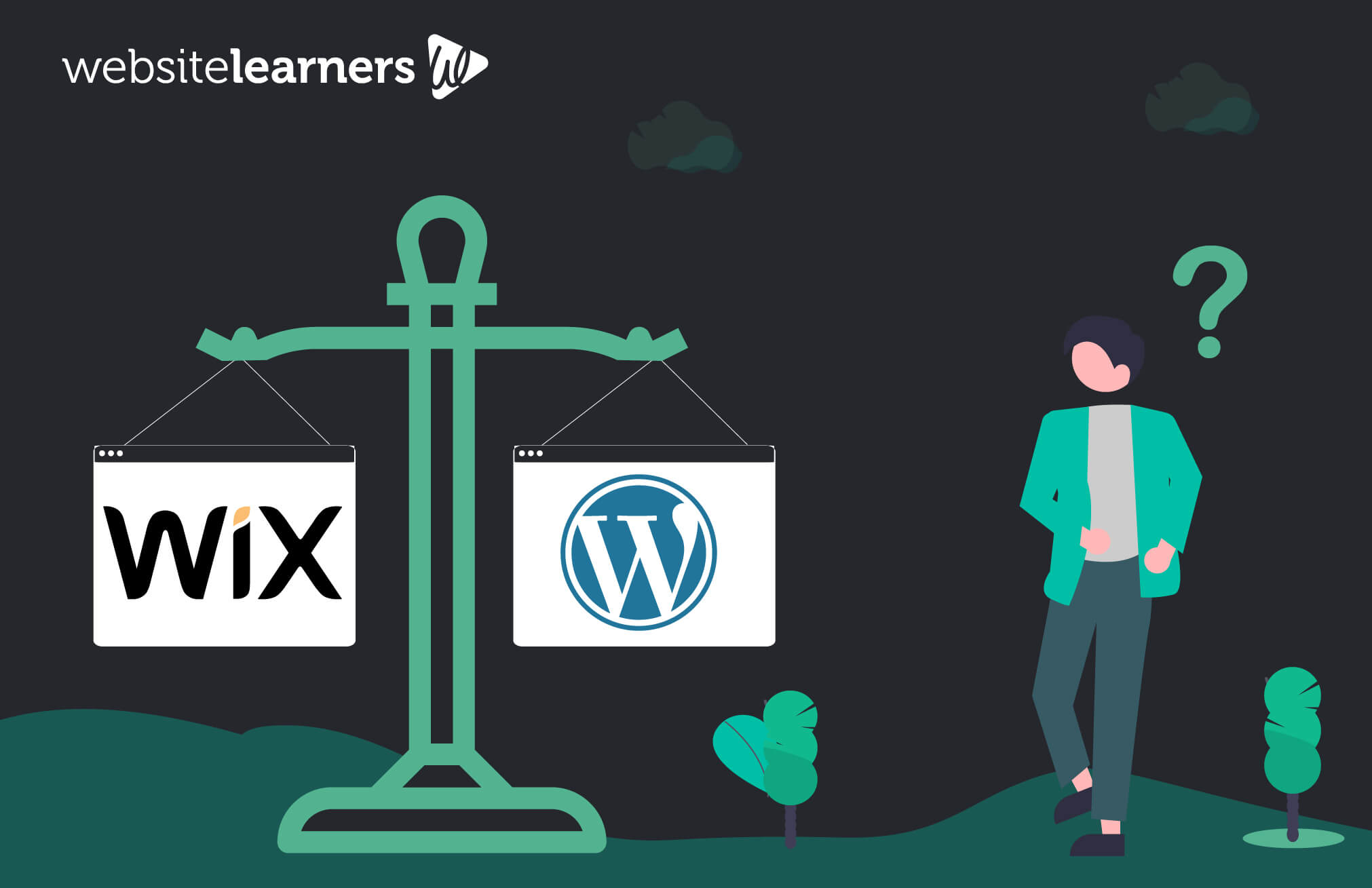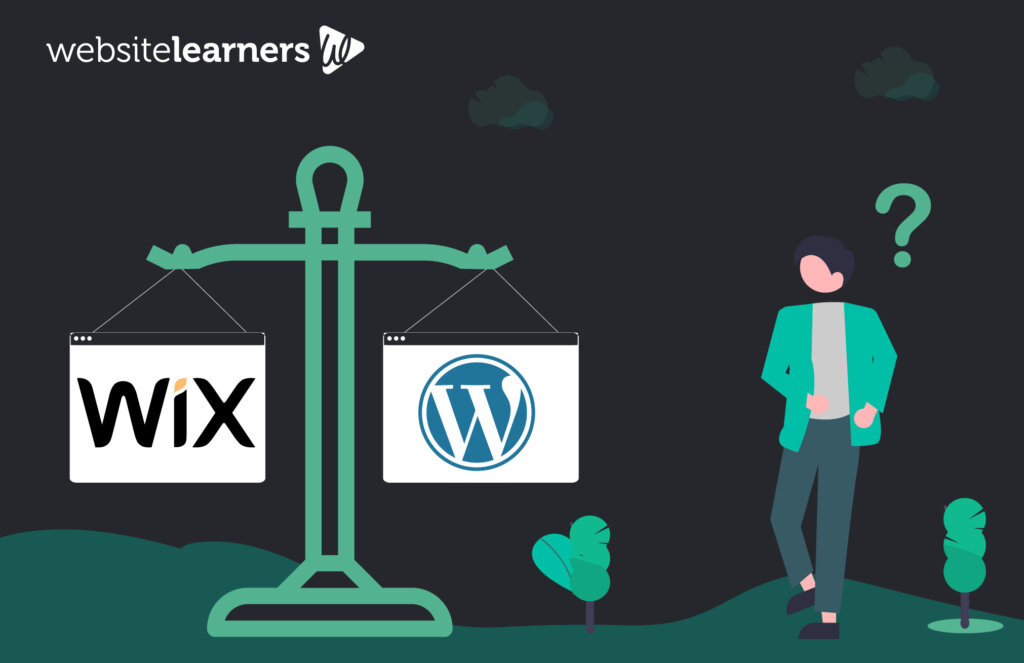 Yeah, this is WordPress Vs Wix. And we are going to compare them both in terms of 8 essential factors,
First… let's introduce our Players
Before going into WordPress Vs Wix, let us first get to know our players, and understand why there are key players in the website building market.
WordPress
Disclaimer: In WordPress, there are two different organizations, WordPress.org and WordPress.com. WordPress.org is the self-hosted version, while with WordPress.com, WordPress takes care of your website. To learn more about the difference, and why it is recommended to use WordPress.org, check our blog on WordPress.org Vs WordPress.com.
To clear things up now, whenever we say WordPress in this blog, we refer to WordPress.org and not WordPress.com.
WordPress is now the world's most popular website builder powering more than 455 million websites worldwide. But before all that, WordPress is a Content Management System (CMS) and that's how it started.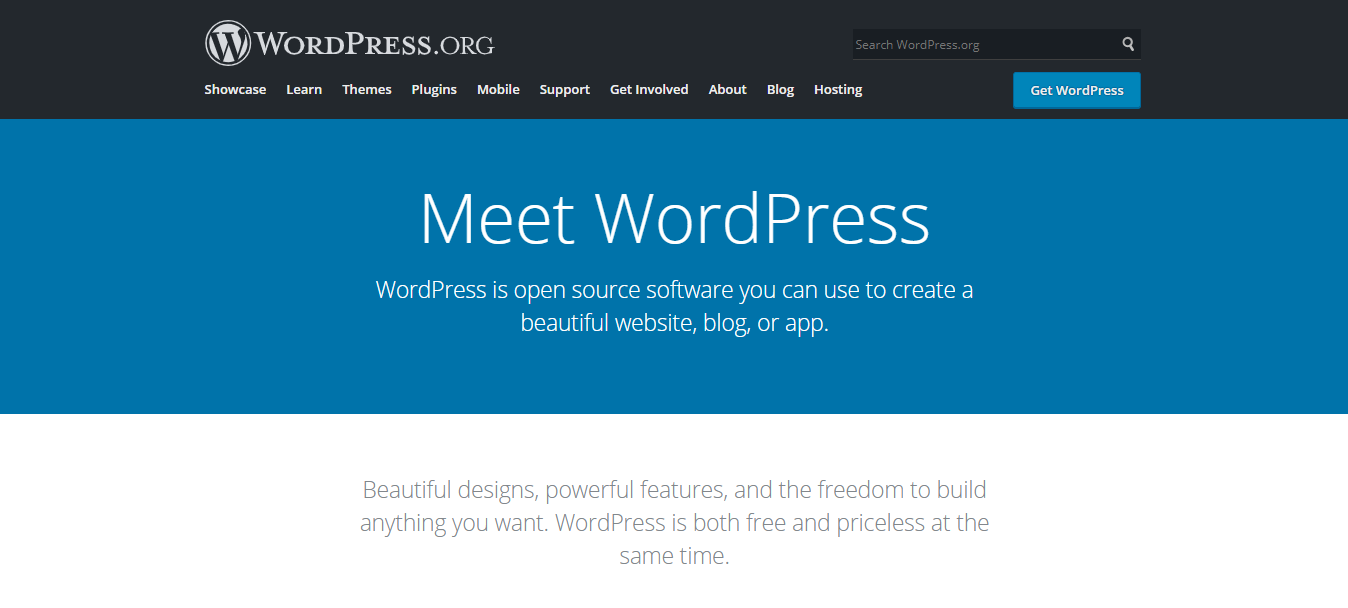 A CMS is a little different from a typical website builder and is suitable for anyone, from an absolute beginner to even someone who knows how to code. Though it has an easy drag-and-drop interface to build websites at ease, you first need to find hosting, domain and then proceed with building your website.
There are a couple of other popular CMS like Joomla, Drupal and Magento. But because of its highly customizable nature and beginner-friendly options, and with the biggest support community, WordPress has become way too good for them.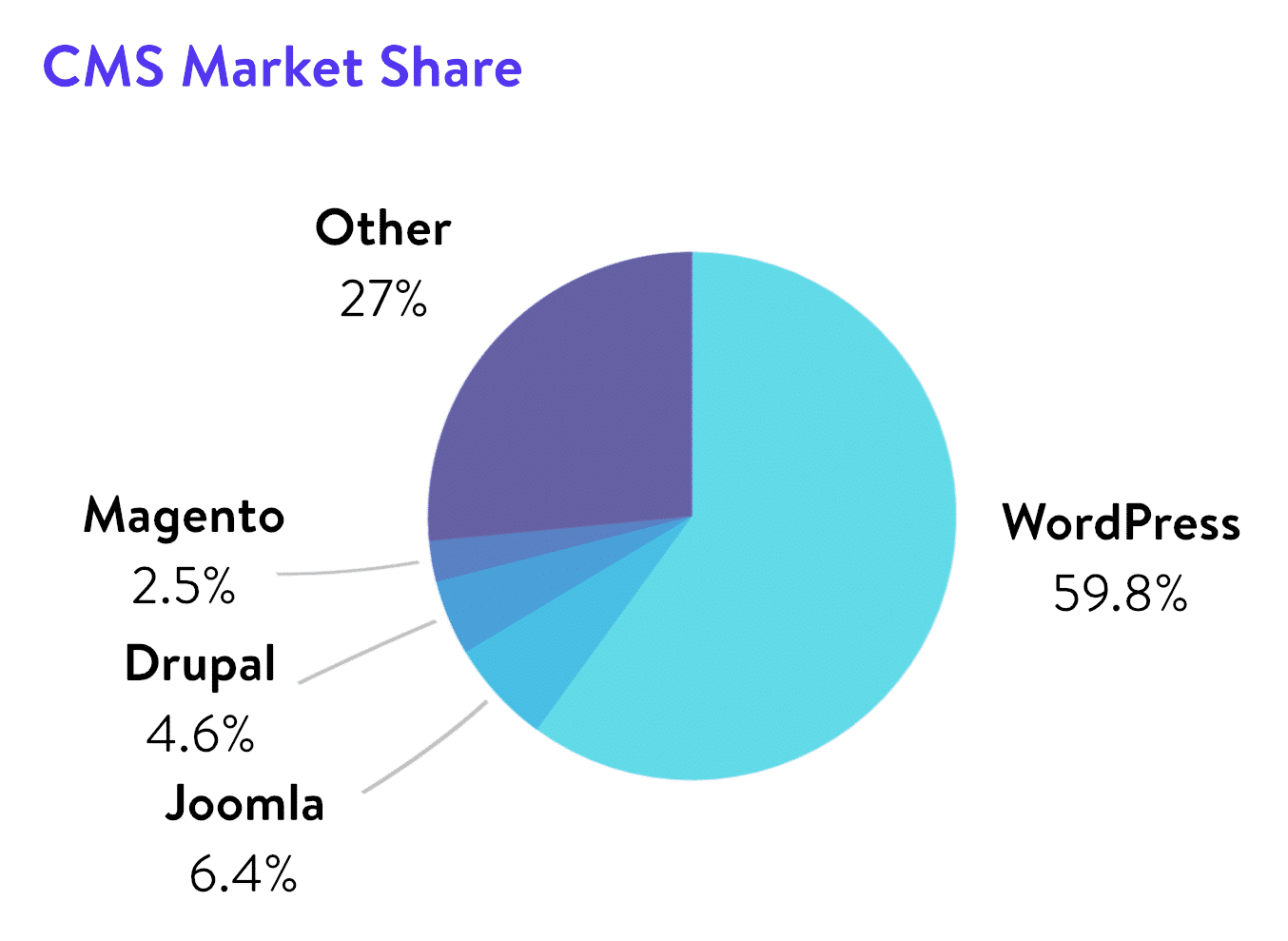 Wix
Wix is a typical website builder that allows for easy website creation using a simple drag-and-drop interface. It is ideally designed for beginners who are starting out and non-technical people who want to build websites without coding.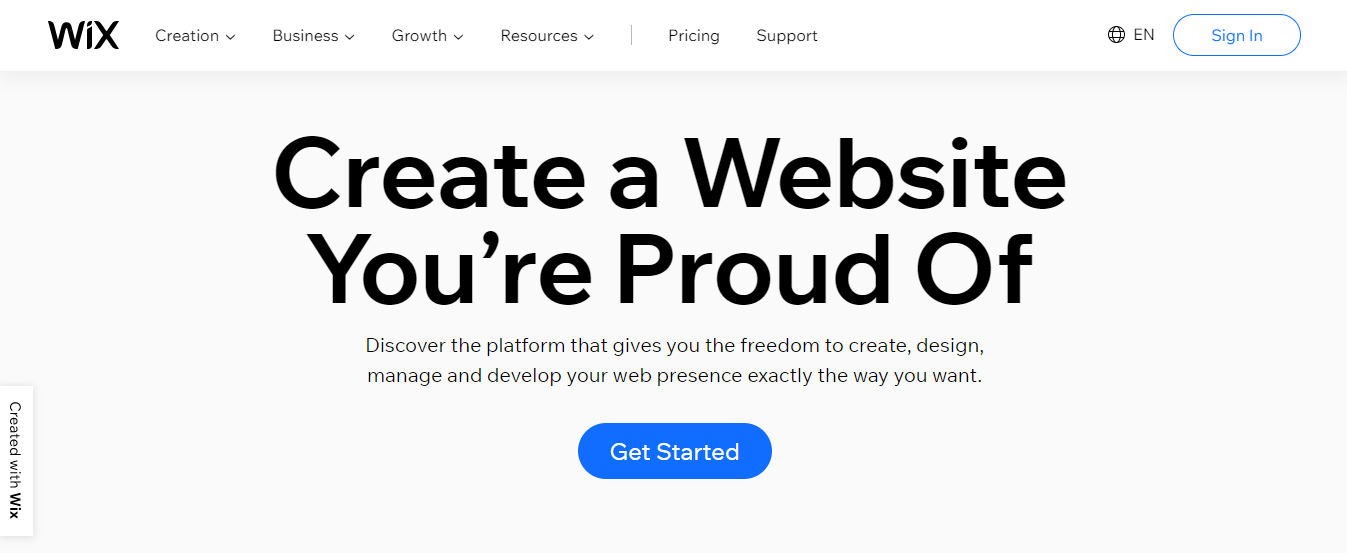 Unlike WordPress, Wix is a tool, with which you can sign up, choose a plan and get started with the website of your dreams.
WordPress Vs Wix
WordPress vs Wix: Design & Customization
One of the reasons why people have moved towards website builders is the professional design standards they offer. With built-in design templates and an easy drag-and-drop interface, website builders provide a lot of professional design options with absolutely no coding.
WordPress
WordPress has more than 8000 free and paid themes for everything from blogs to eCommerce stores. These themes dictate the look and feel of your website. And with these themes, there is practically no limit in the number of ways you can design your website. Even two websites using the same theme may not look anything similar at all.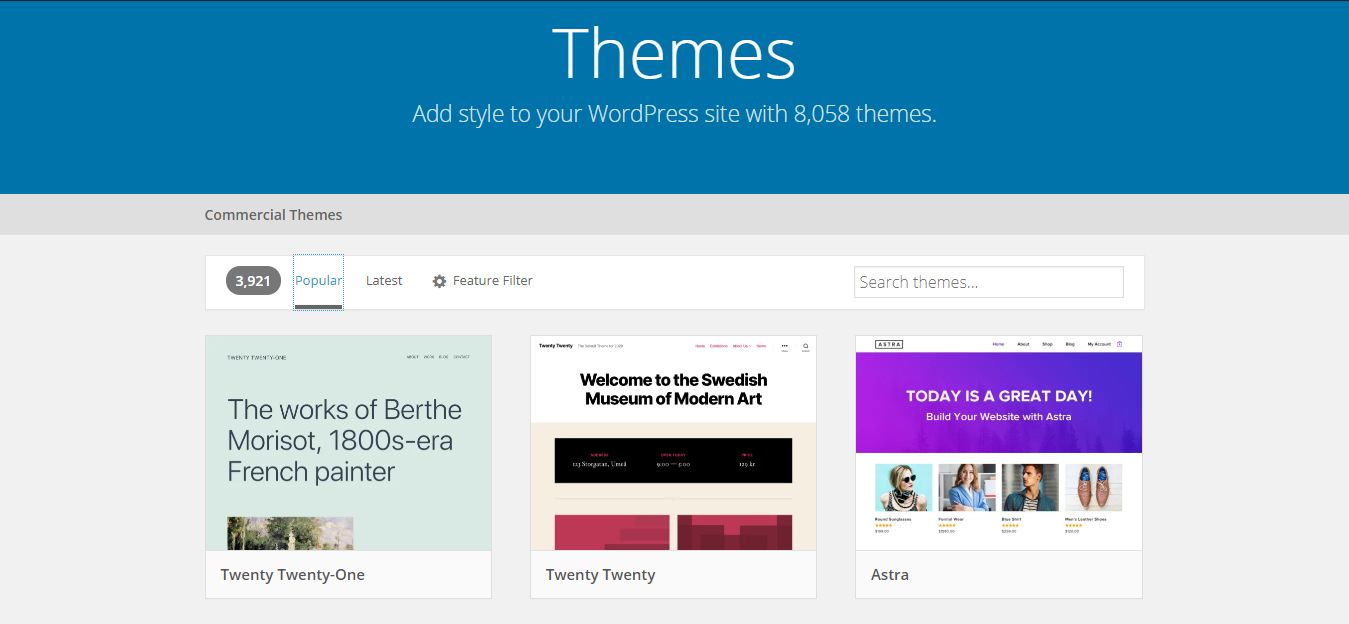 WordPress has an abundance of free themes and it also provides you with the option to upgrade to a paid plan. With the paid plan comes premium features and more support. You should start for free with a trustable and popular theme like Astra, to make sure there are no bugs and glitches on your website.
Wix
Wix has its own share of over 800 templates that comes for free with your paid Wix plan. These templates can be a good starting point for different types of websites, from personal websites to even full-fledged eCommerce stores. But in the long run, when you want to explore more options, you will find the design options to be limited, as Wix is targeted towards beginners.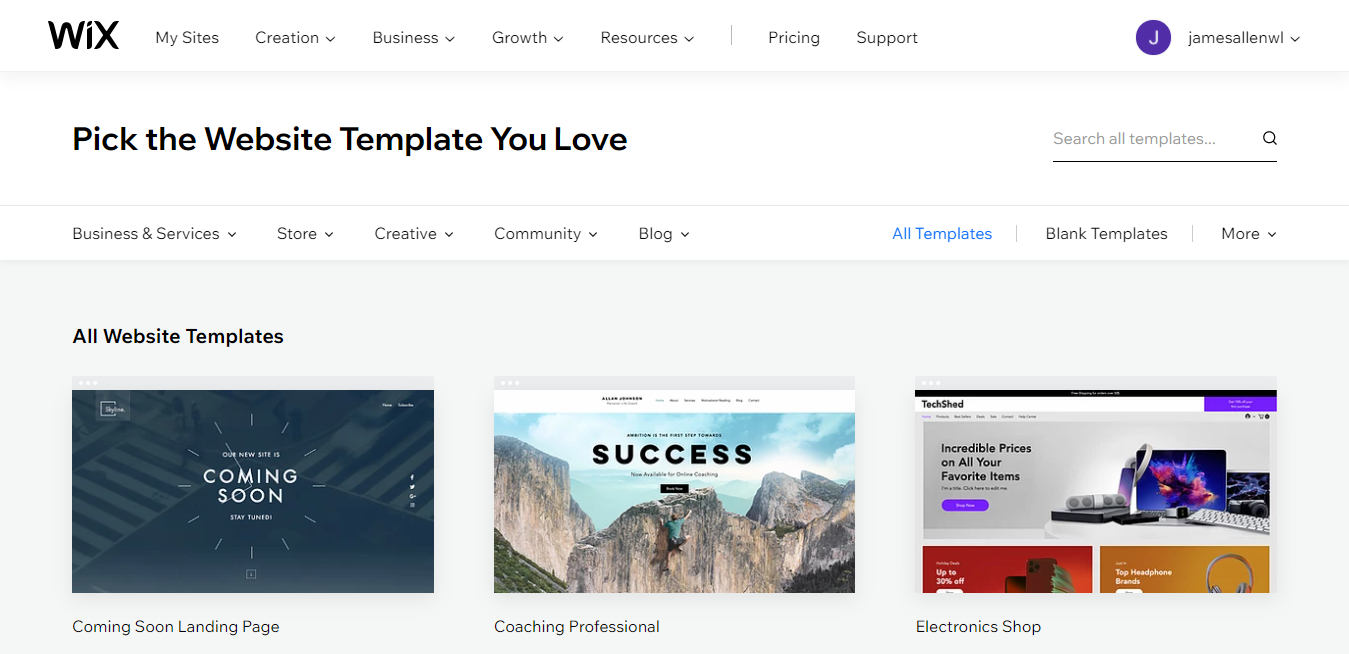 Also, another big disadvantage in Wix design is that you cannot switch templates midway. Once you have chosen a template, you can customize it as you want, but can't change it for another template. So, at the end of the day, your website layout may look similar to another website with the same theme, thus losing uniqueness.
Verdict – WordPress
WordPress is the clear winner for us here, as it offers an infinite number of customization options with thousands of themes in its directory. And even if two WordPress websites use the same theme, the websites built can be very different from each other, because of the number of ways we can customize it.
WordPress vs Wix: Plugins Options
Plugins are like add-ons that provide additional features to your website. Website builders, with an ever-growing list of built-in as well as third party plugins, are capable of offering any imaginable feature needed for your website. While themes define the look and feel of your website, Plugins determine the features that enhance your website.
WordPress
It won't be an overstatement if we say WordPress Plugins make WordPress what it is. Because WordPress has more than 58,000 plugins in its directory that can add any feature you can ever imagine. There are plugins for almost every feature, like adding a photo gallery, to analyzing the visitor behaviour on your website.

WordPress Plugins are essentially used to add a new feature or enhance an existing feature on your website. They make it easy for the non-coders to enjoy the features of a website with simple installations, mostly free of cost.
WordPress plugins have become popular and are commonly used all over the Internet, thus proving the credibility of WordPress and its wide range of plugins.
Wix
Wix has a growing list of more than 250 Apps (Apps, that's how Wix calls its plugins) in its App market. This App market has several categories full of free and paid apps that can add specific functionalities like a gallery and contact forms to your website.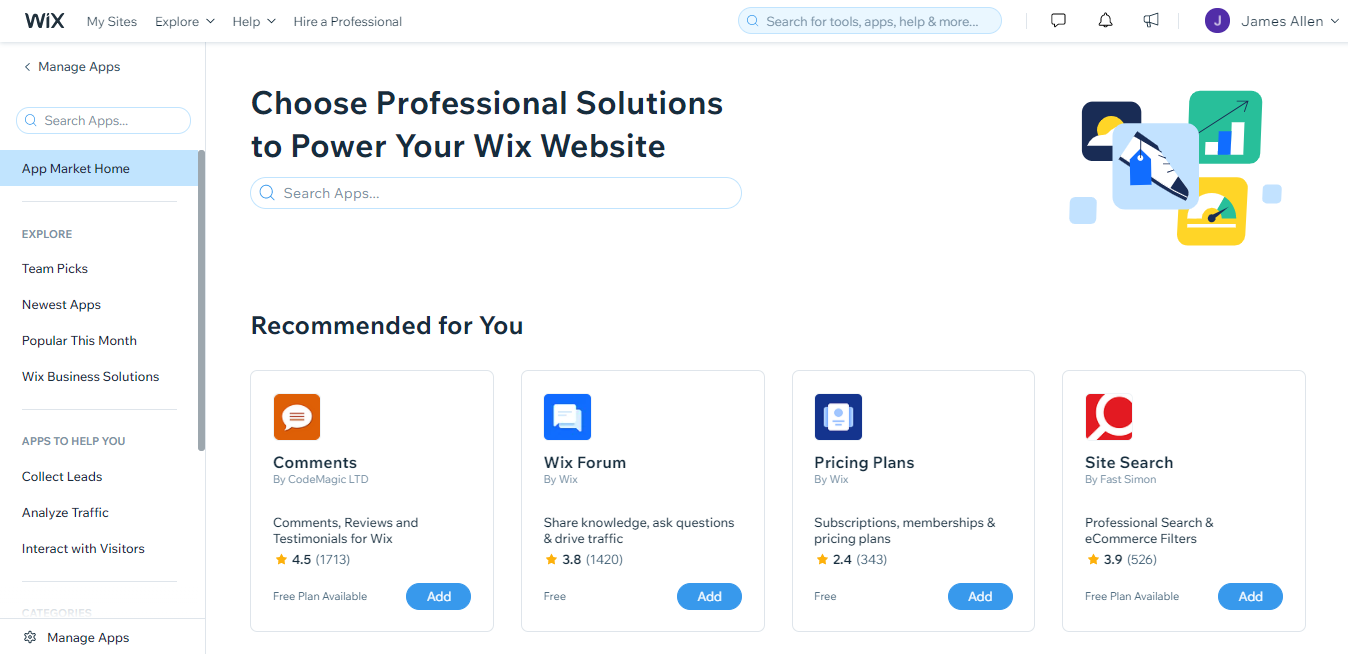 And these 250+ apps on Wix include the built-in apps from Wix as well as the third-party ones. Wix reviews these third-party plugins and makes sure they meet the guidelines before making them available for installation.
Verdict – WordPress
Obviously, WordPress dominates this section. With over 58,000 plugins in its directory, there is no end to the number of features a WordPress website can have. On the other hand, with only 250+ apps, Wix is limited in the types of features you can add to your website.
Say, in the long run, when looking to add more advanced or trendy features to your website, the apps available on Wix's App market will not be enough to meet your needs.
WordPress vs Wix: SEO
Search Engine Optimization (SEO) is the process of optimizing your website content to get a better rank in the Search Engine Results Page (SERPs). Website builders by default have built-in SEO functionality to help beginners and small businesses with ranking their websites.
WordPress
WordPress is SEO friendly, meaning it will take care of the basic SEO practices all by itself. You can take it up a notch by using SEO specific plugins that can turn your ordinary WordPress website into an SEO powerhouse.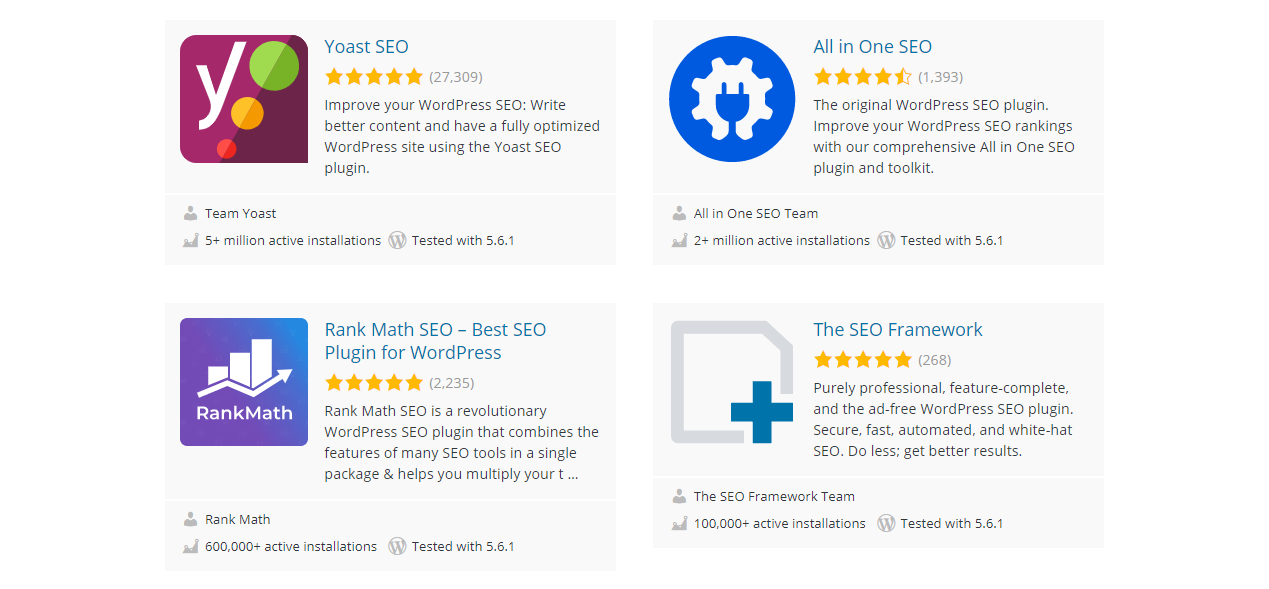 With the most popular SEO plugin, Yoast SEO in its directory, WordPress helps you to optimize your website and get a better rank on the search engines. Yoast SEO in its premium version comes with features like Keyword optimization, more content insights and easy redirects.
Apart from this, WordPress by itself provides options to create attractive permalinks, which helps you in the SEO game. So, even if you are a beginner with no clue about SEO and Search engine rankings, WordPress can set you up pretty well.
Wix
Though Wix had its own share of SEO issues back in the days, now it has got several SEO-friendly features like better URL structure, and even alt attributes for images. Wix has these features built-in in its dashboard, that can cover the SEO basics for your website.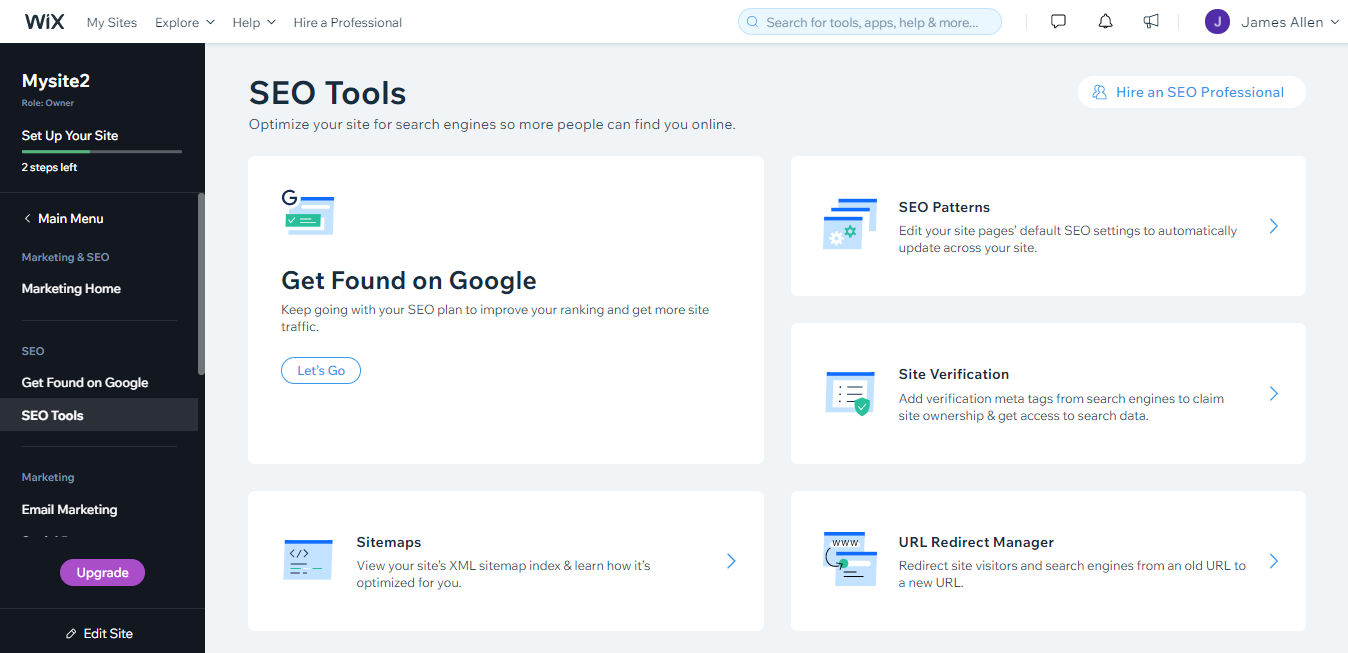 Apart from this, Wix also has SEO-specific apps in its App market that can get the job done.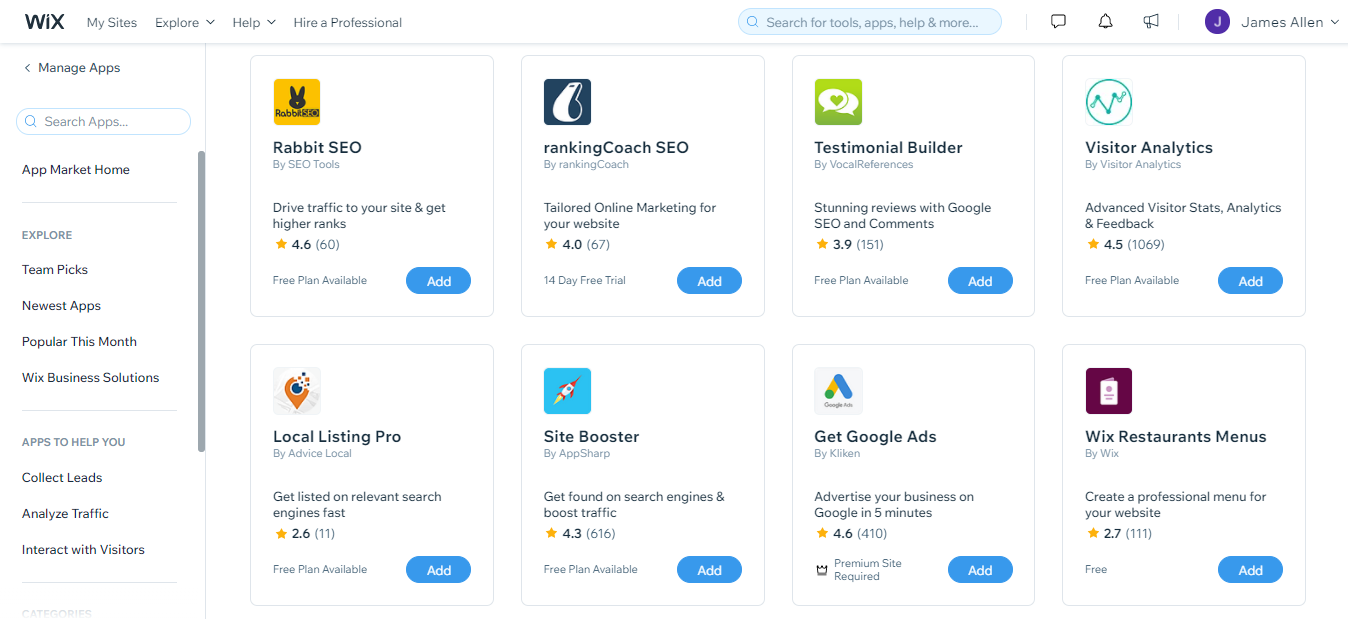 If all this SEO and search engine results sound alien to you, check our SEO article, where we discuss what SEO is and why it is important.
Verdict – WordPress
Though both WordPress and Wix offer strong SEO options, WordPress with its default options like customizing permalinks and adding alt text to images, help in getting a better rank on Search engines without breaking a sweat. In addition to this, WordPress has popular SEO plugins to get the job done in no time.
WordPress vs Wix: Ease of Use
Most beginners choose website builders as they want to build their websites the easy way. So, how easy are these website builders really for a non-technical beginner?
WordPress
Though WordPress is the most used CMS around the world, it only has a visual editor by default to manage the content. The default visual editor can initially be hard to understand for beginners. So, they may need to know their way around WordPress first before proceeding to website creation.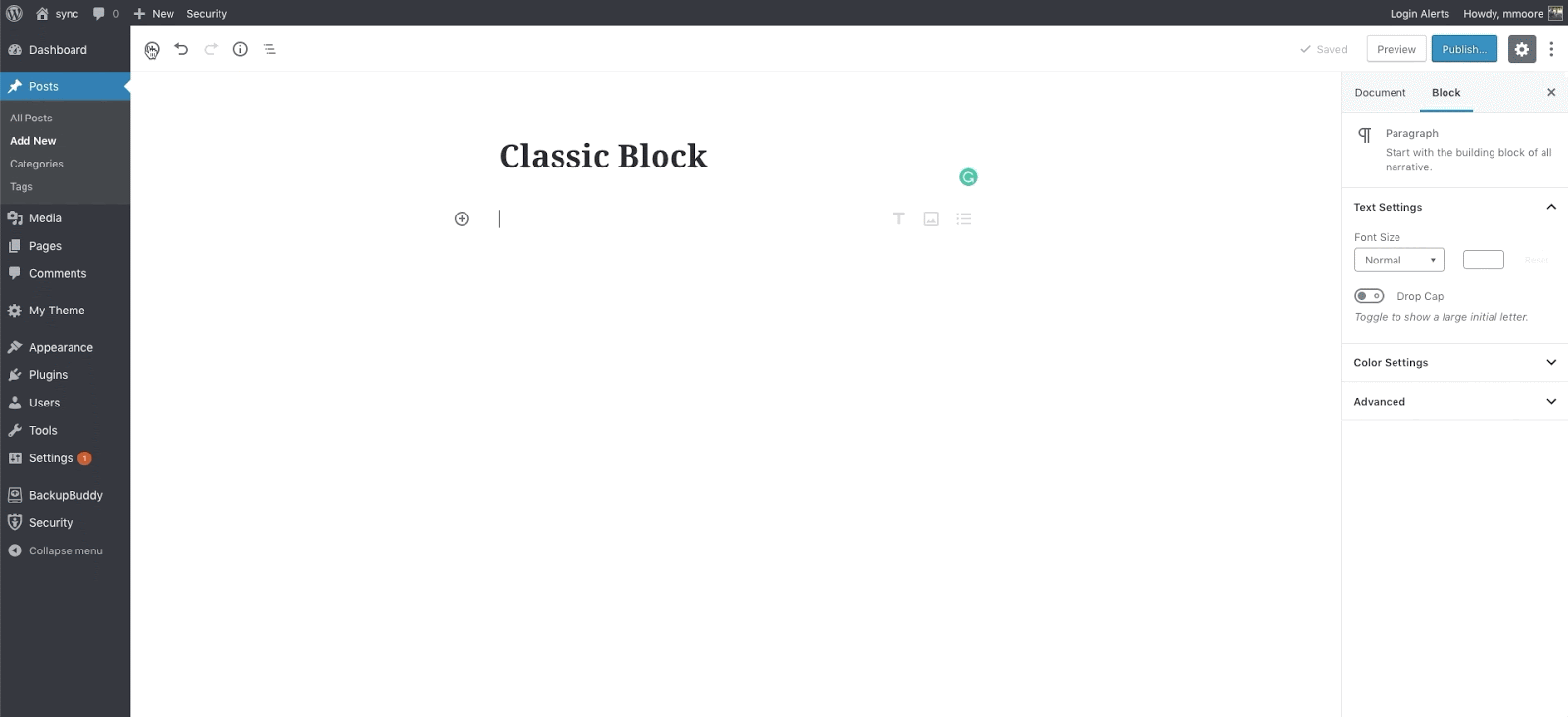 Though there is no default drag-and-drop website builder in WordPress, you can install and make use of the most popular Page Builder Plugin, Elementor Page Builder to create web pages using simple drag-and-drop.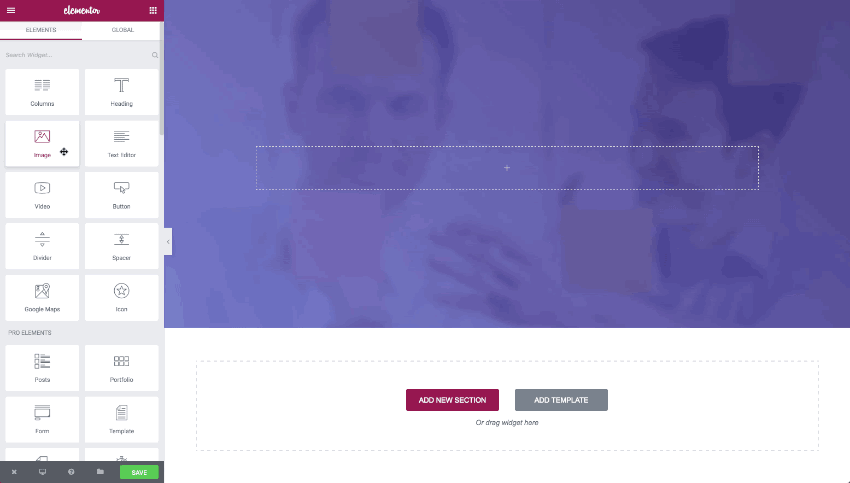 With Elementor, it's like working on a website builder within WordPress. Everything is treated as blocks, and there are enough blocks for all the essential features needed in a website. So, it is highly recommended you install such website builder plugins to your WordPress site.
Wix
Wix, on the other hand, offers a simple drag-and-drop website builder that's easy to understand for beginners. Once you are set on a theme for your website, you can experiment and build your website right within the drag-and-drop editor.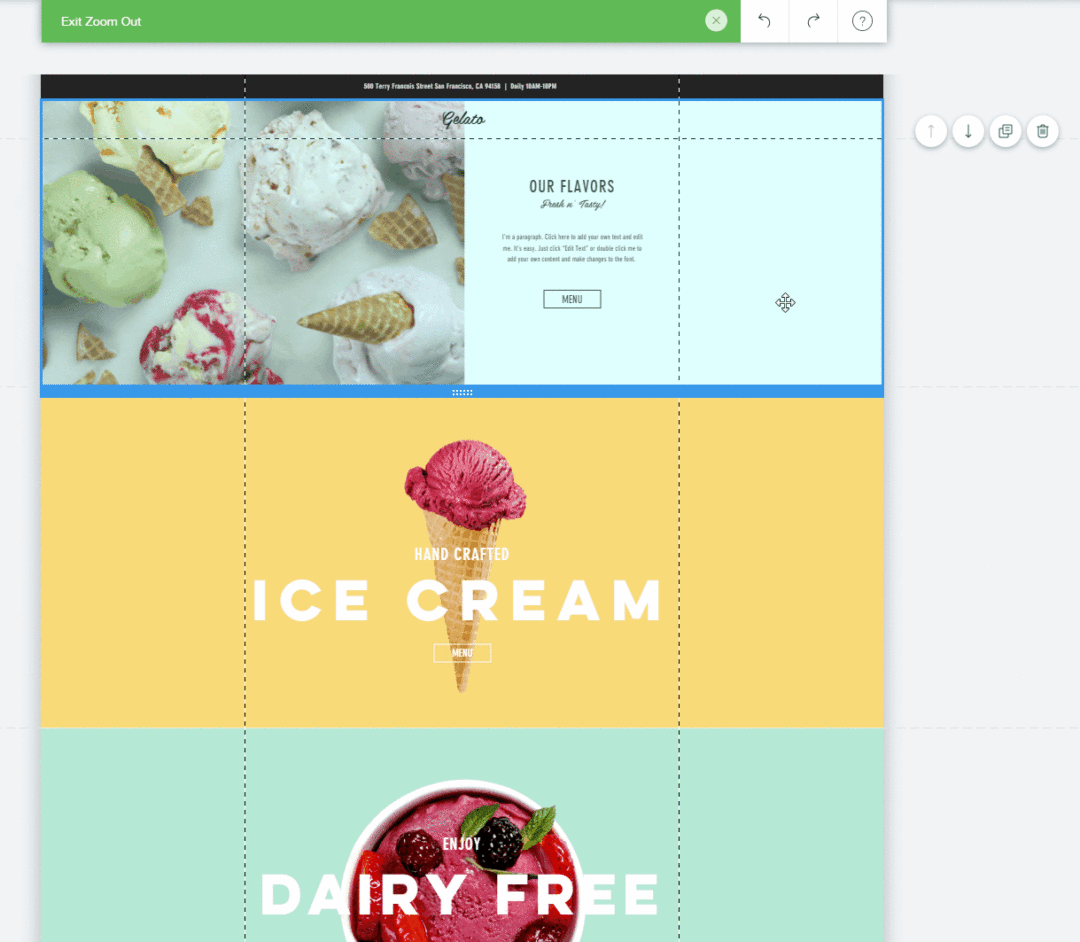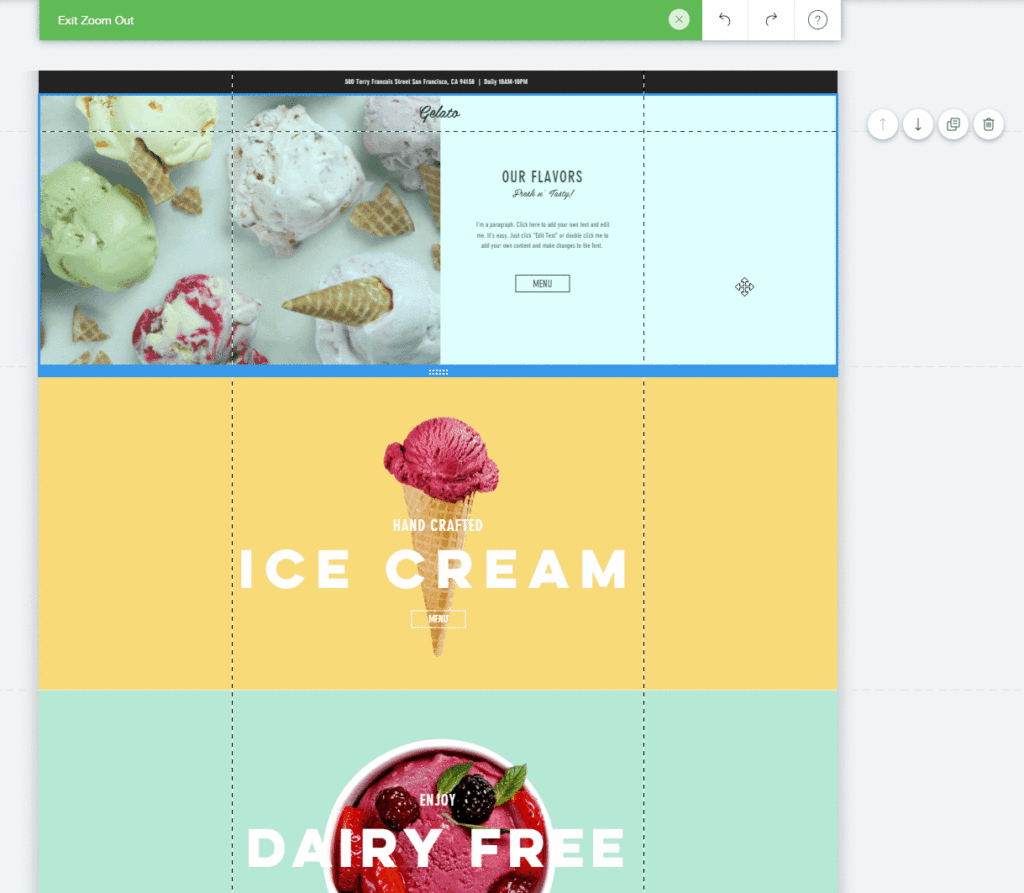 This is a dream come true for all non-technical beginners because you need not deal with any kind of coding throughout the process. You can write content, upload images and do anything and everything with your website, right within the WYSIWYG (What You See Is What You Get) editor.
Verdict – Wix
Wix certainly has an upper hand when it comes to Ease of use for beginners. Non-technical people starting out on website creation will definitely find it easy with the default drag-and-drop builder available on Wix compared to WordPress.
WordPress vs Wix: Cost
One of the reasons why small businesses and entrepreneurs choose to build their own websites is the high costs of hiring a website developer to build websites. So, let's see how cost-effective these website builders are for small businesses.
WordPress
WordPress is open-source and available for everyone to use. Though WordPress in itself is free, CMSs, in general, need hosting and domain to build websites. So, when talking about WordPress cost, WordPress is free, and the cost is of the hosting and domain for your website. And that cost is entirely dependent on the hosting provider you choose.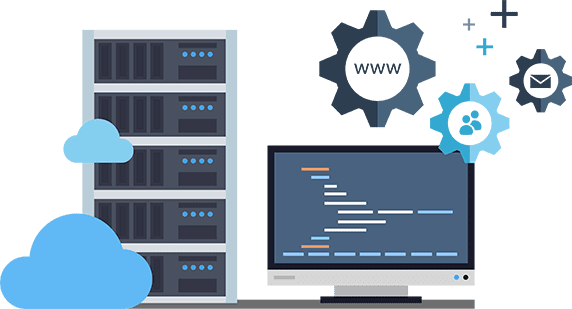 Say, you choose Bluehost, one of the WordPress recommended hosting providers, they provide several options, like Basic WordPress hosting starting from ₹199/month, to Managed WordPress hosting up to ₹3,059/month. So, it all comes down to choosing the right hosting provider for your website.
Wix
Wix has a free plan but that has its own limitations. With the free plan, you cannot have a custom domain name (you will end up with username.wix.com/sitename) and that doesn't look good for your website. On top of that, Wix places its advertisements on your website in the free plan.
To solve these issues, you can upgrade to one of their several premium plans. They have four general plans ranging from a Basic plan to exclusive VIP. Apart from this, they also have three specific plans for businesses from small-scale ones to large enterprises.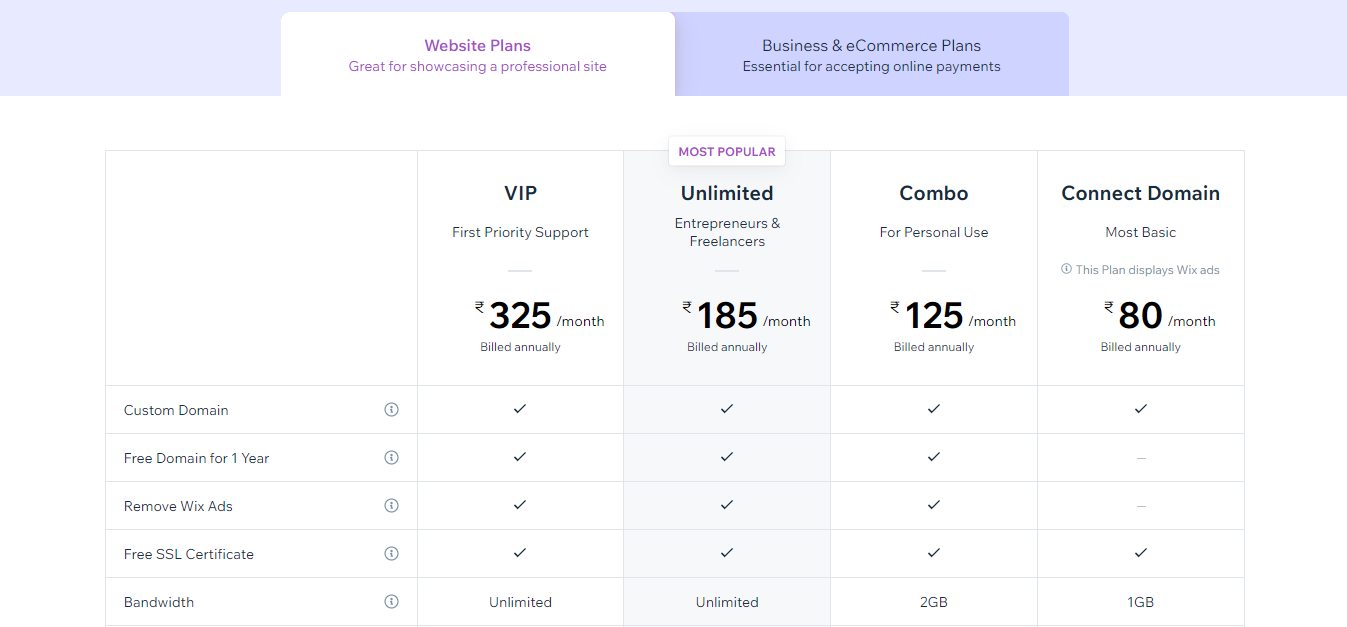 Verdict – It's a Tie
In terms of cost, WordPress is variable as there are several hosting providers with a range of plans for your website. With different options like Basic WordPress hosting and Managed WordPress hosting, you have options to choose from and customize the website of your choice.
Wix on the other hand has several premium plans, with three of them specifically made for eCommerce websites.
WordPress vs Wix: Which is Best for Blogging
There are more than 600 million blogs on the Internet, and that definitely says something! Nowadays, everyone has started blogging on their websites, and blogs have sort of become the end goal for most people creating websites.
WordPress
WordPress was initially a blogging platform and then it turned into a website builder. So, they have several features that are essential for blogging, like native commenting, private posts and the ability to backdate the blogs.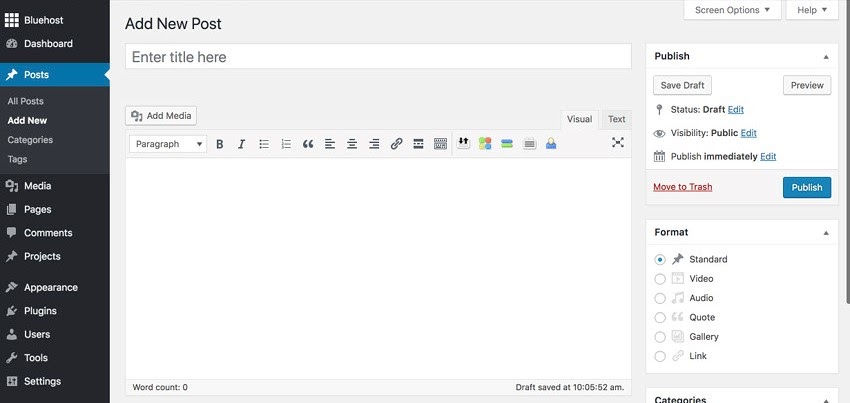 With this powerful CMS, you can go on and publish an endless number of blogs. Combined with the SEO capabilities of WordPress, your blogs can get more traffic, and even rank on the search engines organically.
Wix
With Wix, you can add a blogging section to your website. Though it is easy to get started, essential features like native commenting are not present and you have to rely on Facebook for comments. You need to make use of the Apps to get even the basic blogging features for your website.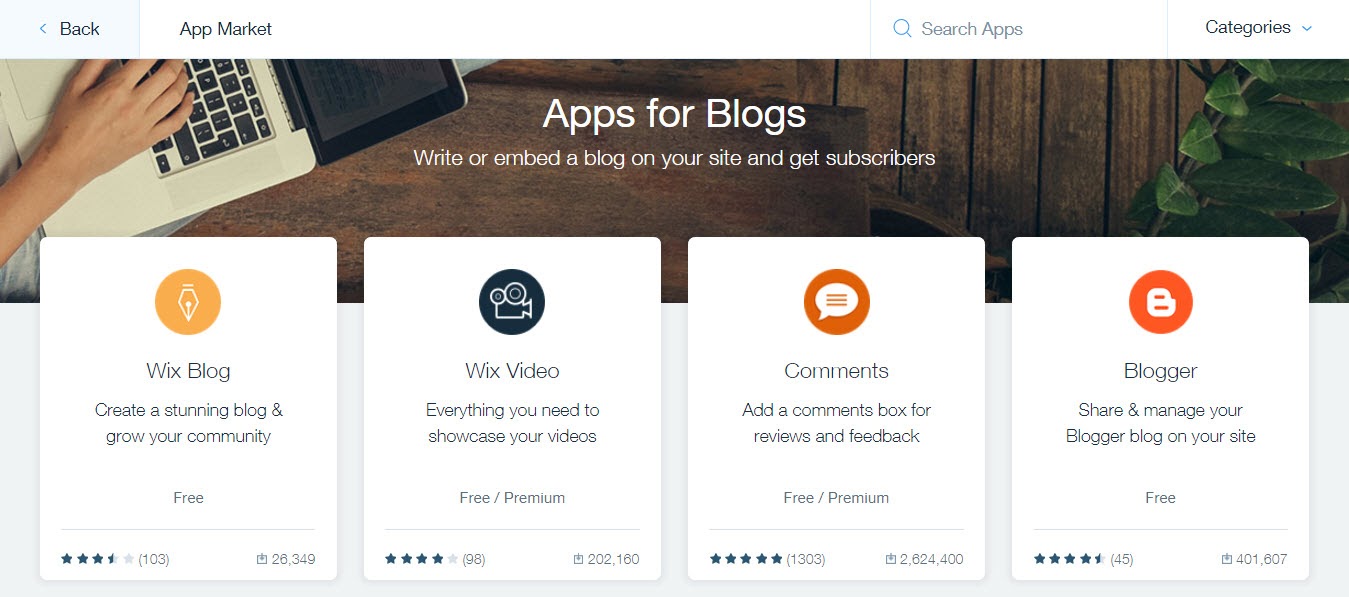 With basic features like tagging and a media gallery that comprises videos and GIFs available, Wix can be an ideal solution for beginner bloggers. But the blog writing interface is slightly different than the usual Wix builder, and thus you only have limited options.
Verdict – WordPress
WordPress started out as a blogging platform and has years of experience in perfecting its software for that. Also, WordPress has essential blogging features like native commenting and private posting, which are lacking in the Wix platform. So, WordPress is the obvious winner among the two when it comes to using your website as a dedicated blogging platform.
WordPress vs Wix: ECommerce
E-Commerce has been growing like crazy for the past few years. The number of businesses starting out on the Internet has drastically increased. And with the pandemic, the number has gone up like never before. So, how easy are these website builders for beginners looking to create their E-Commerce stores?
WordPress
WordPress has several themes particularly made for eCommerce stores. Along with that, it has plugins like WooCommerce which is specifically made for building eCommerce websites. With over 82 million installations, WooCommerce provides a flexible and customizable eCommerce platform for businesses all around the world.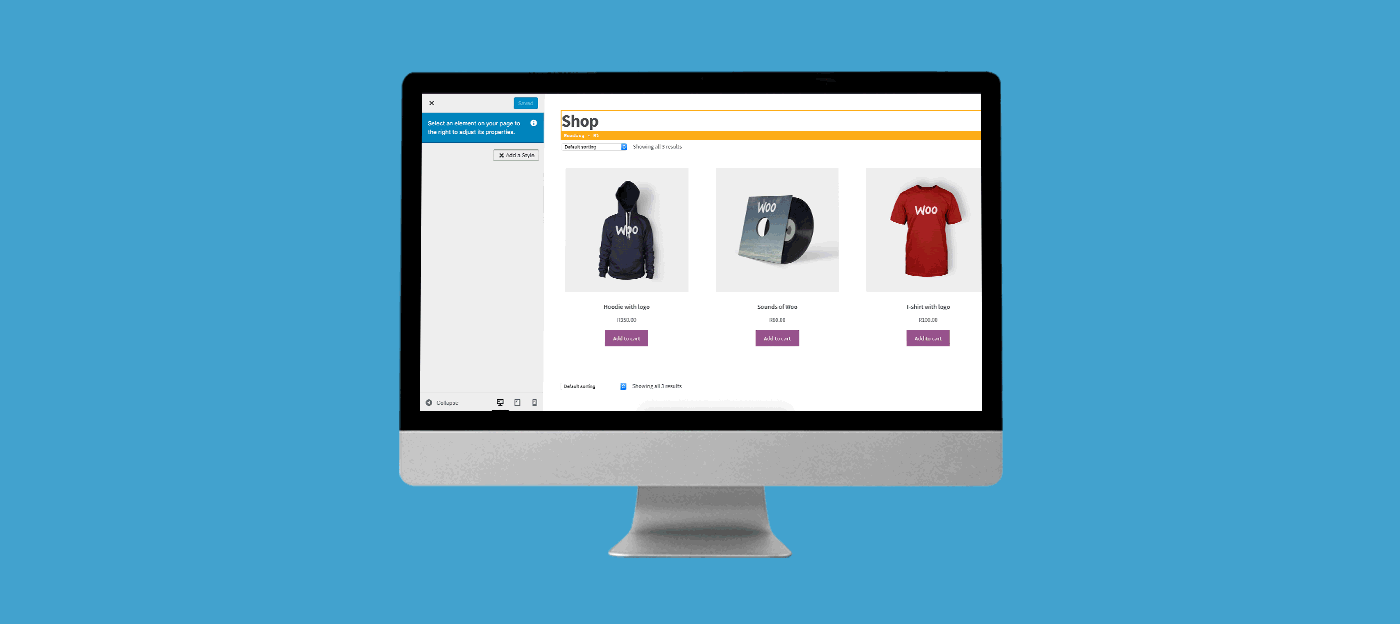 WooCommerce is open-source and has hundreds of extensions from its official store, offering a number of options in shipping and payment gateways.
Apart from WooCommerce, WordPress also has other plugins, not just for physical goods, but also for selling even totally digital products like Ebooks and courses.
Wix
With Wix, you can start the hard way, by working on an existing template to build your eCommerce website. Else, you can upgrade to one of its three paid plans dedicated to building eCommerce websites.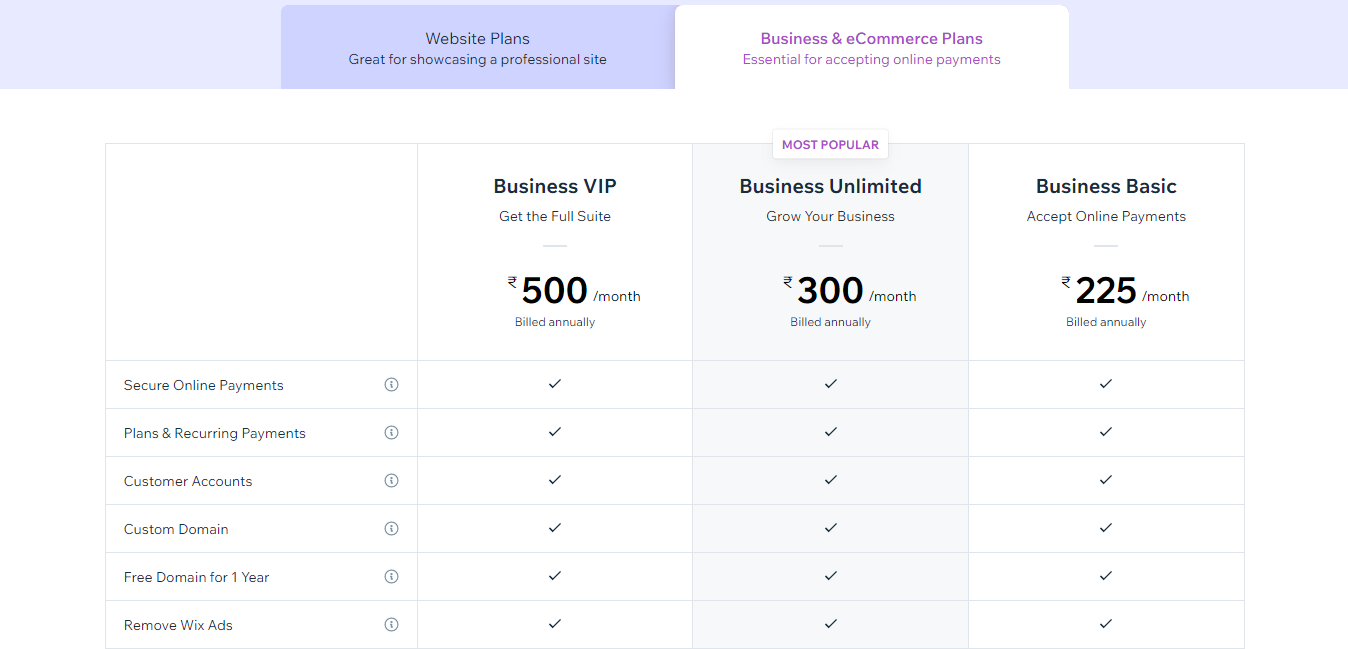 Wix has limited options when it comes to payment gateways and other essential functionalities. So, Wix may be suitable for small-scale businesses selling products in the short term.
Verdict – WordPress
WordPress has several eCommerce-specific themes to help you start with a basic design, which can be enhanced with the help of eCommerce plugins. With the ability to easily add a shopping cart and payment functionalities using plugins, WordPress has become the best place to start an online store. Wix, on the other hand, has limited functionalities, so may not be ideal in the long run.
WordPress vs Wix: Support
At times while building your website, you may get stuck on one thing or the other and will need some support to assist you. And considering how mostly it is beginners and non-technical people that use website builders, it is crucial to have customer support in case of any queries.
WordPress
WordPress officially has several detailed articles on every imaginable step in building your website. These articles pretty much cover up all the queries that one can ask.

Also, WordPress has been around for quite some time now, and the numbers of users have increased exponentially over the years. So, there are several forums where WordPress users can get their WordPress queries resolved in no time.
Wix
Wix with an in-house support team offers support via Phone and Email on the weekdays. Apart from this direct support, Wix also has a separate Help centre with hundreds of articles that solve almost any queries related to Wix website creation. These articles cover topics from starting out in Wix to building genre-specific websites like Restaurants and Photography.

Verdict – Wix
Among WordPress and Wix, Wix has better customer support with multiple channels like Phone and Email to solve user queries. Also, with genre-specific support articles like for a Restaurant, Travel or even a Photography website, Wix provides better support than WordPress.
Conclusion
That pretty much sums up WordPress Vs Wix. While they are not exactly the same and don't have the same workflow, at the end of the day, a fully functioning and responsive website is the goal. And they both are capable of creating any kind of website, be it personal or for a business. So, be it WordPress or Wix, it's going to come up with its own set of pros and cons.
Though Wix is relatively new compared to WordPress, it has grown into a full-on website builder over the years. If you don't want the hassle of having to choose hosting and domain on your own, you can opt for Wix to build your website. Also, if you don't want that slight learning curve that comes with WordPress, then Wix is the right choice for you.
Here is how you can get started and create your first Wix website.
But with its years of experience, WordPress has been building an ideal solution for beginners starting out on website creation. It has become highly flexible, customizable, and offers several options for everyone from bloggers to online store owners.
With the thousands of themes and plugins, WordPress has grown to become a one-stop solution for all website needs. Be it personal blogs, business websites, or eCommerce stores, WordPress has it all for you.
So, Here is how you can get started and create your first WordPress website.
And for more such video tutorials on creating and customizing your website, subscribe to our YouTube channel.
Frequently Asked Questions (FAQs)
Is Wix better than WordPress?
Not exactly. Both Wix and WordPress are unique and equally good in their own ways. If you are an absolute beginner who only wants to build a website without having to worry about hosting, domain, or other technicalities involved, then Wix may look like a better option.
But, if you prefer to have control over the website, and are ok with a bit of a learning curve, then WordPress can be the right choice to build the website.
Is WordPress cheaper than Wix?
The cost of creating a WordPress website is variable since it's dependent on the choice of hosting provider and even the type of hosting. Also, most WordPress plugins in their free version provide amazing features for the website.
So, the cost of running a WordPress website totally depends on how many resources you want to use, unlike Wix, where the premium plans are fixed for all websites.
Can you switch from Wix to WordPress?
Yes. You can start by creating a separate WordPress website, and then migrating the Wix-built website to WordPress. This can be made possible using the RSS feed to import the necessary posts. Also, you can manually copy the posts and images from Wix to WordPress.
Is Wix good for SEO?
Yes. Though Wix used to have some SEO issues compared to its competitors like WordPress, they have now improved on it by using features like better URL structure, and alt attributes for images, etc.
Apart from these features, Wix has several SEO-specific Apps in the market that can do the trick for your website.
WordPress or Wix, which one is better for a beginner?
If you are a beginner who simply wants to build a website, without worrying about hosting, domain, or other technical aspects of a website, then Wix website builder may look like a better option for your website.
With WordPress, there will be a slight learning curve along with the fact that you need to purchase a domain and hosting separately from a hosting provider. Though it may sound like a lot of work, you have control at the end of the day, and it'll be a better choice in the long run.
Should I use Wix or WordPress for making an eCommerce-type website?
WordPress, over its years of operation, has developed a fail-proof plan to build eCommerce websites. They have a dedicated eCommerce plugin, WooCommerce that covers almost all the aspects of creating and managing an eCommerce website.
Whereas, Wix on the other hand has limited eCommerce functionalities. However, they have a couple of paid plans specifically dedicated to developing eCommerce websites.
Get our tips to make full use of the website builder