Are you in the process of creating your own eCommerce website?
Or

You're looking to migrate your eCommerce Website to Faster Web Hosting?
But with so many hosting providers in the market, are you finding it hard to choose the Best Web hosting for your eCommerce website?
Then you're in the right place.
In this blog, we're going to tell you the Best Web Hosting for eCommerce websites and why you need to choose eCommerce hosting for E-commerce websites.
Now, if you want to cut to the chase and check out the 5 best hosting platforms for eCommerce we have listed,
Take a look at this table!
Hosting
Platform
Best Features
Website
Uptime
Price starts from
WebSpaceKit

Built for WooCommerce
Fastest loading time
Hosting servers located in India, Singapore and Europe
Staging site
Beginner-friendly control panel
Uses CageFS technology for security
24*7 customer support
Daily automatic backups

99.99%
₹199/month
Bluehost

Allows unlimited products
Servers primarily in the US (slow loading for Indian audiences)
Marketing add-ons like an email marketing tool, automatic social sharing feature, and an anti-spam tool provided with hosting
24*7 customer Support (No email support)

99.96%
₹899/month
GoDaddy

Free WooCommerce extensions
Provides malware scans every day to ensure site security
Servers primarily in the US (slow loading for Indian audiences)
Flexible on product types (physical & digital products)
Daily automatic backups
24*7 customer support

99.95%
₹ 1139/month
Dreamhost

Hosting servers in the US yet provides a fast loading time
1-click staging site
Automatic Backups & Updates
24*7 customer support

99.62%
$16.95 /month
Cloudways

Completely cloud-based
Superfast loading time (second to WebSpaceKit)
Highly scalable hosting platform
Offers a pay-as-you-go plan
Offers 5 cloud server options like Google Cloud, AWS, etc.
24*7 customer support

99.99%
$33.30 for Google Cloud$33.51 for Amazon Web Services (AWS)
But, What is eCommerce Hosting?
As the name itself suggests, eCommerce hosting is a hosting that is specifically designed to host eCommerce websites.
It is equipped with every essential feature needed to sell products and services online.
By offering an eCommerce specific hosting plan, the hosting company provides top-notch functionality and systems for your eCommerce website.
Running a website online is complex on its own. And, running an eCommerce website can get more complicated. That is why it is crucial to choose a hosting that is designed for it.
An ideal eCommerce hosting offers
Super fast loading speed
Dedicated server to host your site
Top-notch security of all your site data
Huge disk space
Different modes of purchases
Ability to run all eCommerce features, etc.
Advantages & Disadvantages of having an Ecommerce Hosting
When you have an eCommerce website, getting an eCommerce specific hosting is the best option you can choose.
In this section, we will highlight some of the advantages and disadvantages of having an eCommerce hosting.
Advantages of having an Ecommerce Hosting
1. eCommerce specific features
Like we said earlier, when you're running an eCommerce website, you need to have many features that allow you to run your business smoothly. And, having an eCommerce hosting makes it all easier for you to set up.
2. Optimized for high-performance
When compared with a regular hosting plan, an eCommerce hosting is optimized in every way to provide eCommerce sites with the best performance and user experience. This helps you not worry about how your site is working and focus more on selling.
3. Website Scalability
Scalability is a crucial factor for your eCommerce website in terms of handling a surge of traffic. If your brand is established, you will have multiple audiences visiting your website every minute.
And your site's servers should be able to handle it. If not, your web servers will be down and your site will stop working.
Now imagine you're running a huge sale and your audiences are not able to purchase. This can result in many losses for your business.
An eCommerce hosting is designed to deal with traffic surges and provide a smooth process for your audience at all times.
4. Secure transactions
One of the most important parts of running an online store is the site's safety and security.
Compared to a typical blog website, an eCommerce website stores more delicate information like customer details, payment details, personal info, etc. And this information needs to be kept safe to protect your business and its audiences.
Disadvantage(s) of getting an eCommerce hosting
1. Hosting prices are relatively higher
Because of all the flexibility and scalability an eCommerce hosting provider offers, there's gotta be a small catch, right?
Well… Not so much of a catch but more of a price to pay (literally).
But considering the importance of having a high functionality eCommerce website, the slightly higher hosting price is justifiable.
This isn't exactly a disadvantage but a higher hosting price might be hard for businesses struggling with a tight budget. But, if you're anything like us, you would also choose your website's scalability and fast performance over spending a few extra bucks.
Now that you know the advantages & disadvantages and know why you should get an eCommerce hosting, you might be wondering…
"Is eCommerce hosting really for me?"
"Should I purchase an eCommerce hosting instead of a general web hosting?"
So, is eCommerce hosting the best for your business?
Here's our two cents on this question.
If you have a website that sells products or services, you will have many products, product data, user data, etc.
And to save all these on your website, you will need more space in your database.
An eCommerce hosting takes all these into consideration and offers the best hosting plan for your business.
So, if your website has a consistent audience with an increase in purchases,
Then you'll be doing your business a HUGE favor by hosting it on an eCommerce hosting.
It not only improves your website's performance but also saves you a lot of time and money by providing the necessary features to run an eCommerce store.
And, it also gives you the freedom to manage your store under one roof and lets you focus on your business's needs.
When you probably shouldn't get an eCommerce hosting?
If your business is relatively new
If your website has less number of products
Your site traffic per month is limited
The data on your website is manageable
Under these cases, you will be able to run your eCommerce website smoothly even with a normal website hosting.
As your site grows, you can shift to a best eCommerce hosting provider and scale your online possibilities.
As important it is to choose eCommerce hosting, it is equally important to choose the right eCommerce hosting provider. Because a hosting provider goes a long way and it literally forms the basis of the eCommerce website.
So, you need to consider several factors that you want for your website before making the decision. This includes how much you prioritize your website speed, reliability, security, etc.
So, to help you make a sound decision, we have analysed the various eCommerce hosting providers and curated the list of the 5 Best web hosting for eCommerce websites.
Before getting into each of the hosting providers in detail, let's first understand what are the must-have features you need to look for in an eCommerce hosting provider. These features will help you make a better decision when we get into the details of each hosting provider.
Must-have features for eCommerce hosting
What we have discussed here are the essential features every eCommerce hosting provider must possess.
Uptime
Uptime is the period of time for which the website is up and running, being accessible for the users. In terms of hosting providers, uptime is the period when a hosting server is up and active, making sure your website is accessible on the Internet.
Any time when the website is down or can't be accessed by the customers is termed downtime. And downtime affects business, as sales take a hit which eventually results in loss of revenue.
Though 100% uptime is the goal, as it is not practically possible, most providers aim for 99.999% uptime.
Speed
One of the most crucial factors for not just eCommerce websites, but for all types of websites, is the website speed. It refers to how fast the hosting server responds and how quick the website loads for the end-user. Website Speed has the potential to either make or break your website.
Storage
Storage or Disk Space, in technical terms, is the amount of space available on the hosting server to store the contents of your website like text, images, etc. As your website grows over time, you would need more and more disk space considering the traffic.
Security & Backup
While security is essential for all types of websites, it is even more important when it comes to eCommerce websites. As the customers transact and pay on your website, their payment and contact details need to be secure at all times.
And having a weekly or monthly backup of the entire website is crucial too, just in case something goes sideways.
Customer Support
At times, you may face some sort of issue while setting up or managing your eCommerce website. At such times, it is helpful to have a hosting provider that provides 24×7 assistance in ensuring a smooth flow of business.
These are the 5 essential factors that one needs to consider when choosing an eCommerce hosting provider.
With that, let's get into the list of the Top 5 eCommerce hosting providers and look at each one of them in detail.
5 Best Web Hosting for eCommerce websites
After careful consideration with respect to the above-mentioned factors and even more, we have curated the list of the 5 Best Web Hosting for eCommerce websites.
To keep things fair and square, we hosted a similar eCommerce website with different hosting providers to compare the performance.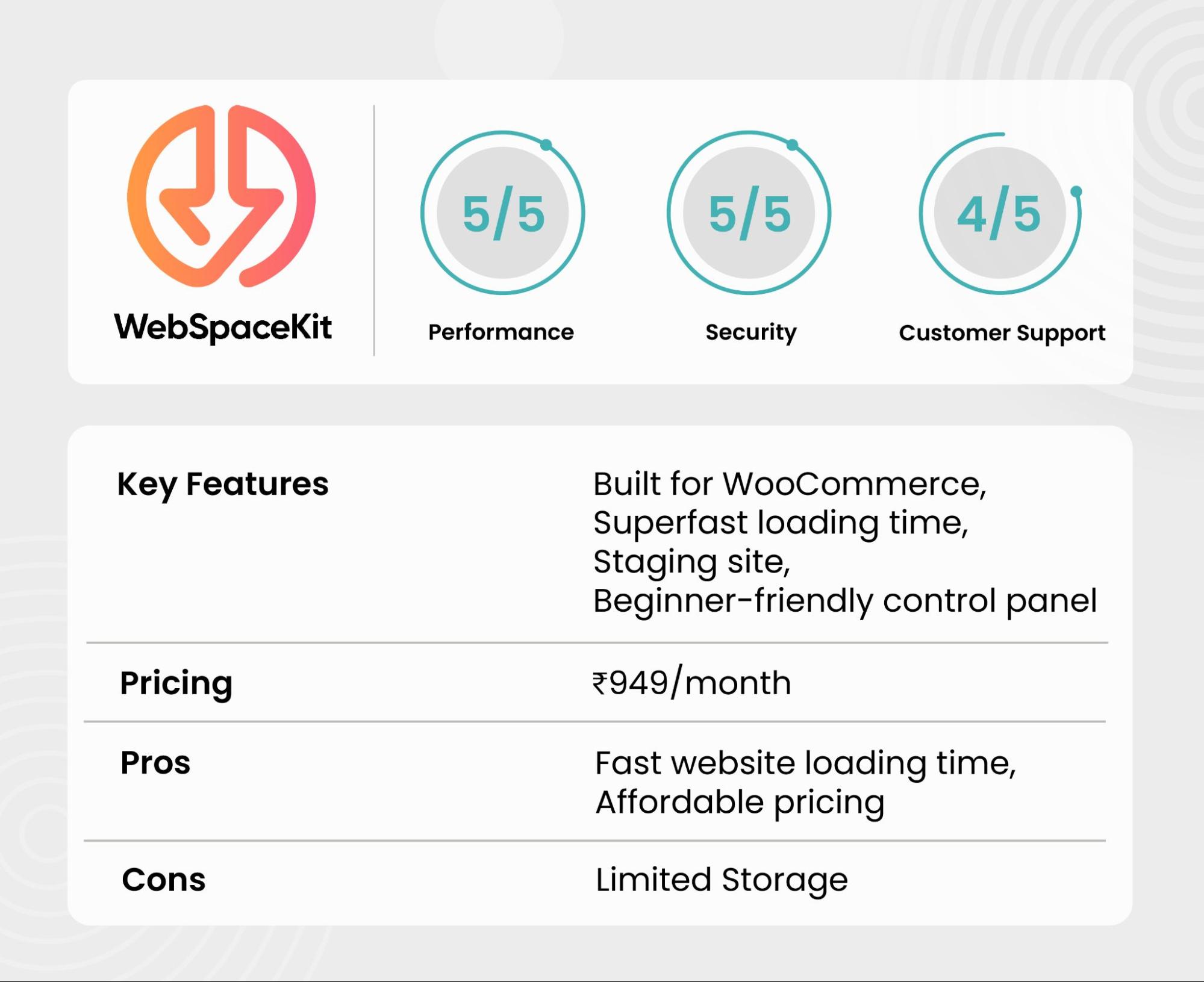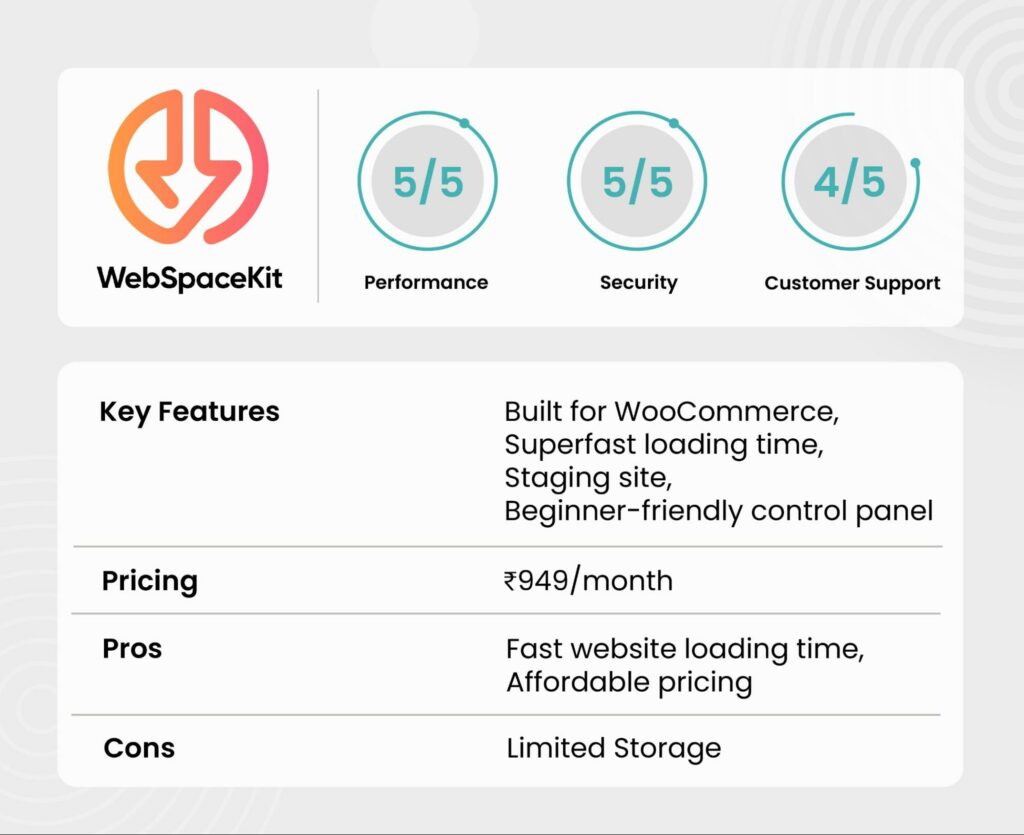 WebSpaceKit is a popular hosting provider built specifically to host WordPress websites. Though WebSpaceKit is comparatively new, it has become hugely popular due to its fast website loading time.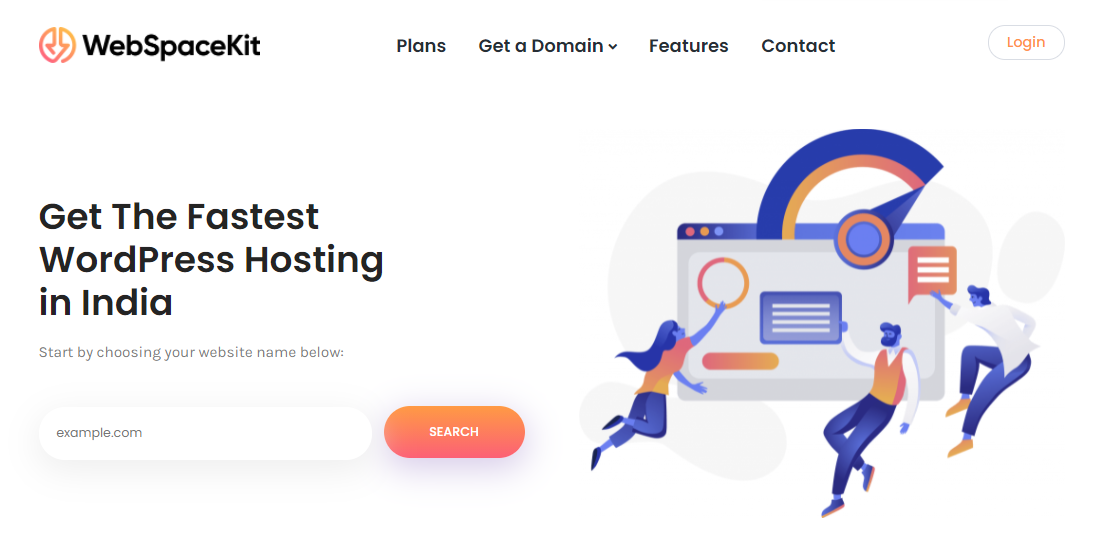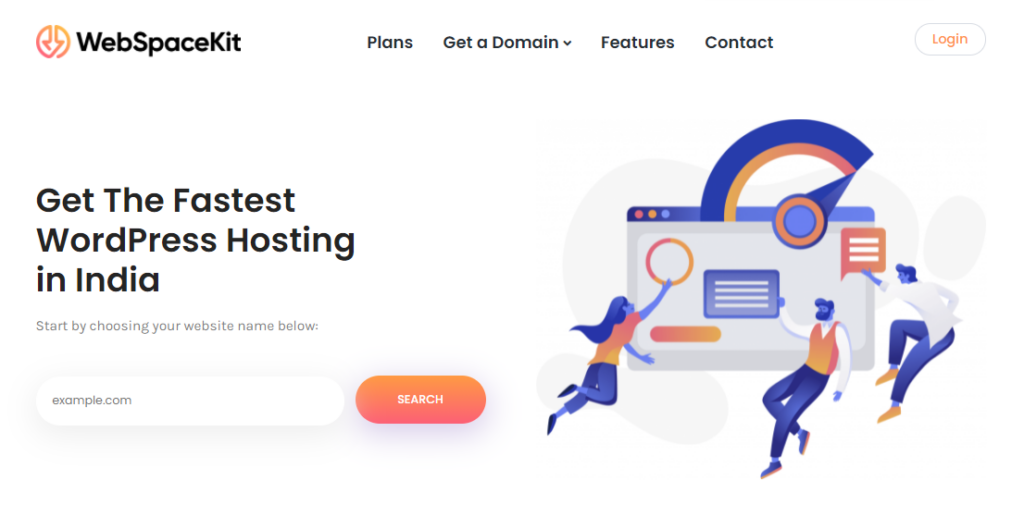 Performance and Security
WebSpaceKit is widely popular for the speed it offers. With its servers located in Europe, India, and Singapore, users across the world can choose the nearest data centre to avail of superfast websites.
Say, a website gets most of its traffic from the Asian countries, the business owner can choose either the Indian or Singaporean data centre and have the website load in no time.
Anyway, we tested the speed for ourselves. We hosted a test website with WebSpaceKit and checked how it performed with a GTMetrix Speed test.


Well, there were no surprises! WebSpaceKit has proved why it's the fastest WooCommerce hosting provider in India, the test website loaded in just 1.5 seconds!
1.5 seconds! That's all it took for WebSpaceKit to fully load the eCommerce website for the visitors. Considering how crucial speed is for eCommerce stores, WebSpaceKit has proven to be one of the best web hosting for eCommerce websites.
In the Speed test, LCP (Largest Contentful Paint) refers to the time taken by the largest content element (images, headings, etc.) on the page to become visible for the user.
While, FLT (Fully Loaded Time) is the time by which the processing of the entire website is complete, and all resources including headings, text, and images are fully visible to the visitor.
With website speed out of the way, another crucial factor we need to consider is Uptime. WebSpaceKit provides an amazing Uptime of 99.99%, which means that there is hardly any downtime for the eCommerce website.

With respect to security, WebSpaceKit provides Free SSL along with all of its hosting plans. This provides the basic security for the eCommerce website, while they level it up using the state of the art CageFS technology.
CageFS technology conceals user information from other users and ensures complete privacy for all website users.
Features
Built for WooCommerce
Unlike other hosting providers where WooCommerce hosting is just one of the types, WebSpaceKit is specifically built to host WordPress and WooCommerce websites. So it is no surprise how suitable it is for WooCommerce websites. 
With servers that are optimized for WordPress, everything from creating an online store to managing it will be a cakewalk for business owners.
Superfast loading time
Website loading time is crucial for eCommerce websites as it'll determine whether or not a customer will proceed with the purchase. Unlike most hosting providers that primarily have their servers in the US, WebSpaceKit has its servers in Europe, India and Singapore.
This ensures superfast loading time, not just for the other parts of the world, but also for Asian countries like India.


Staging site
Another important feature from WebSpaceKit is the staging site which is an exact replica of the original website where business owners can try new themes, plugins, etc, without impacting the original eCommerce store.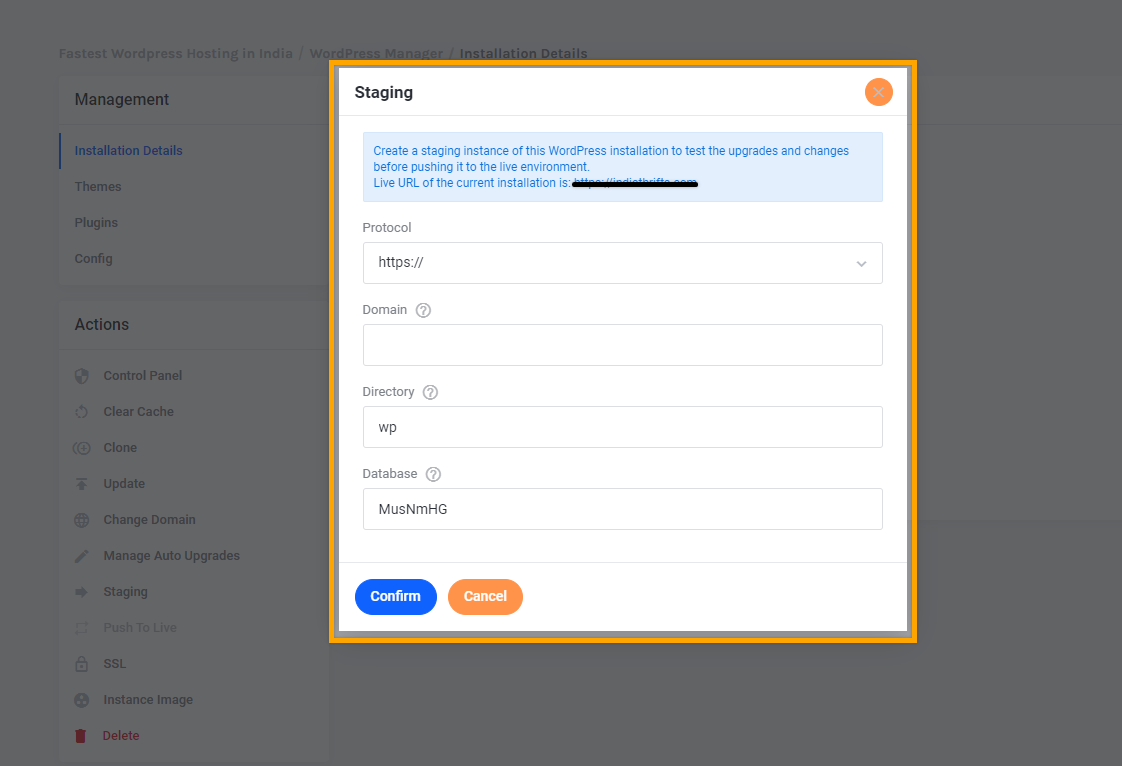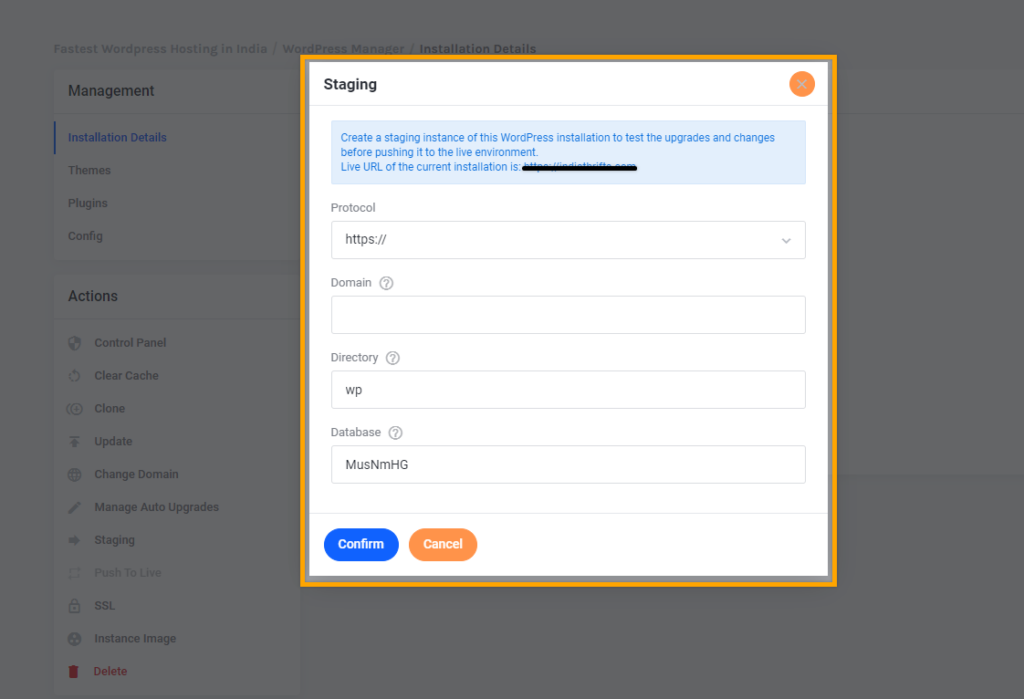 A staging site helps businesses to test and experiment with different elements of the website before making it live for the customers.
Beginner-friendly control panel
WebSpaceKit has a beginner-friendly user panel that removes all sorts of complexities for website owners. It's designed in such a way that one can get access to Domains, files, backups, and even launch the website in a few clicks.
Customer Support
WebSpaceKit provides expert customer support for all its users across all the three commonly used channels of Email, Phone, and Live chat. With the help of the WooCommerce experts, they provide 24/7/365 assistance via Email and Phone, and the Live chat option is available during business hours.
Apart from these, WebSpaceKit has a knowledge base that resolves the frequently asked questions. To cater to all users, they also have a traditional ticket-based support system where users can raise a ticket in case of any issues.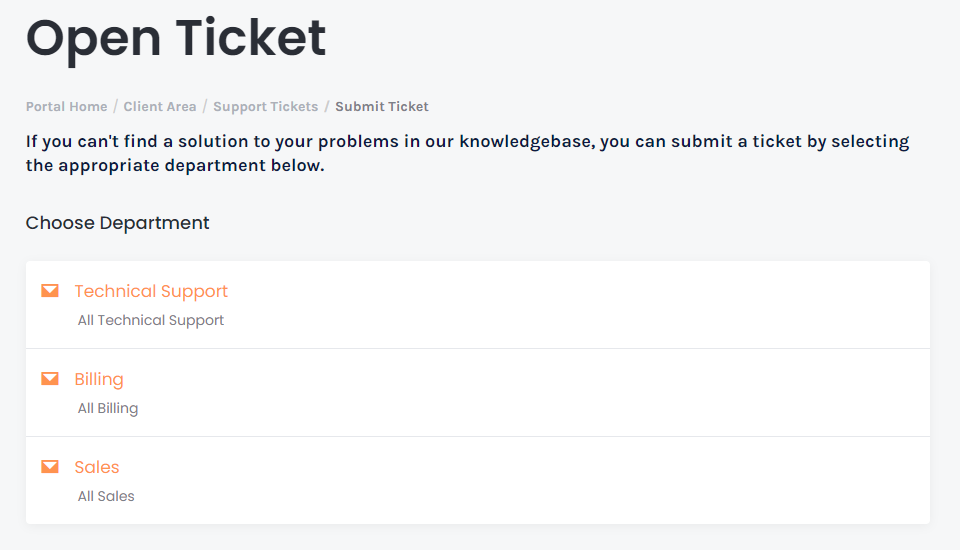 Pricing
WebSpaceKit has four Managed WordPress hosting plans, namely Starter, Pro, Business, and Geek, with the Starter plan at only ₹199/month. It provides Free SSL, Free Domain, and Free business email across all plans.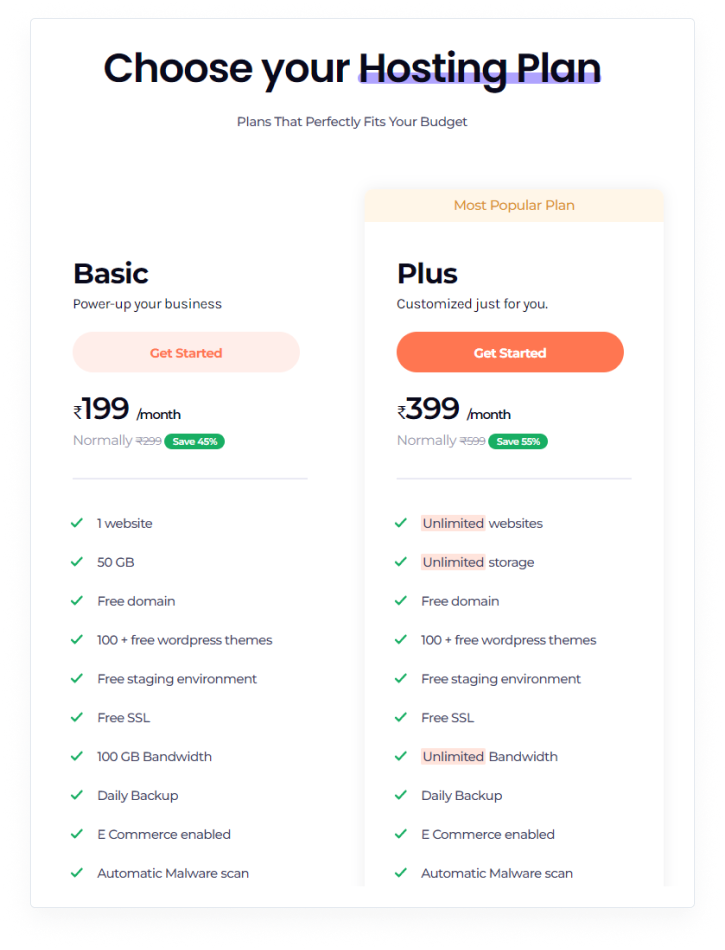 Each of the four plans is custom-made to suit the needs of the respective website owners. While all of them are suitable to start an eCommerce website, Pro plan priced at ₹549/month with 15 GB disk space is ideal to host new and small businesses.
However, if you already own an online store and wish to upgrade to a much better plan, then the Business plan, priced at ₹949/month is ideal, considering the number of WordPress websites and disk space.
Over the years, as the business grows, WebSpaceKit is scalable too, catering to the growing traffic of the online store. Check our detailed WebSpaceKit review to learn more about this fast eCommerce hosting provider.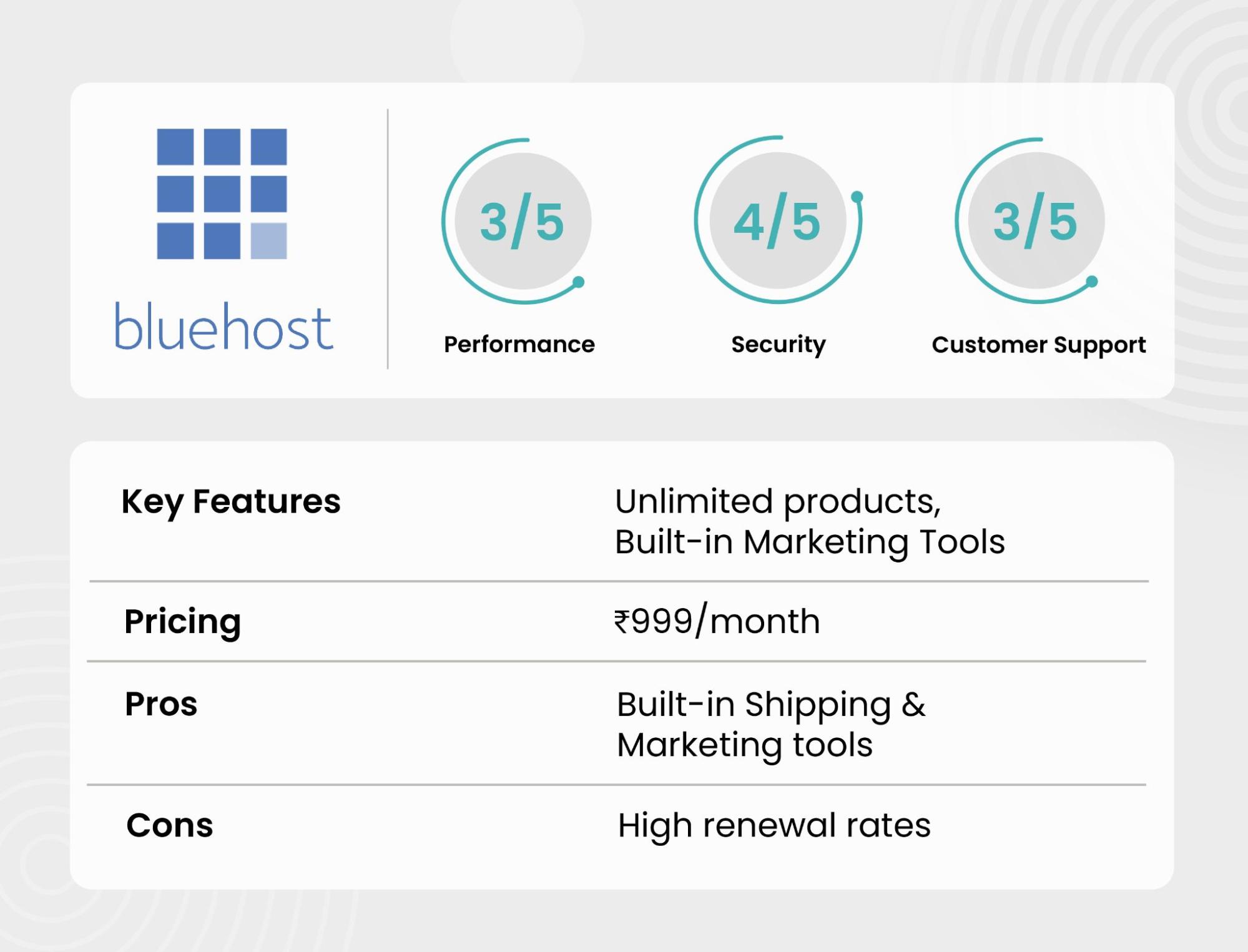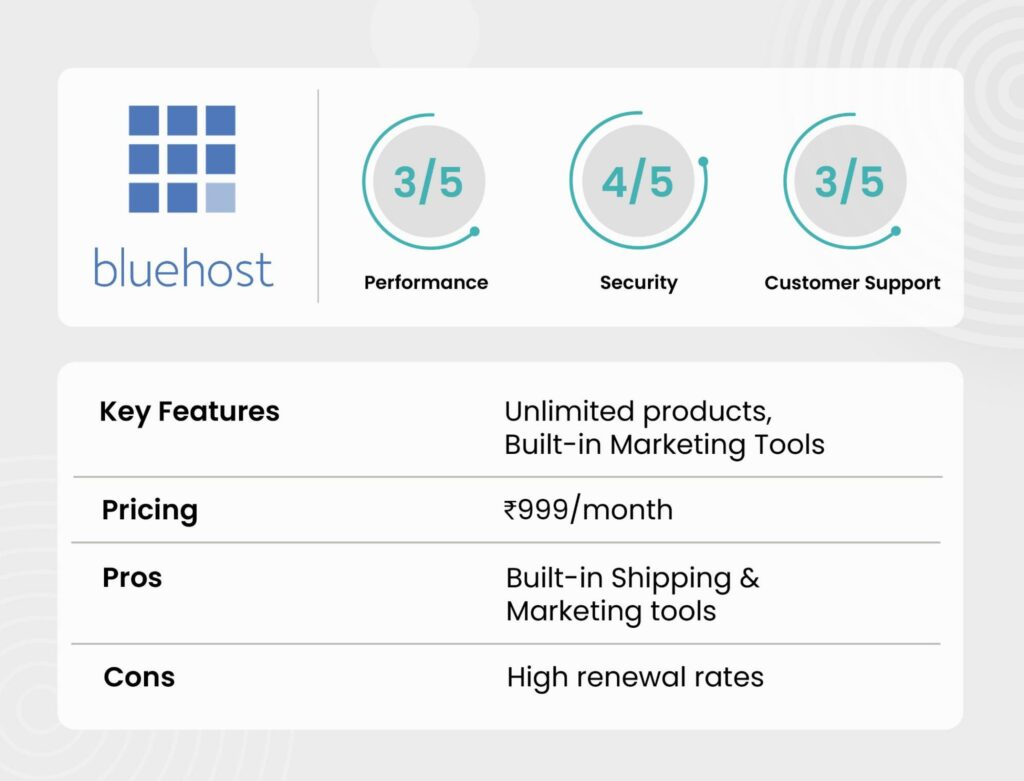 One of the prominent names in the hosting scene, Bluehost is a popular choice to host eCommerce websites. Having been around for a long time now and officially recommended by WordPress, Bluehost has carefully crafted eCommerce hosting plans for online businesses.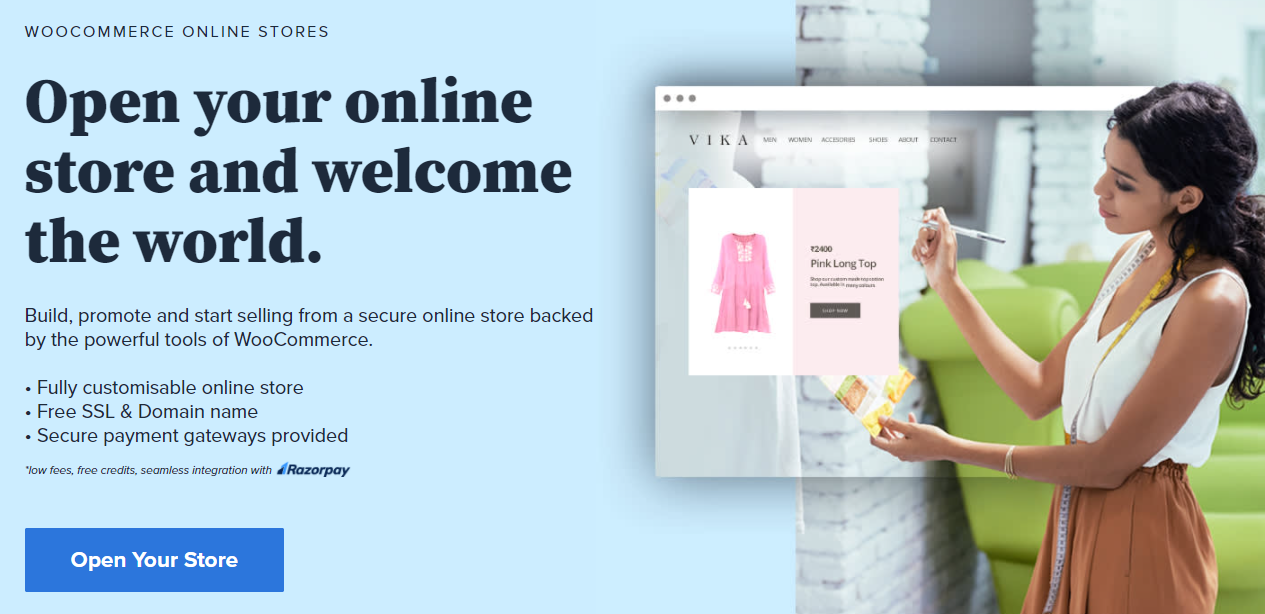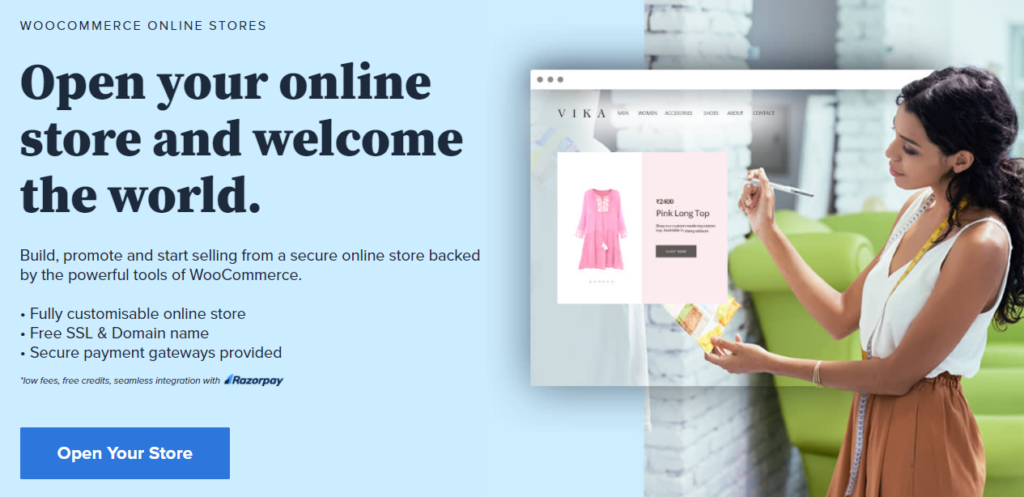 Performance and Security
Bluehost is known to be reliable over the years and is quite a fit for eCommerce websites. As Bluehost primarily has its servers in the US and performs quite well across the world, we still need to find how it performs in Asian countries like India.
And it's time to check that! To keep things fair, we hosted a similar test website with Bluehost and ran it through a GTMetrix speed test from Mumbai, India.


Well, that didn't turn out as we expected! The eCommerce test website hosted with Bluehost took 3.6 seconds to fully load for the visitors. With even Least Contentful Paint (LCP) taking 2.2 seconds, we can't be sure whether the customers will wait that long!
While the website loading time didn't go as expected, Bluehost excels by providing a competitive Uptime of 99.96%, meaning the eCommerce website will be up and running for most time of the year.

Bluehost provides Free SSL with all of their website hosting plans which ensure the basic security of the online store. They also provide anti-spam add-ons called Spam Experts to protect the online store from any kind of spam on the Internet.
Features
Unlimited products
With respect to Store management, Bluehost provides an option to 'Sell Unlimited products' across both of its WooCommerce hosting plans. This means that business owners can add any number of products to the eCommerce websites without having to purchase any sort of add-on or integrations.
Marketing Tools
A feature that makes Bluehost stand out among other competitors is the built-in marketing tools that come with the hosting plans.
A Free Email marketing tool is included with both of the WooCommerce Standard and Pro plans, which will pick up content from blogs, web content and create Email templates.
And exclusive for the Pro plan, Bluehost provides an automatic social sharing feature, and an auto-spam removal feature as well.
Customer Support
Bluehost provides 24/7 eCommerce support to its customers via phone and chat, to resolve any queries and help grow the business.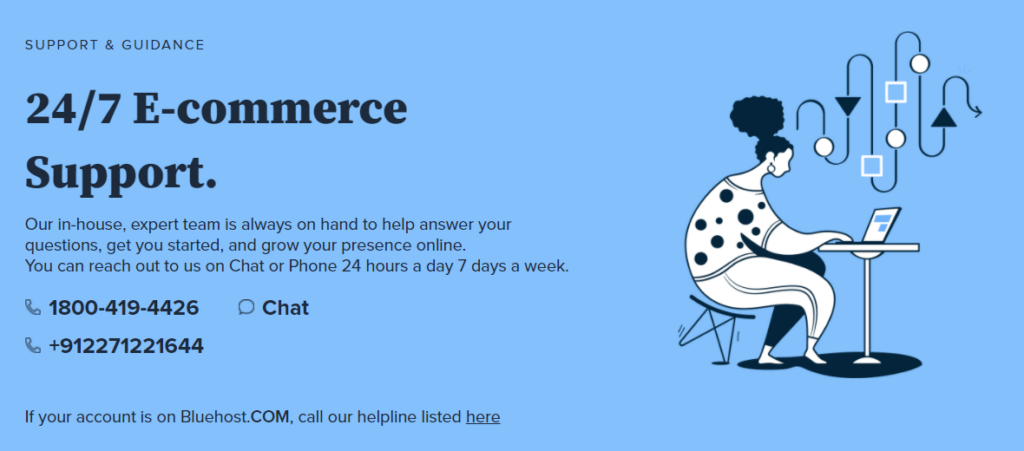 Apart from the regular customer support, Bluehost also has a knowledge base with several hundred articles that will resolve the most frequently asked questions by the customers.
However, one uncommon thing about Bluehost is, they don't provide assistance via Email, which is one of the most commonly used channels.
Pricing
Bluehost has two WooCommerce hosting plans, namely Standard and Pro, suitable for new businesses and growing businesses respectively.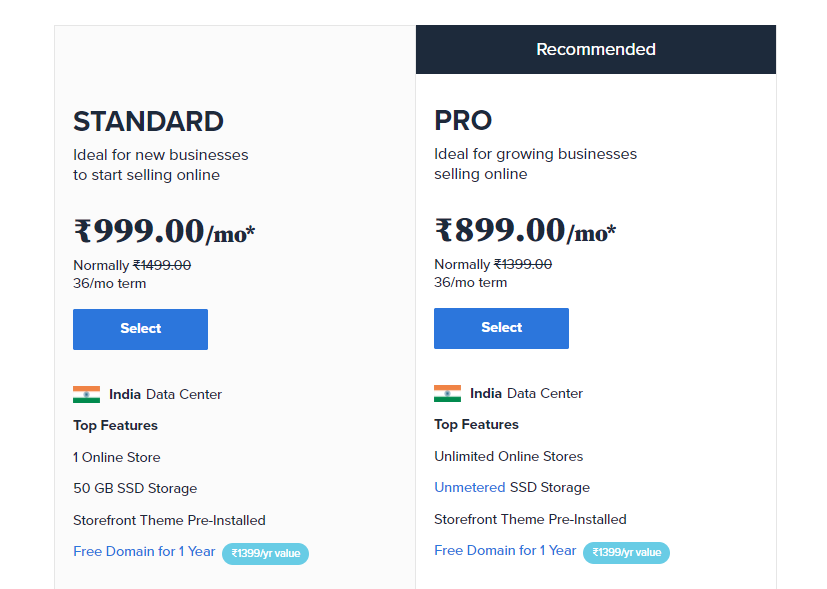 The Standard plan, built for new online businesses comes with 50GB disk space and is priced at ₹999/month, while the Pro plan for growing businesses provides Unlimited storage and comes at a price of ₹899/month.
Though these eCommerce hosting plans may differ in some of the features, they both have the eCommerce-specific Storefront theme pre-installed on the websites.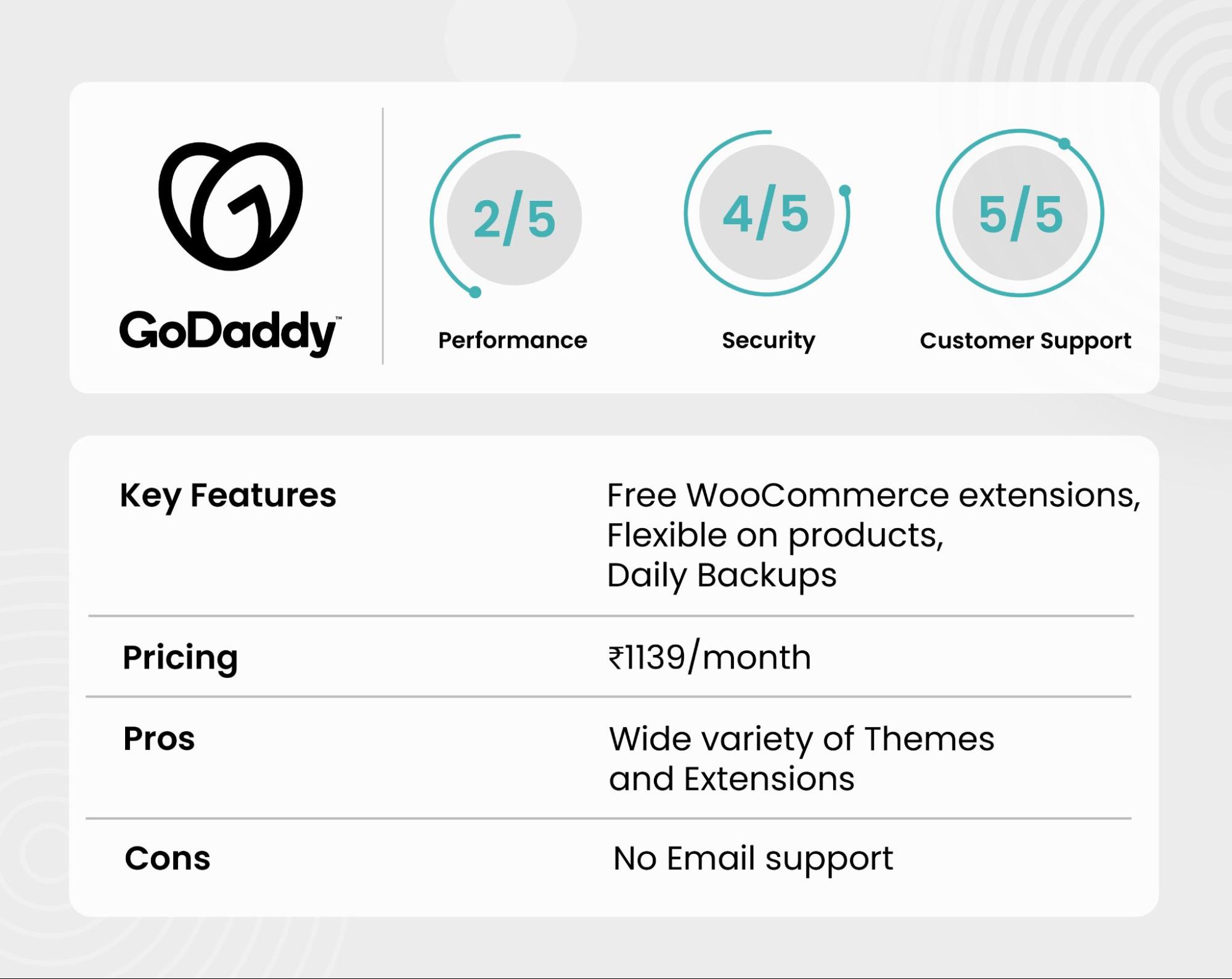 GoDaddy, obviously! Being one of the most widely used web hosting providers in the market, GoDaddy is one of the popular choices to host eCommerce websites of all scales.
Though GoDaddy started out as a domain registrar company, they have now grown to become a familiar name in the hosting scenario.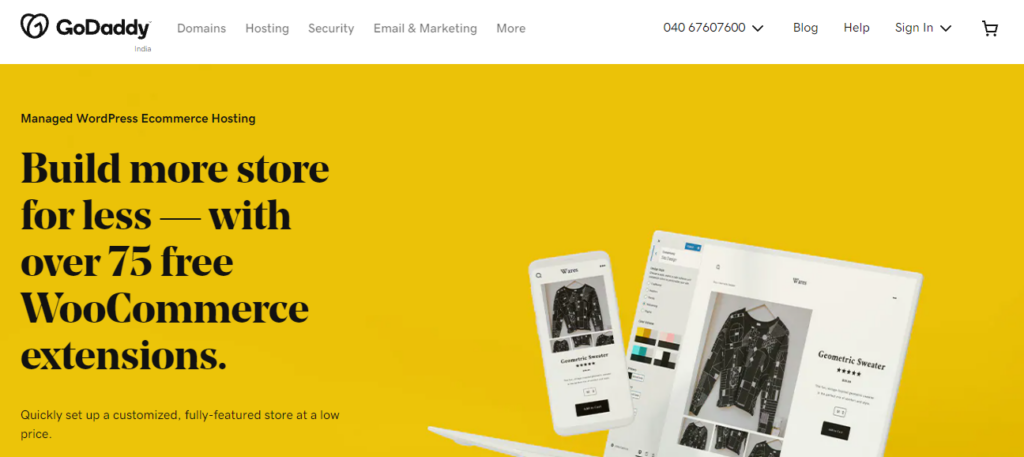 Performance and Security
Being one of the biggest names in the market, GoDaddy is quite consistent with its performance and has grown more and more reliable over the years. But, as GoDaddy mainly has its servers based in the US, we still need to check how it holds up for other countries across the world.
So, we hosted a test website with GoDaddy and tested it with GTMetrix from Mumbai, India.


5 seconds!! That's too long for a customer to wait for all the products to load on the website. Imagine you open Amazon and need to wait for five whole seconds to see a product? That's not happening, right? So, according to the website speed test by GTMetrix, GoDaddy may not be the ideal choice to launch an online store.
Though the website loading time is not quite ideal, GoDaddy provides a decent Uptime of 99.95%, meaning there are not many days the eCommerce website may go down for the visitors.

Along with Free SSL, GoDaddy provides malware scans every day to ensure there is no breach in the website. They also have a 2-step verification by default for all the users, making sure the website has only authorized access.
Features
Free WooCommerce extensions
Along with the eCommerce hosting plan, GoDaddy provides free WooCommerce extensions across 8 different categories that include Checkout, marketing, payments, etc.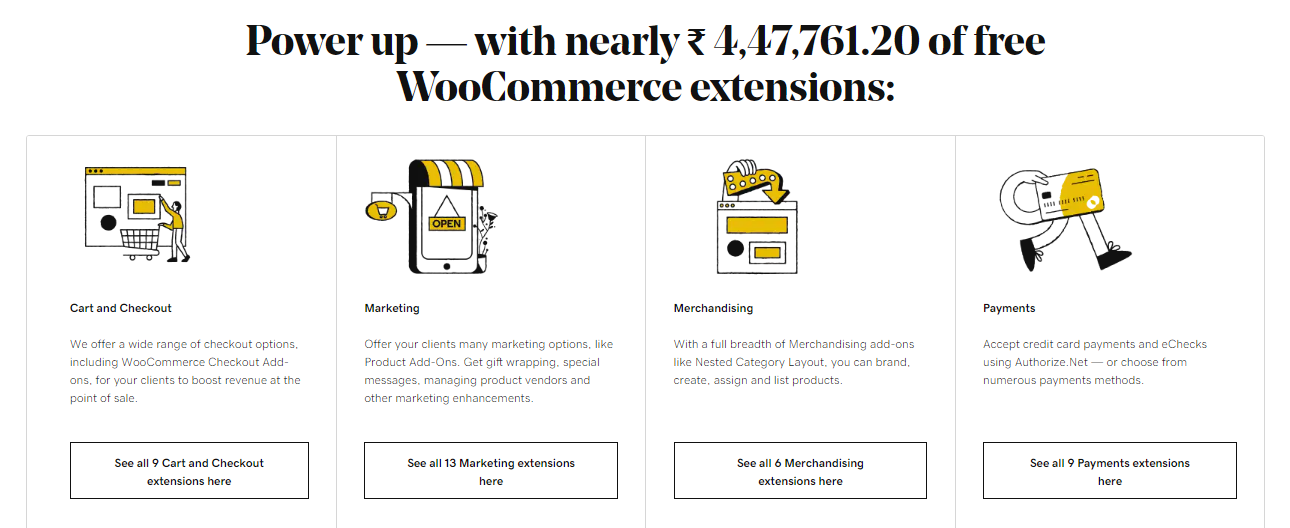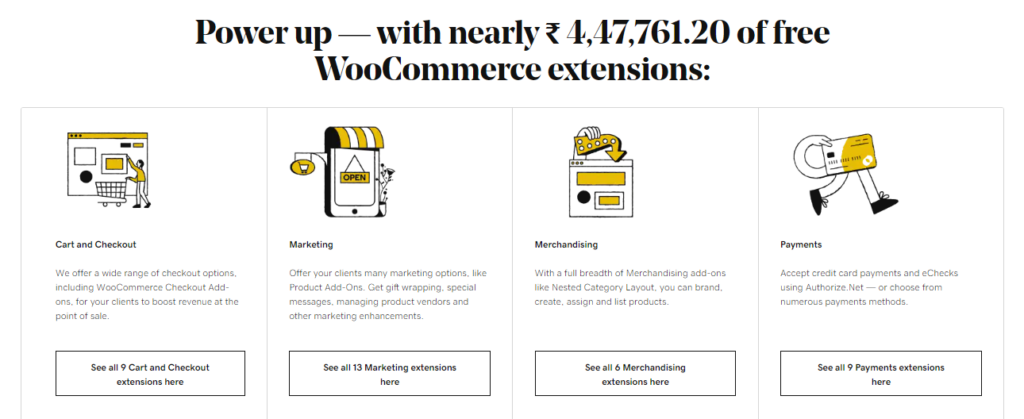 These WooCommerce extensions provide a wide range of add-ons covering various features that will help build your dream eCommerce website in no time.
Flexible on products
With their WooCommerce hosting, GoDaddy offers a flexible platform for business owners to sell their products and services irrespective of whether the products are physical or not.

With the premium themes and extensions available, business owners have the choice to sell everything from physical goods to even completely digital products like downloads, subscriptions, etc.
Daily Backups
GoDaddy provides automatic daily backups of the entire eCommerce website which will help to restore the store in case something goes sideways. They provide 90-days backup retention till when you can download the backup and store it someplace safe.

However, with backing up the entire store to the cloud, the website is safe and sound with GoDaddy to be restored at any point of time in the future.
Customer Support
GoDaddy, being one of the big names in the hosting market, offers 24/7 expert assistance to customers via Phone and Live chat to solve any hosting queries or issues.


Apart from the regular customer support, GoDaddy also has a knowledge base dedicated to answering commonly asked questions by the users.
Pricing
GoDaddy's eCommerce hosting, for a fully functional online store powered by WooCommerce, is priced at ₹1,139/month.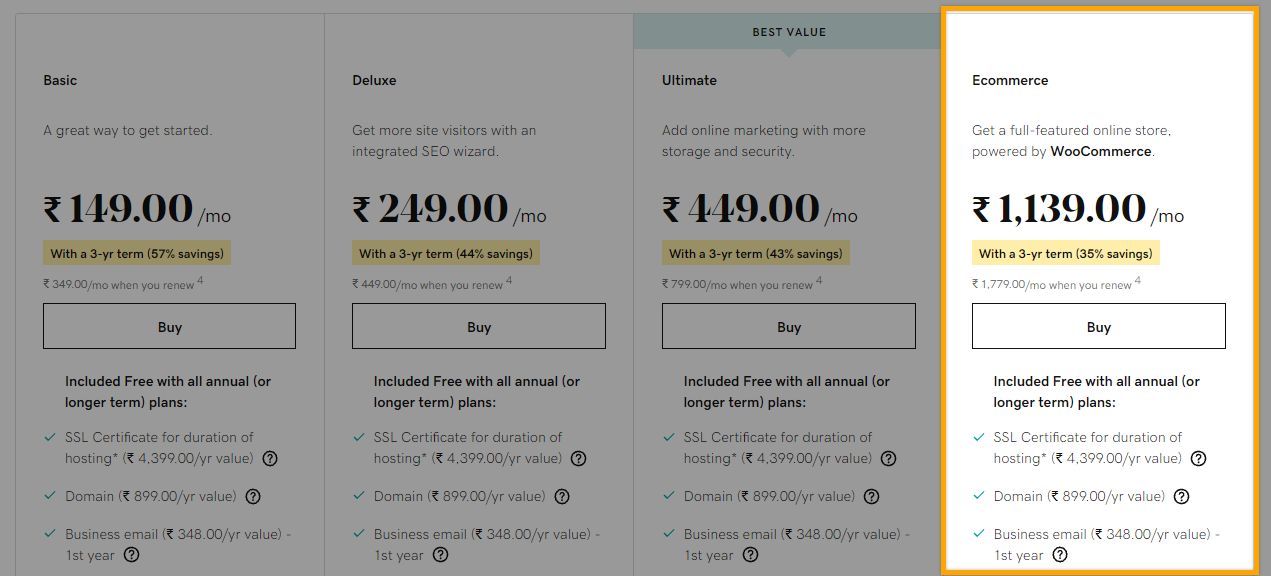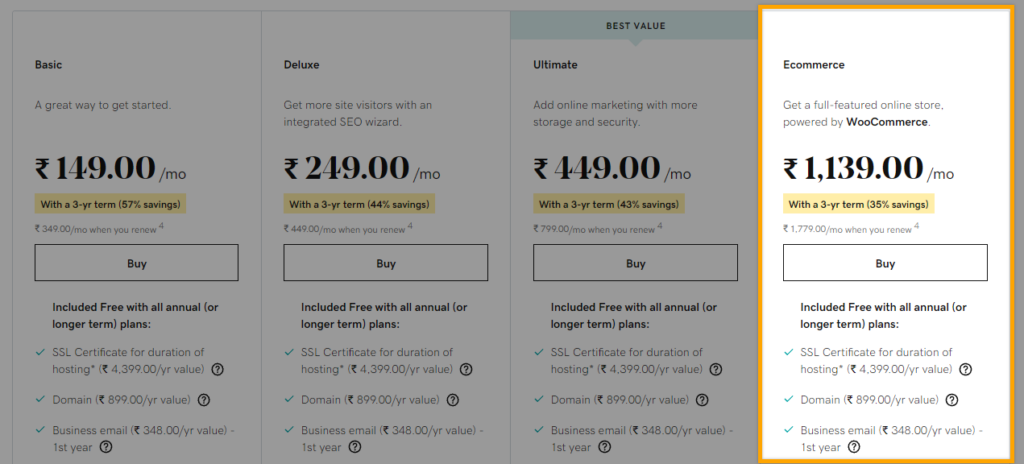 This Ecommerce plan by GoDaddy includes a Free Domain, a Free SSL certificate, and a professional business email for your online store.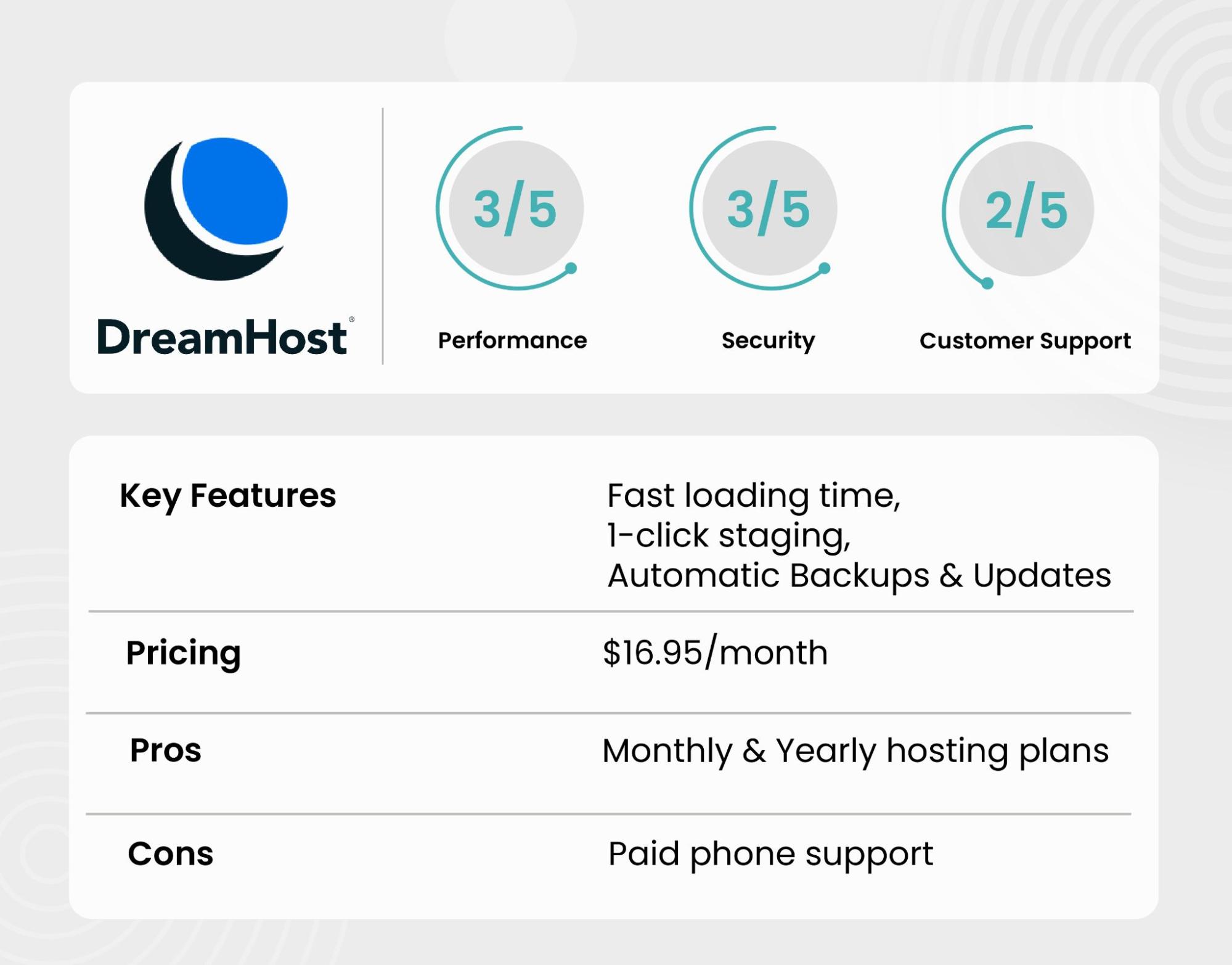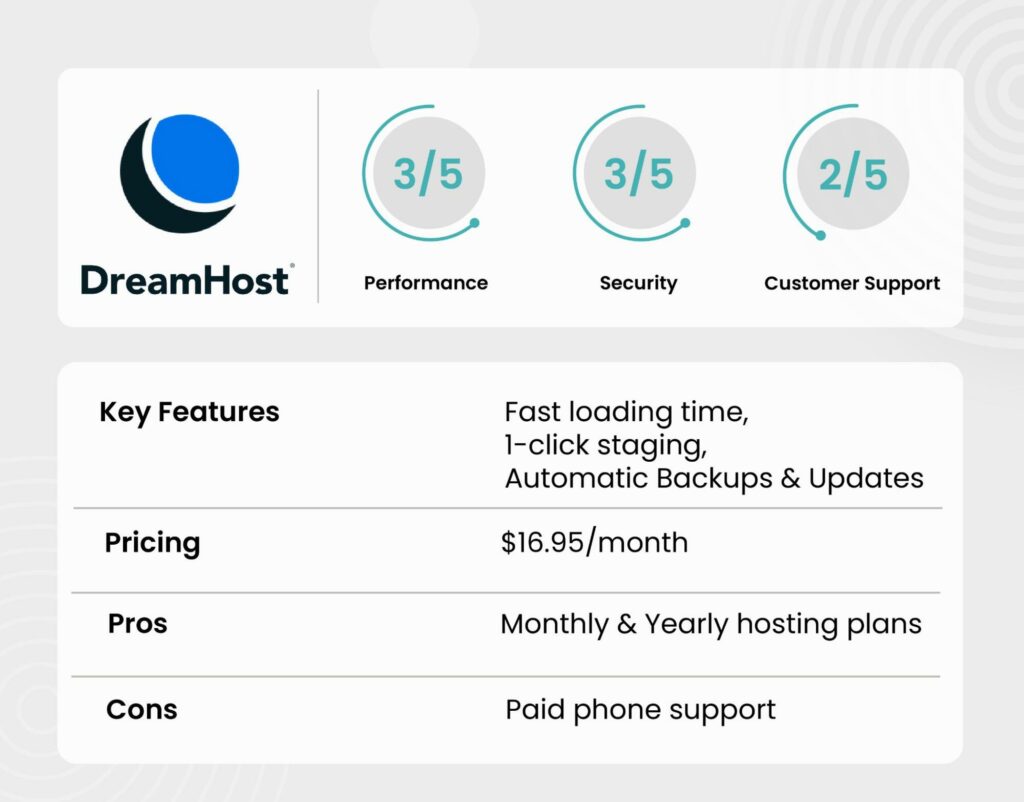 Another one of the official WordPress hosting recommendations, Dreamhost has been providing web hosting services for over two decades now. With DreamPress: Managed WordPress hosting, DreamHost has been quite popular to create all types of WordPress websites including WooCommerce stores.


Performance and Security
DreamHost's WooCommerce hosting, DreamPress comes up with all the necessary tools to build and manage an eCommerce website. But like Bluehost and GoDaddy, DreamHost primarily has its servers in the US, so we need to check how it performs for online stores across the world.


A test website hosted with DreamHost fully loaded in 2.2 seconds. Though it's not super fast, we can still manage to create and run a successful eCommerce store. Moreover, the test website hosted with DreamHost showed better results than the popular providers like Bluehost and GoDaddy.
While DreamHost gave us a decent website loading time, the Uptime was only 99.62%. An uptime of 99.62% means that the customers of your store may experience more downtime than usual, and this will eventually turn away potential customers.

DreamHost has the Let's Encrypt SSL certificate pre-installed across the three WooCommerce hosting plans, which ensures that any information passed across the website is safe and secure.
Features
Fast loading time
With powering over 1.5 million websites, Dreamhost is known for the incredible speed it provides to all its websites. And thanks to server-level caching, there is no compromise on the eCommerce website speed.
Even without the need to install any caching plugins, the eCommerce site is known to perform better than the competitors.
1-click staging
A unique feature from DreamHost is the 1-click staging that allows business owners to test new things without disrupting the eCommerce store. Basically, 1-click staging is a copy of the original website where one can test new themes, plugins, etc.
A staging site is an extremely useful feature as it doesn't stop the usual functionality of the online store and yet allows you to test different things across the website.
Automatic Backups & Updates
DreamHost provides automatic backups of the entire eCommerce store every day. Business owners can also make on-demand backups whenever necessary, which comes with a 1-click restore.

And with its expert team, DreamHost ensures that WordPress, WooCommerce, and all essential software are regularly updated. They make sure everything is up-to-date ensuring a smooth flow in the online store.
Customer Support
DreamHost offers 24/7/365 expert customer assistance to all its customers via chat and Email to solve all sorts of hosting issues. Along with the usual customer support, DreamHost also has a rich knowledge base that solves the most frequently asked questions by users.

DreamHost also provides a discussion community where different users get together and discuss various hosting-related queries and all about setting up the website.
Pricing
DreamPress provides three different eCommerce hosting plans, namely DreamPress, DreamPress Plus, and DreamPress Pro, with the basic DreamPress plan starting at just $16.95/month.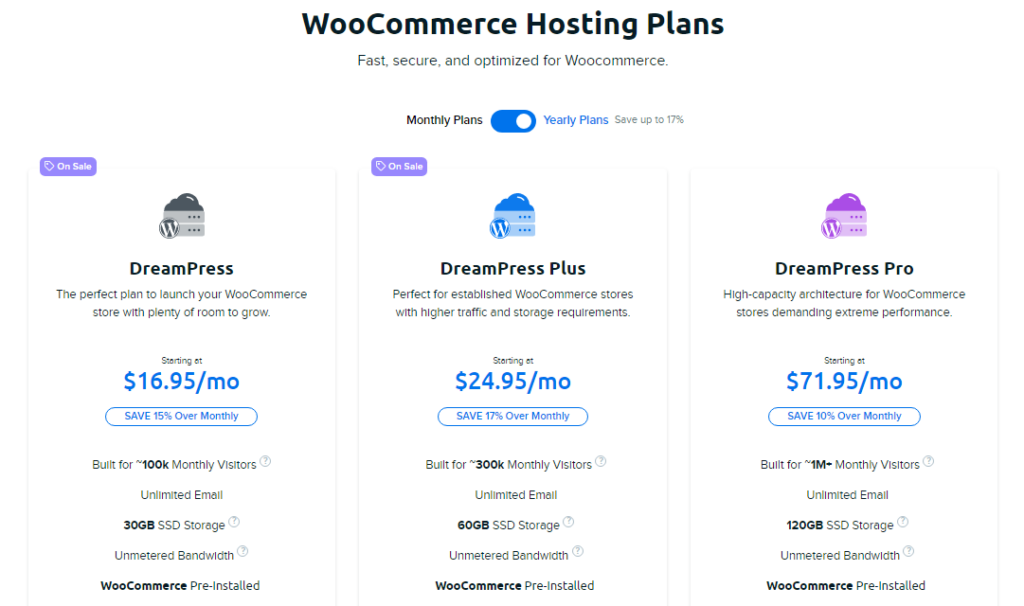 DreamHost has flexible pricing, as it comes with both Monthly as well as yearly plans, making it easy for small and medium-range business owners.
While the DreamPress plan is ideal for businesses looking to launch an online store, DreamPress Plus and DreamPress Pro plans are suitable for businesses with more traffic to their online store.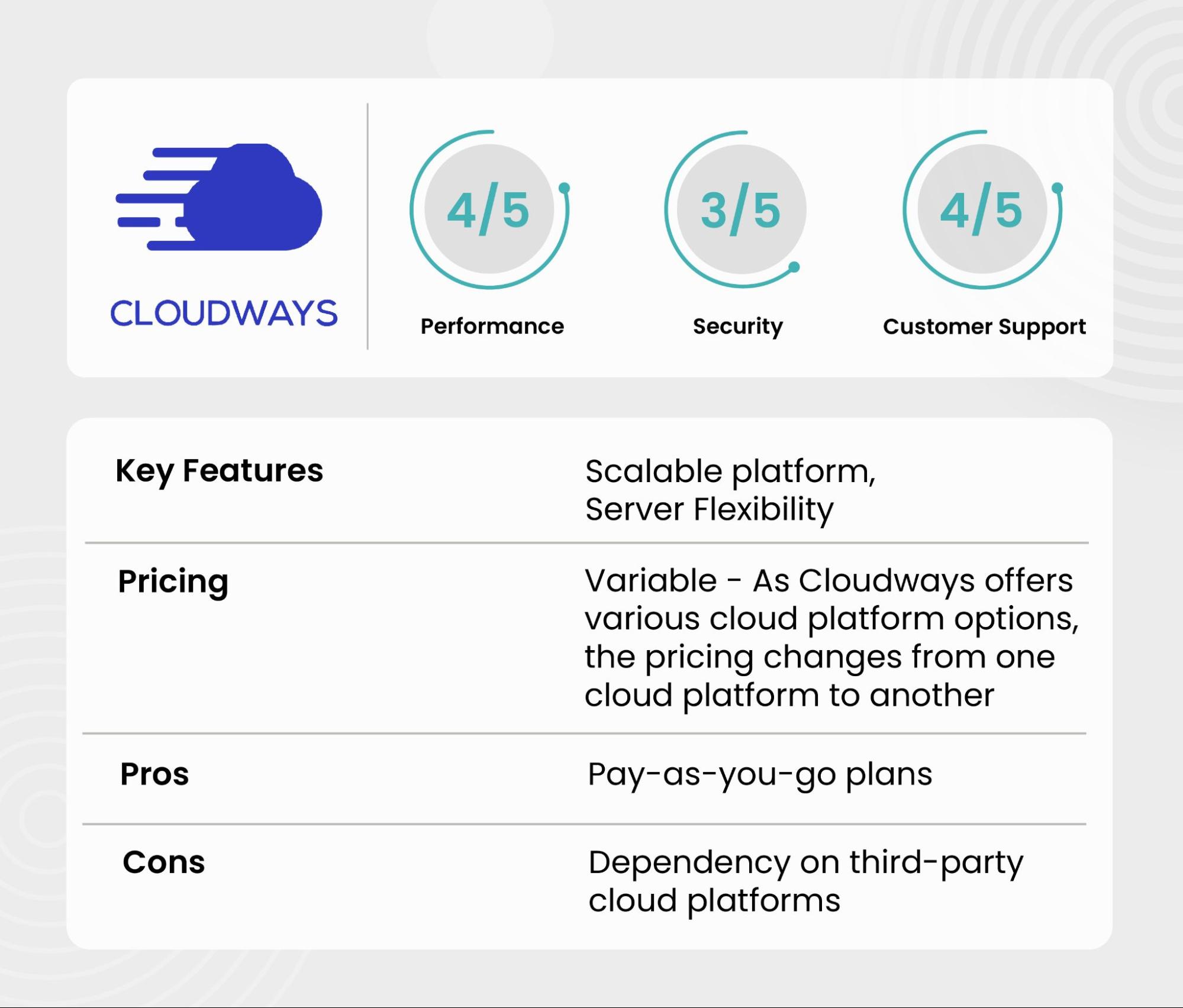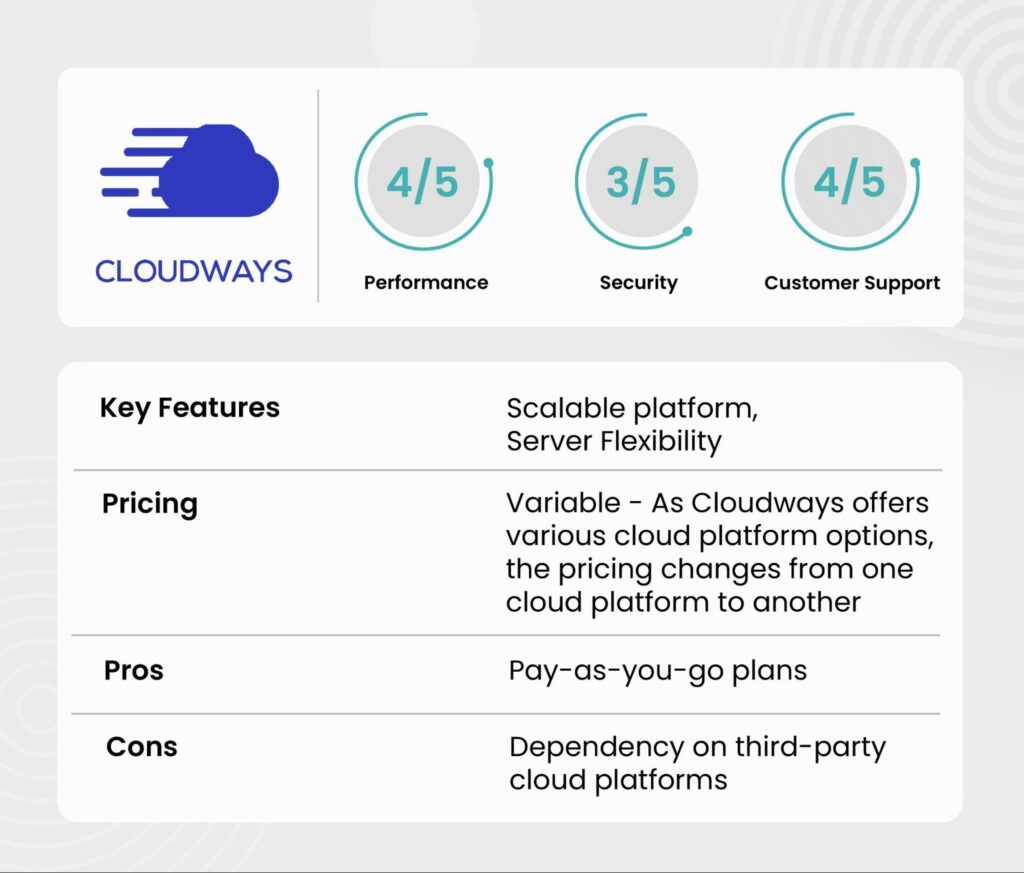 Cloudways is a popular cloud-based website hosting provider that provides pay-as-you-go hosting plans for users across various cloud services like AWS, Google Cloud, DigitalOcean, etc.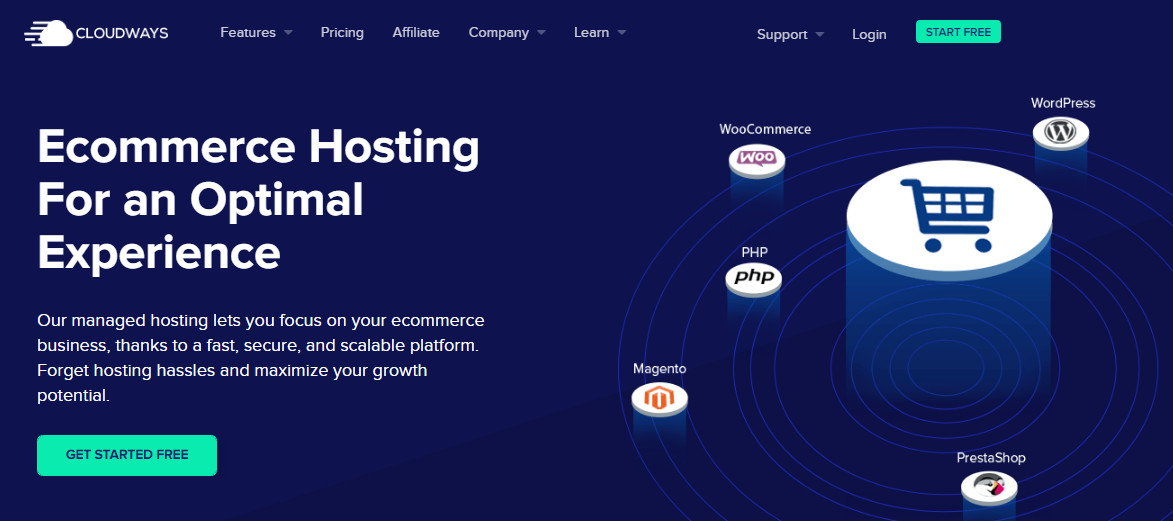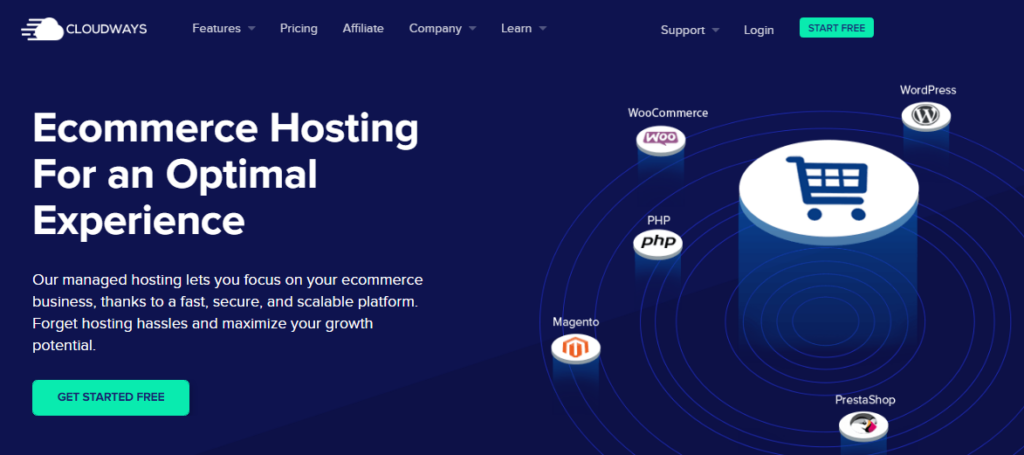 Performance and Security
With SSD-based cloud hosting and built-in cache methods like Memcached, Cloudways is known to provide superior performance for eCommerce stores and websites of all kinds.
Yet, we wanted to test it out just like the other eCommerce hosting providers. So, we hosted a similar test website on Cloudways and tested it through a GTMetrix speed test.


The test website fully loaded in just 1.8 seconds! That's quite fast and is ideal to create eCommerce websites of all scales. In fact, Cloudways with 1.8 seconds is the closest to our top performer, WebSpaceKit where our website loaded in just 1.5 seconds.
In the Uptime too, Cloudways is similar to WebSpaceKit as it provides an Uptime of 99.99%. This means that business owners need not worry about their eCommerce website being down for business.

Cloudways too has a Let's Encrypt SSL certificate that ensures the security of the online store and makes sure any sort of information provided by the customer stays protected.
Features
Scalable platform
The first thing that stands out with Cloudways is how scalable a hosting platform it is. As it is entirely cloud-based hosting, one can easily scale up in case of growing website traffic. Right from the dashboard, business owners can scale up resources like RAM, bandwidth, etc.
And the pay-as-you-go plan comes in handy for small businesses as they don't need to pay a huge sum for unused resources.
Server Flexibility
As Cloudways is entirely based on cloud hosting, it provides five different server options to host the website, namely Google Cloud, Amazon Web Services, DigitalOcean, Linode, and Vultr.
With these top cloud services, business owners have the flexibility to choose the best one for them and get started in no time.
Customer Support
Cloudways provides 24/7 customer support via chat by their professionals. They also have a wide knowledge base that helps users with everything related to hosting the eCommerce website.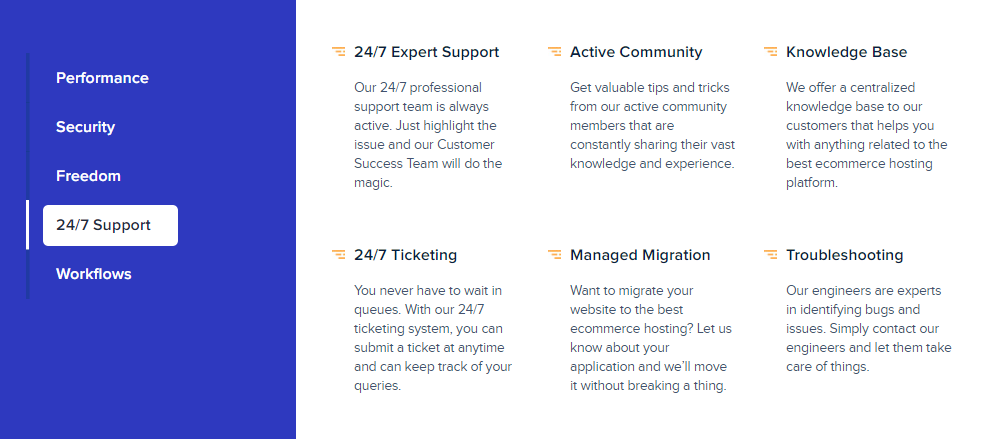 Along with the expert assistance, Cloudways also supports a 24/7 Ticketing system, with which you can raise a ticket and get the queries resolved.
Pricing
The unique thing about Cloudways is the pricing, as it offers pay-as-you-go plans with various cloud platforms. So, the price varies with each cloud platform, like hosting on Google Cloud costs $33.30/month, while hosting in Amazon Web Services costs $36.51/month.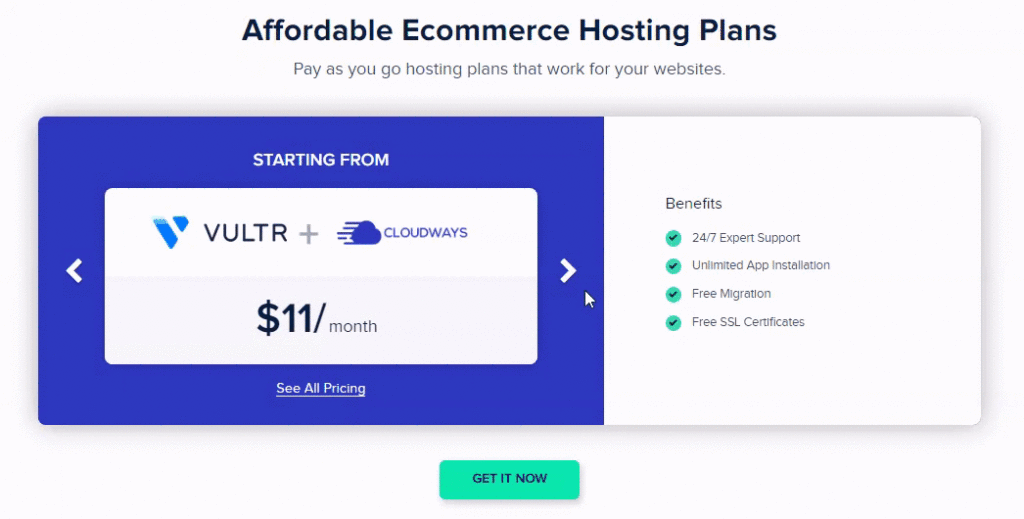 Though the price may vary from one cloud platform to another, the benefits like Free SSL certificate, 24/7 customer support remain the same across all plans.
So, these are our top 5 choices in web hosting for eCommerce websites. While any of these 5 hosting providers can be used to create your eCommerce website, let's go a step further to decide which will be the best fit for your eCommerce store.
How to find the Best Web Hosting for your eCommerce website?
Though you now have a brief idea about each hosting provider, you still need to choose the right web hosting for your eCommerce website according to your needs.
For instance, if you believe your business will grow exponentially with more traffic over time, then you need to consider an eCommerce hosting that provides a scalable platform to accommodate your needs.
Whereas, if most of your customers are from a particular region, say Asian countries like India, then you need to choose an eCommerce host that has its servers located in India for fast loading time.
Likewise, you need to take into account your specific needs along with the essential factors like performance, security, and pricing and choose the best web hosting for eCommerce websites.
So, which is the best web hosting for eCommerce website?
What we have mentioned in this article is the Top 5 web hosting for eCommerce websites. While there are hundreds of different hosting providers, these five stand out to be the right fit for eCommerce websites due to the performance and features they offer.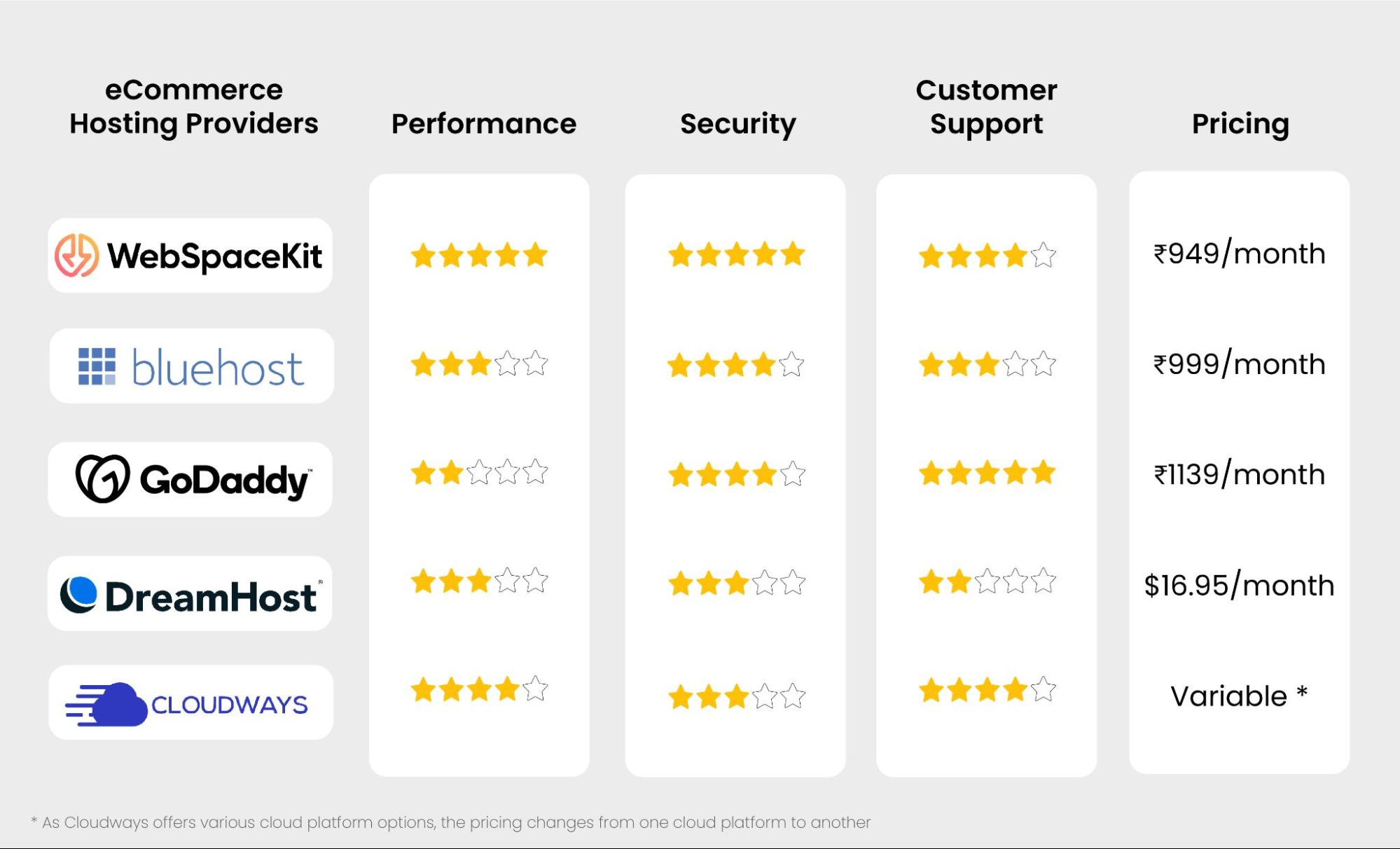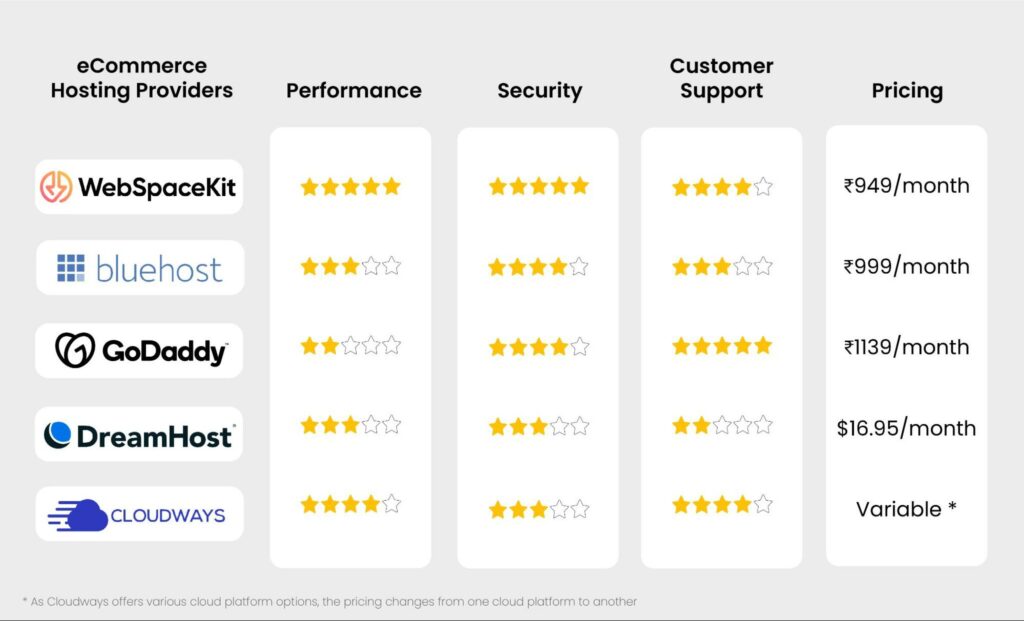 At the end of the day, after considering all the necessary features in the hosting providers, it comes down to a couple of things like website speed, security and pricing.
Website speed is the most crucial aspect of an online store as it decides whether a casual visitor turns into a potential customer. Every second delay in the website may result in a customer turning away without making the purchase.
That is why it is advisable to choose a hosting provider like WebSpaceKit that loads the entire website in just over 1 second.
Well, don't take it from us, the reviews show how users have been largely appreciating the performance of their websites with WebSpaceKit.

In fact, we tested one of the reviewers' websites and there were no surprises! The performance was top-notch with a GTmetrix grade A.


Another important aspect most business owners and startups consider is the pricing, because obviously, no one wishes to spend all the capital on launching a website. But at the same time, one should also check the website speed and make sure they aren't sacrificing speed for pricing.
That is why it is advisable to choose WebSpaceKit as the eCommerce hosting provider as it finds the right balance between website speed and pricing, without having to sacrifice one. 
Frequently Asked Questions (FAQs)
1. Is Managed WordPress hosting good for eCommerce websites?
Yes. Managed WordPress hosting will be an ideal fit to host eCommerce websites considering the WordPress-optimized servers. With WordPress providing the right platform for businesses via WooCommerce, managed WordPress hosting can just be the right choice for an online store.
2. Can I host my eCommerce website on a shared server?
While you can host your eCommerce website on a shared server, it is not quite recommended! A shared server means that you need to share the website resources with other websites on the server. While this may not be an issue with usual websites, eCommerce websites are resource-intensive, and thus require a separate server for themselves.
3. Which is the best website hosting for an eCommerce startup from India?
An ideal website hosting for an eCommerce startup would provide superfast websites at an affordable cost. So, taking both of the factors into account, WebSpaceKit provides the right balance and would be ideal for an eCommerce startup to launch an online store.
4. Which is the most affordable WooCommerce hosting provider for businesses?
WebSpaceKit, GoDaddy and DreamHost are some of the affordable eCommerce hosting options available in the market. However, one needs to find the right balance between affordable pricing and website speed.
That way, WebSpaceKit finds the right balance between both factors and can be the right hosting provider for eCommerce websites.