Are you in the process of creating a WordPress website, but stuck on which WordPress hosting to choose?

You might be asking yourself,

Which Hosting is Best for my WordPress website?

Well, we all have been there. Hosting is where your website's files are stored, and it is as important as the other aspects of your website.
There are hundreds of WordPress hosting providers providing different types of hosting that will help you start a website.
There are over 330,000 providers of web hosting all over the world.

Source
But choosing the best WordPress hosting provider for your website that meets all your needs can be challenging.
To help you with the process of choosing the best WordPress hosting in India, we have compared the top 7 WordPress hosting providers operating in 2022,
But before getting into each of that,
What are the requirements for a WordPress hosting provider?
WordPress is a pretty lightweight software and only has the following minimum requirements for a hosting provider,
PHP – Version 7.4 or greater
MySQL – Version 5.6 or greater (or) MariaDB version 10.1 or greater.
HTTPS support
Now that we have seen what it takes to be a WordPress hosting provider, let's look at the factors we considered for these 7 WordPress Hosting companies in India.
Here is the list of the most important hosting factors we took into consideration to determine the best WordPress hosting provider,
Performance
Security
Backups
Customer Support
Performance
A hosting provider's performance can be measured in two aspects, website speed and Uptime.
The hosting provider is directly responsible for the website speed and server response time. The type of hosting plan you choose, and the number of resources you share, determine the speed at which your website loads.
Another thing that makes websites attractive is their 24/7 availability. The period for which the website is available for users to access is called Uptime. It is the measure of how long a hosting server stays up and running over a period of time, meaning how long the website hosted on the server is accessible on the Internet.
Security
With the number of hackers and security threats on the Internet, securing a website has become a priority now. So, it is wise to choose a WordPress hosting provider who provides you with the necessary security features for your website. To start, you should look for an SSL Certificate.
84% of online shoppers would abandon a purchase if data was sent over an insecure connection.

Source
Backups
And, just in case of any unfortunate events, the hosting company should be able to come up with the latest complete backup of your entire website. It is crucial to have regular backups, to encounter some issues like crashing that may happen to your website.
Customer Support
At times while setting up your website, you may end up stuck on one thing or the other. That is when you will need some customer support to help you through the process. So, it is important to choose a WordPress hosting provider who provides you with 24/7 customer support.
So, let's choose the best WordPress Hosting in 2022 for your Website.
Comparing the Best Hosting Providers for your WordPress Website
Though WebSpaceKit is relatively new, it is one of the fastest WordPress hosting providers operating in the hosting market. It is exclusively built for WordPress and comes up with four different plans starting at only ₹199/month.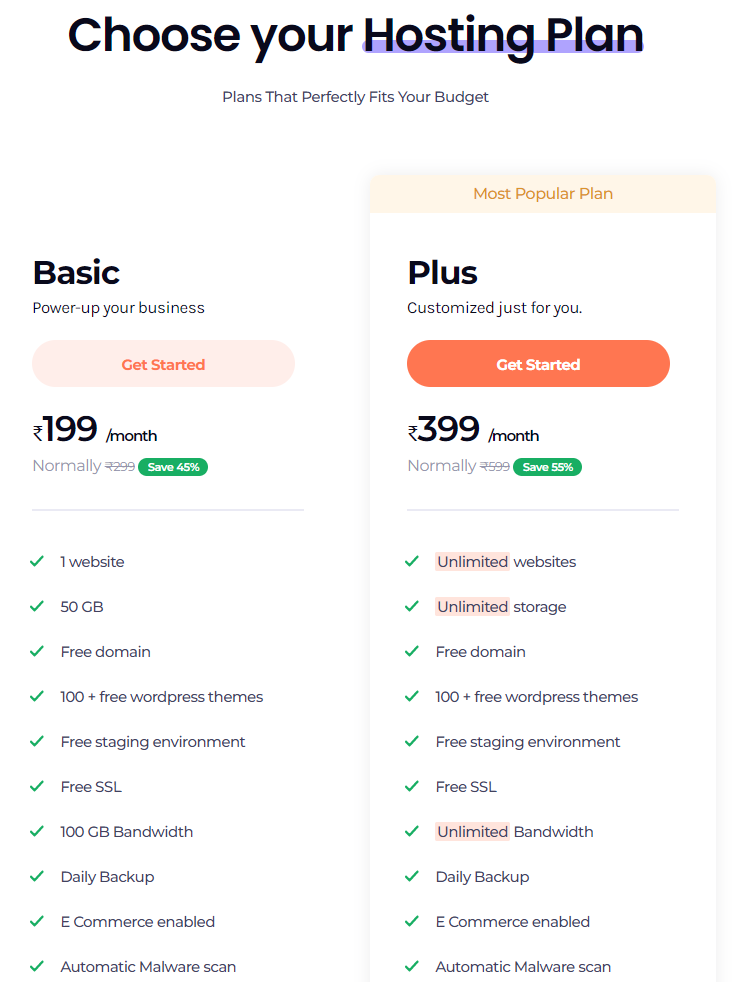 WebSpaceKit, of all the hosting companies in India, has a growing community of users owing to the super-fast website loading time they provide.
Performance
WebSpaceKit has its servers placed in India, Singapore, and Europe, thus providing the fastest loading time for WordPress websites with the most traffic from India and other Asian countries. We wanted to test it out to see whether WebSpaceKit is truly the fastest WordPress hosting provider in India, as they claim it.
So, we hosted a test website with WebSpaceKit and ran it through a GTmetrix speed test.
And it took only 972ms! Our test website hosted with WebSpaceKit took less than 1 second to fully load. This goes to prove that WebSpaceKit is one of the fastest hosting providers in India, if not the fastest operating as of 2022.
In the result, FLT (Fully Loaded Time) is the time by which the processing of the entire website is complete, and all resources including headings, text and images are fully visible to the user.
Also, WebSpaceKit provides an exceptional uptime of 99.99% with almost nil downtime for our website.
Security
To begin with security, WebSpaceKit provides a Free SSL with all of their hosting plans. This provides the basic security needed for all kinds of websites. To level it up, WebSpaceKit also has the state of the art CageFS technology to secure its websites.
CageFS technology encapsulates the user information with the website information and conceals it from the eyes of other users. This way, WebSpaceKit ensures complete privacy and thus protects your website from all kinds of security threats.
Backups
WebSpaceKit provides backups using JetBackup which ensures that the latest version of your website is always safe. And can be restored in case of any unfortunate events.
Using JetBackup, they provide automatic daily backups of the website, thus allowing you to restore your website in case of any unfortunate events, from the desired restore point of your choice.
Customer Support
WebSpaceKit provides 24/7/365 customer support primarily via Phone and Email. And a Live chat option is available too, to resolve user queries during business hours. Apart from these, they also have a Knowledge base that can help with the Frequently Asked Questions.
They also have a traditional Ticket-based support system where you can raise any queries as a support ticket and get them resolved. The process is quite easy as you can raise a support ticket right from the dashboard.
WebSpaceKit Pros:
Affordable Pricing
Super-fast website loading time
Tailor-made for WordPress
WebSpaceKit Cons:
Limited Storage and Bandwidth
Best Suited for:
Beginners
Business Websites
Ecommerce Websites
Any website where speed is a priority!
WebSpaceKit Review:
If you want to know what the other WebSpaceKit users are thinking, check out the reviews here.
Bluehost is one of the most popular and widely used WordPress hosting providers operating now. Bluehost is trustworthy as it is one of the official WordPress Hosting recommendations. They provide three plans specifically for Managed WordPress hosting starting at just ₹175/month.
Performance
Bluehost has been around for quite some time now and thus is expected to provide reliable performance for the websites. However, since most of its servers are placed in the US, Bluehost doesn't perform as expected when it comes to countries like India.
As we said, our website tested from Mumbai, India, took 4 full seconds to load, which is quite slow compared to hosting providers like WebSpaceKit. So, even though Bluehost is widely used across the world, it may not be the fastest when it comes to the Indian subcontinent.
Bluehost provides an uptime of 99.96% which ensures that your site rarely goes down.
Security
Bluehost provides a Free SSL Certificate with all of its hosting packages, and this ensures the basic security of your website. Also, they come with SiteLock Lite on all their hosting plans that detect malware, if any, and protects your website.
With advanced plans, Bluehost provides features like Spam Experts and domain privacy. Spam Experts, the anti-spam add-on is available to protect the website from spams on the Internet. Domain privacy feature makes sure that the user signup information stays protected at all costs.
Backups
Bluehost backups are powered by CodeGuard, an add-on for the Automated website backup tool. With the Basic and Plus plan, one needs to purchase a CodeGuard Basic add-on that provides automatic daily backups, with multiple versions for you to restore if necessary.
With the advanced Choice Plus plan, Bluehost offers CodeGuard for free the first year, which provides automatic daily, weekly or even monthly backups of the entire website.
Customer Support
Right from the Basic plan, Bluehost provides 24/7 technical customer support via both phone and live chat option. They also have an extensive knowledge base that covers most of the frequently asked queries by the customers.
Also, with advanced hosting plans, Bluehost has a dedicated support team to resolve user queries. However, the only thing we would like is for Bluehost to provide support via Email.
Bluehost Pros:
Bluehost Cons:
Best suited for:
Beginner website owners
Small-scale businesses that may potentially scale up.
Bluehost Reviews:
To understand more from a user perspective, hear it from the Bluehost users themselves here.
And, If you want to create your Dream website with Bluehost, please check this video.
GoDaddy is the world's most popular and largest WordPress hosting provider operating in the market. Though Godaddy initially started out to be a Domain name registrar company, over the years they have become the household name in the web hosting market.
Now they offer several plans ranging from basic to E-Commerce store packages, starting at just ₹149/month.
They also provide you with one-click installations of more than 150 applications including WordPress, which makes the entire process of website creation much easier.
Performance
GoDaddy, just like Bluehost, has been around for some years now, and thus people look for reliable performance with their websites. While it holds true for countries like the US where they have the major servers, it isn't promised in India.
Just like other hosting providers, we hosted a test website and ran it through the GTmetrix speed test.
Well, as expected, our test website took more than 4 seconds to fully load. Even though it's one of the biggest names in the web hosting industry, it just doesn't seem to perform well in India.
However, GoDaddy provides a good (but not the best) Uptime of 99.95%.
Security
GoDaddy provides free SSL, along with automatic daily malware scans in all of their hosting plans to ensure the basic security of the website. Also, they offer 2-step Login verification for all users allowing them to verify the login via a security key or SMS.
With advanced hosting plans, GoDaddy offers premium security add-ons like a Web Application Firewall that protects against malware and all kinds of security threats to the website.
Backups
GoDaddy provides automatic backups of the entire website with an easy 1-click restore. This enables 90-days backup retention, within which you can restore, or even download them to local storage.
With Cloud backup, GoDaddy makes sure that all the files and folders within the website are safe and sound to be restored again. And the 1-click restore ensures that you can restore either part or the entirety of your website in no time.
Customer Support
With over years of experience, GoDaddy offers one of the best customer support of all the hosting companies in India. They provide 24/7 Phone support and Live chat support to resolve all types of hosting queries.
GoDaddy also comes with a rich knowledge base that contains a wide range of guides and tutorials to assist the users. However, at the moment, GoDaddy isn't offering support via Email.
GoDaddy Pros:
GoDaddy Cons:
Best suited for:
Absolute beginners who want to create their first online presence
GoDaddy Reviews:
Check out what the other GoDaddy users have to say about their WordPress hosting here.
If you think GoDaddy is the right choice for your website in 2022, here is a video tutorial that can help you with the decision.
Hostinger offers a variety of plans suitable for absolute beginners and large businesses as well. They have become a popular name among the hosting community, partly due to the less expensive plans and packages they provide. This also makes Hostinger the ideal choice for small businesses and individuals.
They also provide a 30-day money-back guarantee for all the hosting packages, starting at just ₹59/month.
Performance
Hostinger, the budget-friendly WordPress hosting provider in the market, is known to be performing quite consistently over the years. But how true is it to India and its neighboring countries? Well, we tested it out.
Our test website fully loaded in less than 1.5 seconds, which is better compared to the other hosting companies in India. Such decent website speed combined with affordable pricing makes Hostinger the first choice for business owners.
Hostinger also maintains a consistent Uptime of 99.98%.
Security
Hostinger provides a Free SSL certificate with all of its hosting plans that ensure the basic security of the website. They also have Cloudflare nameserver protection that ensures that data passing through your website is protected from hackers.
Cloudflare nameserver also protects against the Distributed Denial of Service (DDoS) attacks on your website.
Backups
With their 'Single WordPress' and 'WordPress Starter', Hostinger provides Weekly backups of the entire website. With more advanced plans, Hostinger comes up with Daily backups that ensure that there are multiple versions of your website to restore if necessary.
Hostinger follows a simple backup-and-restore feature that makes it easy for you to restore your entire website in case of any unfortunate events like hacking, data loss, etc. You also have the option to manually generate a Backup, if necessary.
Customer Support
Hostinger, like top hosting companies in India, provides customer support to its users via Live Chat and Email. But much to the users' surprise, Hostinger doesn't offer customer support via the commonly used channel, Phone.
Also, Hostinger has an extensive knowledge database that contains various articles and guides to answer the frequently asked questions by users. And for absolute beginners, they have video tutorials helping in setting up the account.
Hostinger Pros:
Hostinger Cons:
Lacks customer support via Phone
Best suited for:
Beginners on a budget
Small-scale businesses
Hostinger Reviews:
If you are curious to learn what the other Hostinger users are saying about the hosting services, check the reviews here.
DreamHost is yet another official hosting recommendation by WordPress itself. DreamHost has been providing services for more than two decades now, and powers over 1.5 million websites.
To make the decision easy, they provide you with a 97-day money-back guarantee.
Performance
With their servers primarily located in the US, Dreamhost is not a great contender when it comes to the best WordPress hosting providers in India. However, we wanted to host a test website and test it through Gtmetrix.
Dreamhost took almost 2 seconds for our website to load, which even though is not bad, is quite a long time compared to the other hosting companies in India.
And considering how long the server was up, DreamHost provides an Uptime of 99.62%, a little less compared to the other WordPress hosts.
Security
Dreamhost provides a Let's Encrypt SSL certificate pre-installed with all of its hosting plans. This makes sure that the data passing through your website is protected and thus makes your visitors trust the website.
They also have Free Domain privacy with all their plans ensuring that your domain details are secure. Apart from this, they have a malware scanner to keep the malicious attacks at bay.
Backups
Irrespective of the hosting plan, Dreamhost provides automatic daily backups of your entire website with all the files and folders that come with it. Their 1-click restoration makes it easy for you to bring back your website if something goes sideways.
However, with Dreamhost paid plans, you get access to the best Backup system, VaultPress. It backs up the website in real-time and provides multiple rollback points to restore the website if necessary.
Customer Support
Dreamhost provides customer support primarily via a Support ticket mechanism from the dashboard. Something that's different from the other hosting providers is, Dreamhost provides 'paid' Phone support to request a callback.
Apart from this, Dreamhost also has extensive articles and blog posts that can guide beginner users and solve the most common queries.
Dreamhost Pros:
Dreamhost Cons:
Best suited for:
Beginners who prefer month-to-month payment plans
Dreamhost Reviews:
Check out what the other Dreamhost users say about the hosting here.
Cloudways is a cloud-based WordPress hosting provider that allows its users to choose services from different platforms like Amazon Web Services and Google Cloud. The one thing that stands out with Cloudways is that they provide hosting services at a monthly and even hourly rate.
They also don't put up lengthy contracts spanning several years which eases the feeling of being tied up.
Performance
Cloudways differs from the other WordPress hosting providers as they provide services through various cloud-based platforms, unlike traditional hosting services. Owing to cloud-based platforms, they typically provide exceptional website loading time.
Well, our website loaded in under 1 second. Thanks to the cloud-based platforms, that's some truly exceptional website speed from Cloudways!
Thanks to cloud hosting, Cloudways provides exceptional Uptime of 99.99%, meaning the website almost never went down.
Even in case of downtime, they let their users know about the issue, and how fast it's going to be resolved. This way of proactive monitoring makes it easy for users and also helps build trust with the hosting company.
Security
The fact that Cloudways entirely operates on cloud hosting provides an added layer of security to the website. Unlike physical server security in hosting providers, Cloud hosting provides a separate layer of virtual network security.
Cloudways by itself offers free 1-click SSL installation on all the hosting plans. They also have two-factor authentication that protects against hackers trying out any brute force attacks.
Backups
Cloudways provides automated backups for websites at multiple data centres ensuring that you don't suffer any data loss in case of some unfortunate events.
Cloudways also allows you to set backup frequency upto as low as an hour, and also backup retention, meaning how long the backup will be held back for rollback. With their 1-click restoration, you can get your website up and running in no time.
Customer Support
Cloudways provides customer support at three levels, namely Standard, Advanced, and Premium. 'Standard' level of support is for the basic plan that comes with 24/7 live chat support and also a traditional ticketing system.
Moving from the Standard level comes the paid 'Advanced' level, where the queries are prioritised over the free standard plan, resulting in faster response time. And with 'Premium' level, you get a private group of service people, along with 24/7 Phone support.
Cloudways Pros:
Pay-as-you-use hosting plans
Amazing Customer support
Cloudways Cons:
Best suited for:
Websites where speed is a priority
Beginners who prefer monthly/hourly rate
Cloudways Reviews:
And here are the Reviews from the other Cloudways users on what they think about the hosting.
If you are curious to get started, we have a video tutorial on How you can Install WordPress on Cloudways and get started with your own website.
Kinsta is a comparatively new WordPress hosting provider that has become increasingly popular over the years, hosting clients from 128 countries around the world in 2022.
What really stands out with Kinsta is the variety of hosting packages they offer. They have a plan for everyone, starting from absolute beginners to big enterprises.
Performance
Compared to the other hosting providers, Kinsta is quite a newbie in the market, but that doesn't always determine the performance. So, how good does this WordPress-specific hosting provider hold for Indian audience?
A fully loaded time of 1.8 seconds is a decent speed for a WordPress-specific hosting provider in India. And it is definitely far better compared to the popular names in the market.
Kinsta also provides a decent uptime of around 99.96%.
Security
Even with such a wide range of hosting plans, Kinsta doesn't show any partiality when it comes to providing security for the websites. To start with, they provide a basic SSL on the plans.
What really stands out with Kinsta is the two-factor authentication that comes with all the plans. This levels up the security and protects the website from any kind of unauthorised security threat.
On top of these, Kinsta comes with hardware firewalls for each of the plans, making the website and network the most secure.
Backups
Kinsta also offers daily backups of your website, allowing you to not worry about any loss of the data on your website. However, if a user insists, they even offer an add-on for hourly backups of the website. You also have the choice to manually back your website if necessary.
However, depending upon the hosting plan, Backup retention varies, from 14 days of retention for basic plans, to 30 days in case of advanced plans.
Customer Support
Kinsta is one of the top hosting providers that truly delivers the 24/7/365 promise of providing customer support. They help customers all day, every day, and also resolve queries over Support tickets.
Kinsta also has an extensive knowledge base that contains useful tutorials and guides to resolve the most common of queries. And one thing that stands out is how Kinsta provides multi-language customer support.
Kinsta Pros:
Scalable hosting plans
Multi-language customer support
Kinsta Cons:
Best suited for:
Business websites
Beginner websites who prioritize security
Kinsta Reviews:
If you want to hear it from the other users of Kinsta, check out their reviews here.
Quick Summary
And with that, we have looked at the 7 Best WordPress Hosting Providers operating in India. Here is a quick summary to provide you with a bird's eye view.
So, Which Hosting is best for WordPress?
So, these are the Best WordPress Hosting Providers in India as of 2022. Though there are hundreds of hosting providers in the market, these stand out because of the features and services they offer. We recommend you go through the comparison again and make a sound decision all by yourself for your website.
However, if you need some assistance, here is our expert choice,
We recommend WebSpaceKit to be the Best WordPress hosting provider over the other popular ones. Let us explain why.
In this era of heavy competition over website traffic, we believe website speed is crucial to determine whether a visitor visits your site or your competitor's. That's one of the reasons we believe WebSpaceKit will be the best choice, considering it's the Fastest WordPress hosting provider in India.
But we have other hosting providers like Cloudways, Kinsta that excel in website speed too. You may ask, what makes WebSpaceKit different?
That's where their affordable pricing comes in matching their amazing features. So, with super-fast website loading time, and budget-friendly hosting plans, we believe WebSpaceKit is the best WordPress hosting in India.
In case you have a website and are not content with your current hosting provider, you can choose one of these hosting providers to migrate your website. To help you with that, we have a video tutorial on How to Migrate your website to a new hosting provider.
And for more such video tutorials on hosting providers, and website creation in general, subscribe to our YouTube channel.
Frequently Asked Questions (FAQs)
Which is the best hosting for WordPress in India?
After analysing the top WordPress hosting companies in India across various factors like Performance, Security, etc., we believe WebSpaceKit is the best hosting for WordPress in India.
WebSpaceKit provides super-fast website loading time, at an affordable price range, thus making it the best WordPress hosting in India.
Does my WordPress hosting server location matter?
YES! Hosting server locations matter and they impact the website speed. That is why some of the prominent hosting providers in the global markets fail to make an impact in the Indian market.
And that's the same reason why WebSpaceKit, with its servers in India and Singapore, is growing to be the favorite among the Indian crowd with its super-fast websites.
What is Managed WordPress hosting?
Managed WordPress hosting is a type of WordPress-specific hosting where the hosting provider takes care of managing, updating, securing, and even speeding up your WordPress website.
Though managed WordPress hosting may seem a bit pricey, it is worth the price considering how much weight it takes off your shoulders.
Is WordPress hosting free?
WordPress at its core is free and open-source. However, in order to create a WordPress website, you need to purchase a domain and WordPress hosting from a hosting provider.
WordPress hosting providers provide multiple plans at varied prices, and it is advisable to go with the one that fulfills your needs at an affordable price.
Which is the cheapest WordPress hosting?
Cheapest doesn't always translate to quality WordPress hosting. So, it is recommended you choose a WordPress hosting provider that has enough features for the price you pay. And among the WordPress hosting providers, Hostinger is known to be budget-friendly for beginners.
Is Wix better than WordPress?
We can't say that. Both website builders, Wix and WordPress are unique in their own ways, and, at the end of the day, a responsive website is the goal.
Wix is comparatively new and has grown into a full-fledged website builder over time. Whereas, WordPress with its years of experience has built a fool-proof platform for content management and website creation.
If you are curious to learn more about the differences, we have a separate article for WordPress vs Wix.