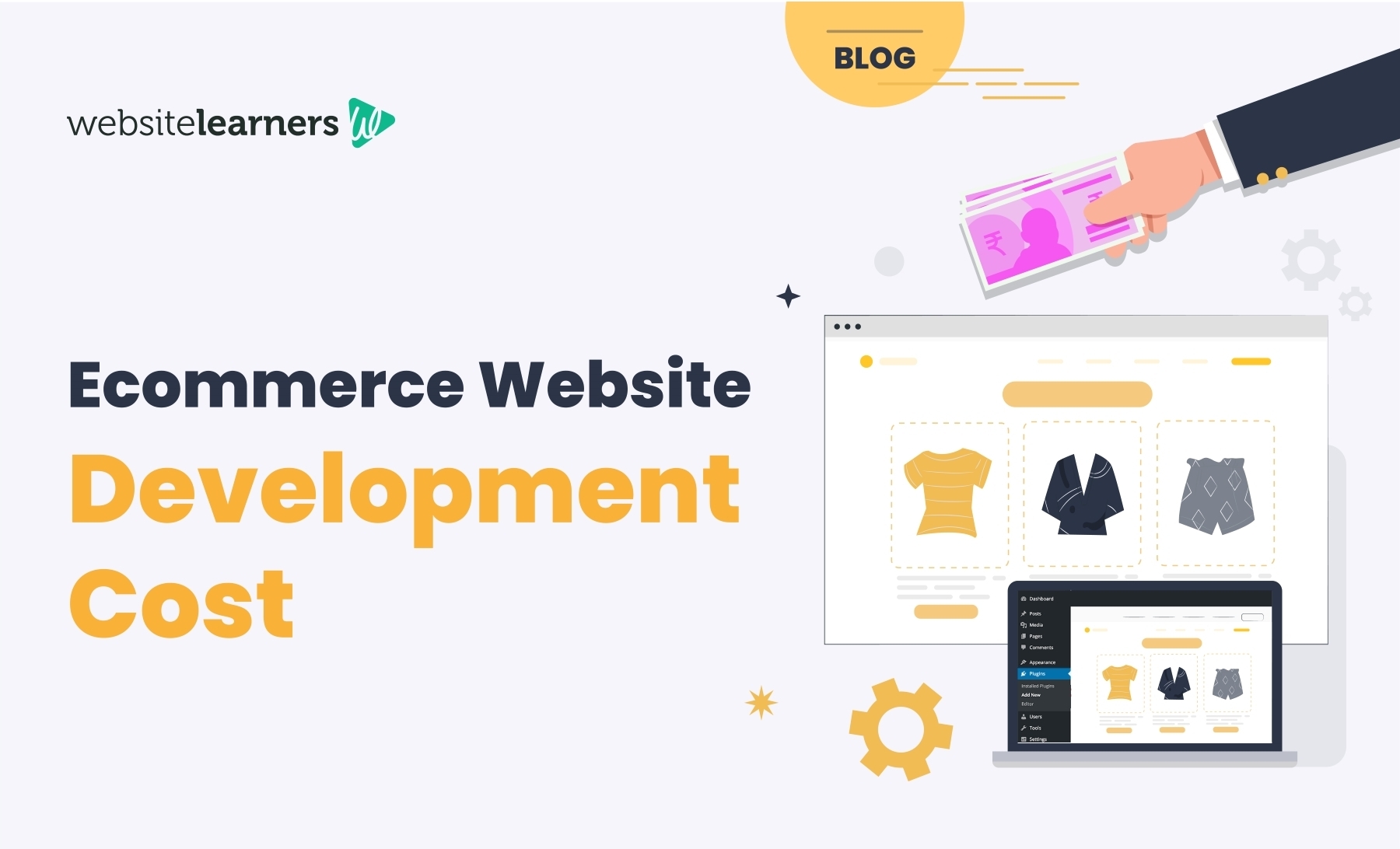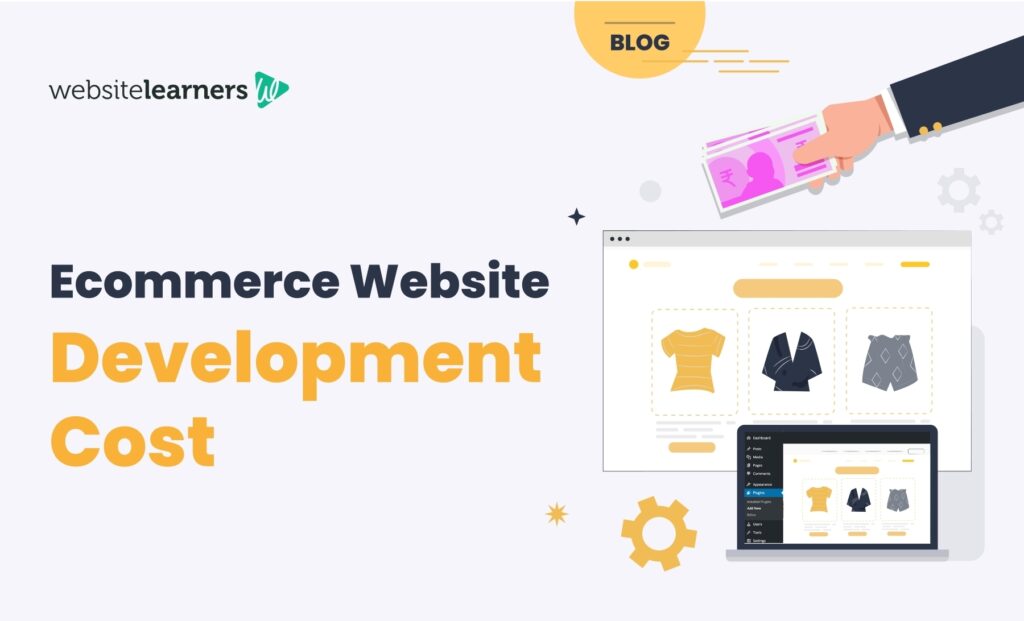 Do you have a physical store that sells products and is looking to transition online?
or
Do you plan to start your own eCommerce business?
And you want to know how much it costs to develop an eCommerce website?
Well, you are in the right place.
In recent years, eCommerce websites have enjoyed a massive boost, allowing consumers to shop from anywhere, anytime. As more businesses are switching to online platforms, more consumers are going online to buy everything from groceries to luxury items and online sales keep growing steadily every year.
Amazon has the most significant share of the market, followed by other eCommerce sites such as Flipkart, and Myntra among many others. As Statistical estimates, there will be about 2.14 billion global buyers online by 2022.
The Indian eCommerce market is expected to grow to $111.4 billion by 2025, up from $46.2 billion in 2020.
With the trend of consumers buying online increasing each day through multiple devices, there is no better time to start an eCommerce business than now.
This blog will cover everything you need to know about an Ecommerce Website's development costs. And before we start, let's quickly see what an eCommerce website is.
What is an eCommerce website?
"A website is no more a choice, but it has become a necessity in today's digital world"
"eCommerce" is selling goods or services on the internet, and like a traditional retail store, an eCommerce website allows customers and businesses to buy/sell physical goods, services, and digital products. A business can process orders, accept payments, manage shipping and logistics, and provide customer service through an eCommerce website.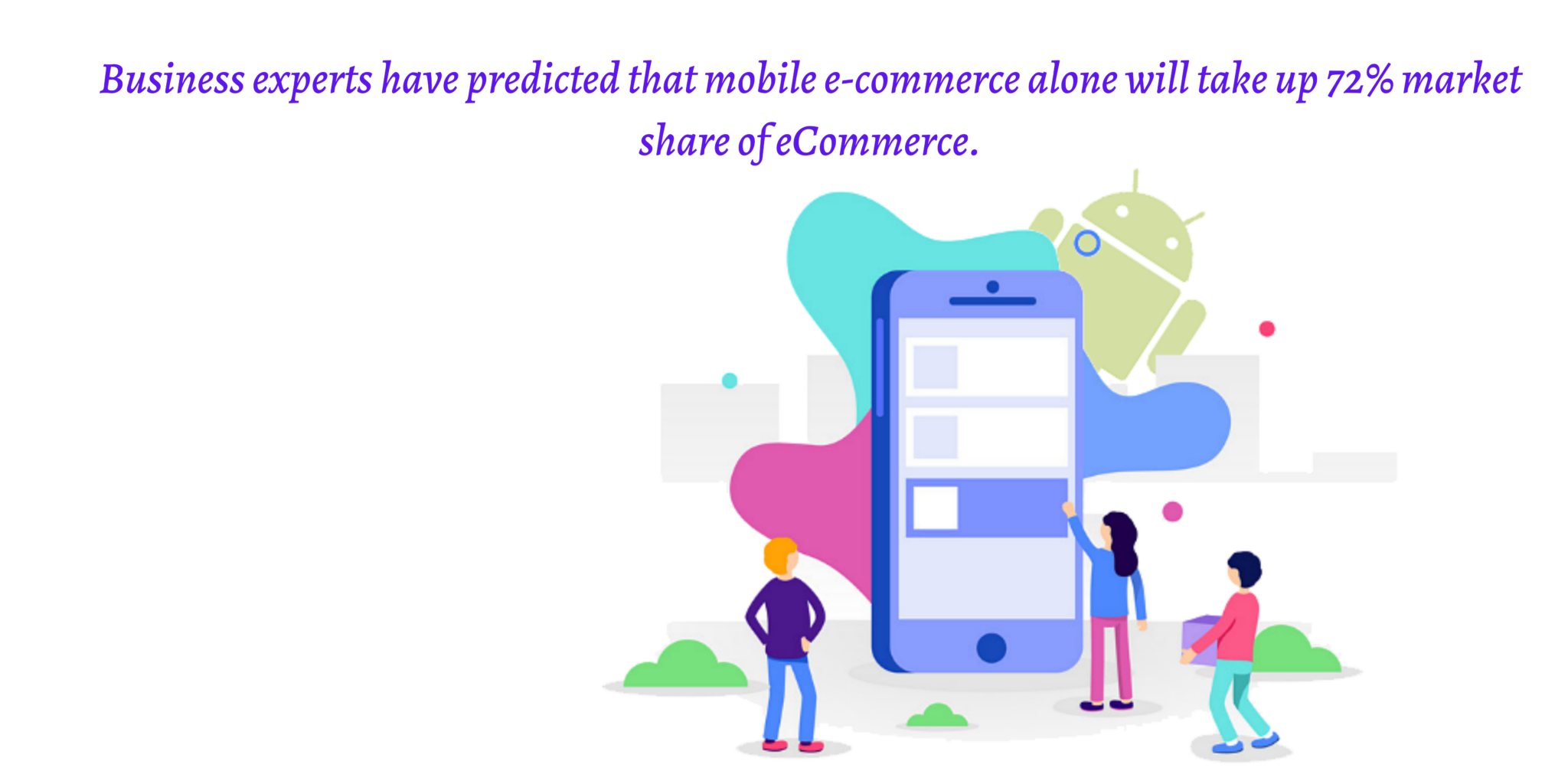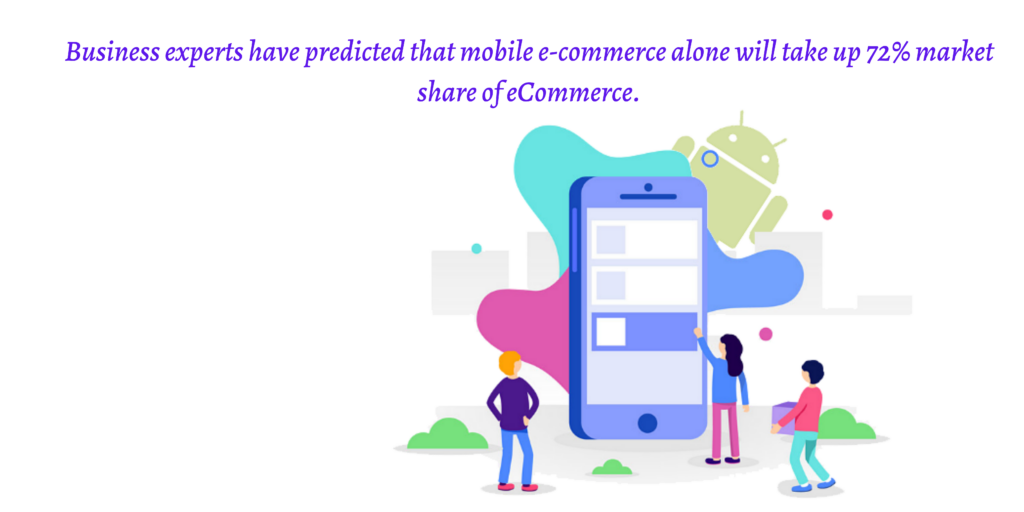 Let's now look at the different types of eCommerce business models.
Business-to-consumer (B2C): One of the most common models, where one can sell/ exchange goods or services between a business and a consumer. It is like you buying a T-shirt from your favorite online shop.
Business-to-business(B2B): is the practice where you can sell/exchange goods or services between two businesses. For example, if you own a company that sells T-shirts, you might want to buy those shirts from an online wholesaler.
Consumer-to-business (C2B): consumers can offer businesses goods or services. For example, Fiverr is one of the best examples of a successful C2B business where experts provide services across multiple domains.
Consumer-to-consumer (C2C): Consumers sell/trade their products or services to other consumers in this model. It is often known as a marketplace, and some examples include websites like Olx, Etsy, and eBay, where you as a consumer can buy/sell goods to other consumers.
Now you know what an eCommerce site is and its types. So next, let's see why you should have an eCommerce site and some of its advantages.
Why have an eCommerce site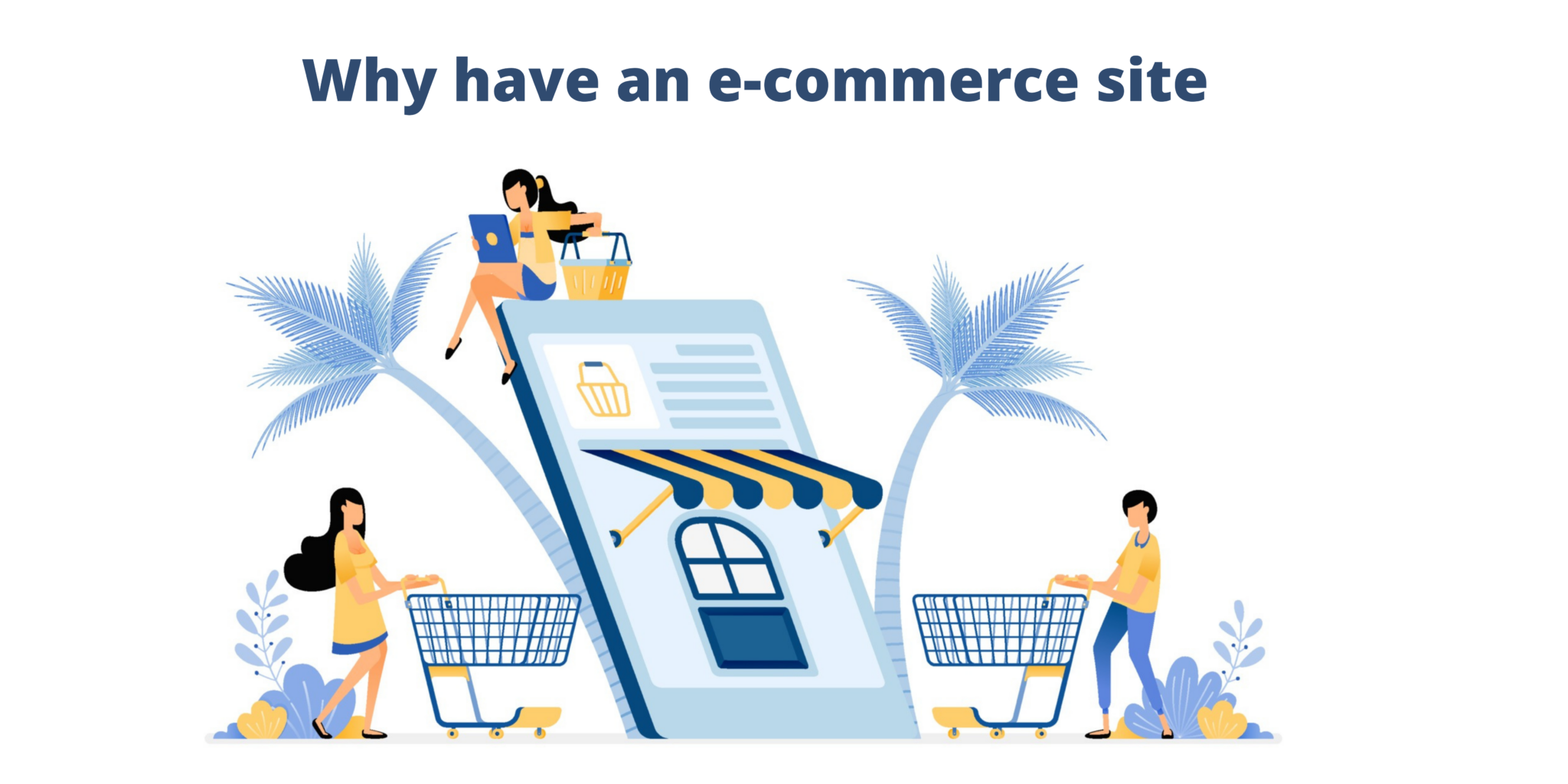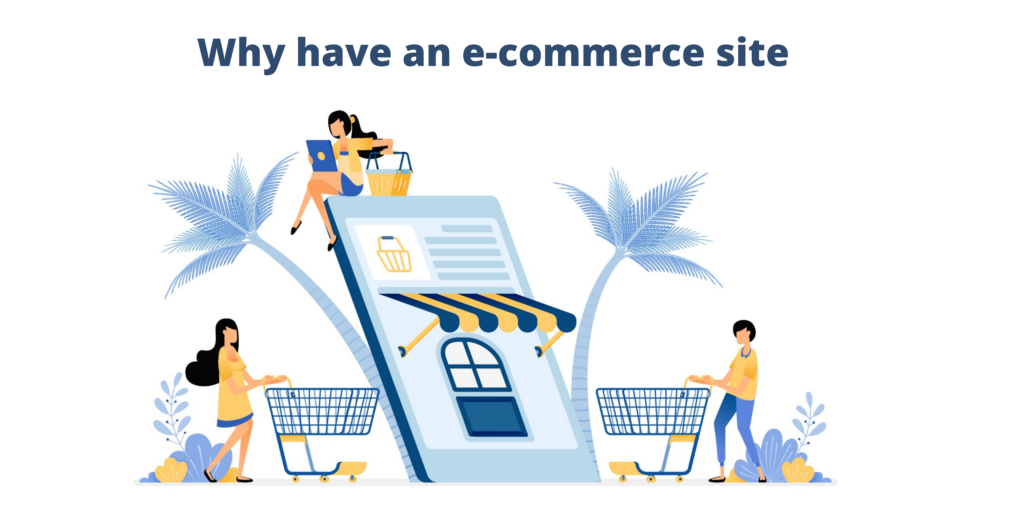 With today's world being convenience-focused, consumers want to shop from the comfort of their own homes. Anyone can benefit from an eCommerce website, whether you are a startup or a massive brand. If you are still in a dilemma about launching an eCommerce store, then look no further as we have some reasons for why eCommerce is important and how you can benefit from moving online.
Increase your reach and attract new customers: An ideal way to take your business further is by having a website. Once you have your eCommerce website up and running, you can reach out to offer your products and services to customers worldwide, regardless of the distance and time zone.
Increase your sales and get more revenue: Increased reach means more traffic, and this, in turn, can increase sales and help you generate more revenue. In addition to your physical store, your website can get you more sales online due to convenience and everything available in just a few clicks.
Scale your website quickly: As your business grows, you can increase your product range and target audience. With an eCommerce site, you can scale your business online by adding more product lines, payment options, and shipping without worrying about moving locations to larger premises like you would with a physical store or expansion.
Lower setup cost and running costs in the long run: The price of setting up an eCommerce website is much lower than that of an offline business, and the whole sales process can be automated online. Therefore, you can save money on staff, wages, and other business costs such as electricity, rent, etc. Furthermore, you can save money; you save here to develop your eCommerce site and product range further.
Gives you more marketing opportunities: Your website is one of the best marketing tools that you have. With the help of easy-to-use marketing techniques, you have more chances of your website being found on search engines.
You can also include pay-per-click advertising, social media, and email marketing, which consist of links that potential customers can use to sign-up to visit your website and buy products/ services.
Okay. So now that you have made up your mind to start an eCommerce website. Before we start looking at development costs, let us first look at some features you need to have on your eCommerce website and how they affect costs.
Features you need to have in an eCommerce Website.
The following core features can help your website grow and succeed.
Having user-friendly navigation: If users cannot find what they want quickly on your website, they are unlikely to stick around for long and make a purchase. Therefore, navigation on your website should be easy-to-use and intuitive. In addition, a clear menu allows users to browse through different product categories.
Mobile-friendly layout: More than 70% of traffic on your website comes from mobile devices, and 60% of consumers are more likely to buy from a mobile-friendly site. This means having a mobile-friendly eCommerce website can increase your traffic and conversions.
In addition, having a responsive web design can adjust to the screen when someone views them making your site look great on laptops, PC, tablets, and smartphones.
Easy to use cart and checkout features: To encourage conversion, having an easy-to-use cart and checkout buttons at prominent places on your site is a must. Once a user clicks on their cart, it should easily show them all the relevant details such as the product's name, price, and quantity. They should also be able to remove or change products directly from the cart or save their cart to come back to buy later.
Multiple security features: Since you will be handling a lot of critical user information such as credit/debit card numbers, emails, etc., the security of your website and user information must be given utmost importance.
You must protect customer information and implement sophisticated security features like an SSL certificate-which helps establish a secure connection between your user and website, system-generated code sent via email or text along with username/ passwords, using a firewall that permits only authorized traffic and block malicious traffic, etc.
Advanced payment options: Online transactions are an integral part of an eCommerce website. Having multiple payment options widens the chances of conversion and drives in more sales. In addition to major credit/debit cards, consider accepting payments such as UPI, PayPal, Apple Pay, etc. Display icons of accepted methods on your site so customers know in advance what they can use to buy your products.

Things to consider before starting an eCommerce Website
You have made up your mind to build an eCommerce website and are excited about starting your store online. Here are some things you need to consider before you begin building your eCommerce website.
Initial Research and Niche Selection
Research the actual needs in the market and determine what products/services you wish to sell online. If you already own a physical store, you can begin with those products. Or if you plan to be an online entity, select a few products/services based on your specific niche and start with a handful of them. You can add more products to your eCommerce website with time.
Competitors and target audience research
Research your competition to understand who you are against and how you can differentiate your business? A survey may be highly beneficial to know market realities and, based on it, can formulate your business strategy for business processes, marketing/selling, and financial planning.
You need to check for the pricing of your products/services based on the investment and ongoing expenditure such as eCommerce site development cost, site maintenance, and profit to sustain further business growth. Then, update the prices as per need and provide the best pricing for sustained growth.
Website development budget
To build an eCommerce website, you need a strong understanding of branding, web design, and customer psychology. You get endless business opportunities every day once you have a professional store online customized to suit your business needs and goals.
You can design the website independently or hire a team with the right expertise and skill. We will be exploring the website development costs in detail in later sections of the post.
Marketing ideas and strategies
You have an online store with good products, and the next step is making it visible. Every business wants to increase traffic and conversions and make its brand visible to all. In this age of competition, you can apply the possible marketing techniques and tweaks you know in cost-effective ways. You can try out marketing techniques such as Social Media Promotions, Influencer Marketing, Running Offers, SEO, Ads & Brand Promotions, etc.
Support/Maintenance/Upgrades
To build a good rapport and efficient branding for your website, you must provide excellent support to your audience, maintain your website & update your products/services regularly.
In addition, the right provider can provide regular maintenance contracts, software updates, products, and technology updates, thus upping your online game and winning the battle of online business.
When you plan to build your eCommerce store, you need to consider future growth and scale plans. As your store grows and attracts more visitors, it will become more profitable and fruitful. Have a scalability plan in place as your business and website traffic grows. For example, you might want to upgrade your servers to accommodate increasing web traffic.
How much does it cost to develop and maintain an eCommerce Website?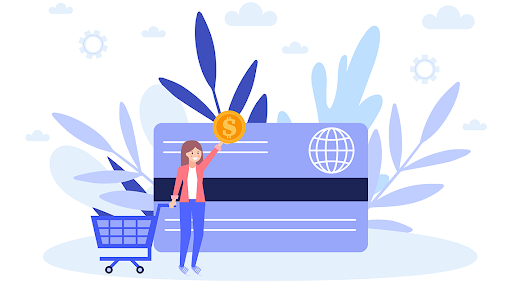 There are three ways of creating an eCommerce website,
Develop a site from scratch by yourself
Hire an agency to develop it for you
Hire a freelancer to develop a website
Each of these ways comes with its own set of costs, advantages, disadvantages, etc.
First, let us see the approximate cost breakdown of an eCommerce website from design, development to maintenance depending on the path you choose.
For a more in-depth explanation of the costs, keep reading!
ECOMMERCE WEBSITE COST FACTOR

AVERAGE PRICE

Pages on your website

₹70,000 – ₹2,00,000

Website Design*

*(for a detailed breakdown based on various ways, refer next table)

₹50,000 – ₹2,00,000

Ecommerce functionality

₹70,000- ₹4,00,000

Database integration

₹20,000 – ₹1,00,000

Ecommerce search engine optimization (SEO)

₹20,000- ₹50,000

Website content

₹1000-₹10,000

Domain name

₹87 onwards

Hosting

₹199-₹1699 per month

Website maintenance

₹5000 onwards

Types of an E-commerce website

Built Using themes & plugins

Custom build

₹35,000 onwards

₹70,000 onwards

Payment Integration Costs

₹2000-₹70,000
The above are tentative prices and may change based on your requirement and choice.
The following table are the costs of Web design in various ways.
| | |
| --- | --- |
| ECOMMERCE WEBSITE DESIGN | AVERAGE PRICE |
| Self | ₹50,000 – ₹70,000 |
| Freelance web designer | ₹60,000 – ₹1,50,000 |
| Agency | ₹70,000- ₹2,00,000 |
Why choose WordPress over custom-built platforms
Now that you have decided to build an eCommerce website, it is time to choose a platform. This is a fundamental part of your business' success and growth. Again, there are plenty of platforms to choose from such as Shopify, Magento, Wix, etc. but the easiest and quickest website building platform is by using WordPress.
As per statistics 43% of the websites on the internet are built with WordPress.
This is why WordPress is our Number 1 recommendation for building an eCommerce website.
WordPress is a content management system that you can use to easily create a stunning website by using drag and drop without writing a single line of code.
Did you know there are over 1.7 billion websites in the world?
And 43% of that is over 731 million. Now, if 731 million websites are created with WordPress, that's enough reason to trust & choose WordPress to build our website.
Coming to the look of your website, WordPress comes with plenty of free and premium themes that you can choose from and which can change the overall look of your website. A premium website theme can cost you anywhere between ₹4000 and ₹8000.
Suppose you want to add more functionalities to your website, such as live chat, payment gateway, etc.. In that case, you can install plugins and enjoy the functionality on your site, ensuring a hassle-free shopping experience. Most of the features may be free or cost you money to set it up and can begin anywhere from ₹2000 to ₹8000.
For example, the costs associated with processing payments on your website and a payment processor may charge a small transaction fee for their services which may vary as per the provider. A UPI integration can cost you around ₹3000 – ₹5000.
Moving On!
First, let us see various factors/elements involved in eCommerce website development and how they affect the costs of your eCommerce Website
Elements/Factors involved in eCommerce website development & their impact on costs:
Website domain and hosting
Design & Theme Cost
Website Content
Functionality & Plugins or Extensions
Maintenance Cost
Website domain and hosting
The Domain is the name of your website, and the Hosting is the place where all your website, product, and user details are stored. Having a memorable name for your eCommerce website goes a long way in establishing you as a brand.
A domain name can cost you from ₹87 and ₹784 per year, and a hosting plan can cost ₹199 to ₹1699 per month. If you buy the domain and hosting for a longer period, it may cost you lesser, and you can also set up your domain to automatically renew. You may see a price difference for different providers as they offer additional features and support for your site, while some may only offer server space.
You can check out this blog on the best web hosting platforms for e-commerce websites in India for more information on hosting.
Design and Theme cost
Now that you have an eCommerce site hosted on a domain, you need a layout to make your website look nice. By giving your website a clean and user-focused look, you can attract more customers.
Having a catchy and presentable logo can grab more eyeballs. Therefore choosing a professional to do it for you is the wise option. However, a professional logo can cost you anywhere from ₹2000 to ₹10,000.
Choose a good website layout that looks appealing, add beautiful shots of your products, a catchy logo, readable content, and design the website's overall flow.
Making a responsive eCommerce website would cost at least ₹35,000 and can go upto a few lakhs as per requirement. You can either choose to use a free existing template or a premium one. A paid theme may cost anywhere between ₹1000 to ₹8000.
Website copy
Content and copywriting are essential for any website. Luckily, you do not need many text-only pages for an eCommerce website, unlike other websites.
Since it's an eCommerce website, proper & well-written product descriptions can go a long way in influencing the user's decision to buy. Good product pictures and well-written product details can help you rank better on search engines.
Hiring an experienced content/copywriter to curate your website content in India would cost about ₹2000 to ₹4000 per page.
Website Functionality
No matter what eCommerce platform you choose, it is certain that you will want to add some more functionality to help you to promote and grow your business, like adding a live chat feature, payments etc. As for the website's design, you can normally use premade solutions rather than coding from scratch. Each functionality you add may cost you money as long as you want to use them. Setting up your desired eCommerce features on a website would start from ₹20,000 onwards.
Maintenance Cost
Once you design an eCommerce website, you need to maintain it operating at the perfect level. Maintenance includes fixing bugs that might pop up, introducing new elements to a specific part of the site, and keeping your website in working condition.
It may cost a little more, but it is a matter of time before you experience issues with your website without maintenance. Regardless of what happens, you want to make sure you have someone in the corner who will keep your site working day after day, right?
In India, website maintenance costs start from ₹5000 per month.
Cost of building an eCommerce website on your own
On average, developing an eCommerce site will cost you around ₹50,000 – ₹70,000, and the cost may vary a lot based on your requirements. You may also need to bear ongoing costs, such as website domain and hosting, maintenance, theme/plugin costs, etc, which are charged monthly or yearly.
If you prefer building the website yourself, we recommend you check our video on How to Make an E-Commerce Website (2022) Online Shopping Store.
Websites face a few hurdles now and then, and you may encounter issues when you build your own eCommerce website. As your eCommerce website grows, It is essential to keep it up to date and glitch-free.
You may face improper integrations, inappropriate use of plugins and extensions, poor product placements, etc. Also, you need to learn the skills needed to make an eCommerce website taking away much of your time and effort. You may succeed in building an eCommerce website but may fail to add features and fix any broken or non-working parts of your website.
Instead of all this, you can hire someone to do the work for you, take all your website worries away, and concentrate on your business.
How much does it cost if you hire a freelancer?
Like an agency, it depends on the features, domain/hosting, and the number of working hours. For a small scale eCommerce website, a fresher may charge ₹20,000 to ₹1 Lakh excluding SEO and database management, and an experienced developer may charge anywhere between ₹35,000 to ₹2 Lakh. As the number of users increases, the management of databases also gets increased. To handle SEO and databases, they may charge a monthly fee of ₹15,000 to ₹50,000.
There is no right/wrong path with its own pros and cons depending on your business, budget, and the kind of support you are expecting. But however, an agency does have its benefits and now let's see some advantages of hiring an agency once a freelancer.
Let us now see how much it costs to hire an Agency/Website Development Company to develop an eCommerce website.
How much does it cost if you hire an Agency/Website Development Company?
A high-performing eCommerce website requires continual upkeep, and an agency does not just build the website but continuously improves on them. They monitor your website regularly and if something goes wrong, they catch it before it becomes a problem.
Their main goal is not just to act on defense but also to prevent problems from happening, optimize and continuously improve your site. The cost of developing your eCommerce website through this method depends on the following factors.
The agency and work staff
How many products does your store have?
The services you need from them
Any unique functionalities that you will need
If you want to have a standard eCommerce website, it will cost anywhere between ₹35,000 – ₹80,000 with minimal features and it will cost from ₹70,000 – ₹4,00,000 for a premium website's design and functionality. If you need a custom-coded eCommerce website, the prices vary from ₹80,000 to ₹4,00,000.
Advantages of hiring an agency over freelancers:
Agencies are more accountable and more likely to show in-depth involvement in the project aligned with your vision. As a result, they can guarantee you an efficient and independent workflow.
Agencies offer ongoing support and services to clients, which is unlikely in the case of a freelancer.
It is easier to examine their track record as they have an extensive portfolio of client projects, reviews, case studies, and testimonials.
They can tackle any project challenge without outsourcing as they have a team of professionals with various skill sets.
They can deliver high-quality services in the given time frame, and quickly respond to all your queries.
They can build your website quickly and efficiently in case of emergencies by adding resources to handle and meet tight deadlines.
An ability to adapt to new technology is critical for the success of your eCommerce website and gives you a competitive advantage. An agency can do just that for you as implementing new technology is easier and more efficient.
Why hire an agency to build your Ecommerce Site
You don't just want a website that works, but one that converts and keeps users interested and continues to draw them back.
It saves you time & lets you work on your business
One of the main benefits of hiring an agency is that they provide you with the expertise and experience to help you develop the eCommerce website you need. With a team of dedicated and skilled professionals in every aspect, they take care of any potential issues that may arise so that you can run your business without having to worry about the technicalities of your website.
Access to advanced tools and the latest technologies
Most businesses find it challenging to invest in training and implementing new tools for the in-house team. One cannot determine the success rate too with such strategies. With a full-service agency, you will have first-hand access to new products in the market.
They know what works and what doesn't for your website and can offer tailor-made recommendations that meet your business requirements. This can, in turn, save time and boost your marketing productivity.
Saves you from losing money & sales
When you hire an agency, it might seem like it's expensive initially, but creating a website by yourself comes at a huge risk. If anything goes wrong, we are at a chance of losing money & sales. But when we hire professionals to build the site for us, they will take care of everything and we can be at peace knowing our site is running smoothly and our customers will have a hassle-free experience.
Unique Content and Search Engine Optimization
93% of online experiences begin with a search, and 47% of the people click on the first few listings. So, therefore, to thrive in the virtual world, it is essential to be FOUND! When you have an e-commerce site, agencies help you improvise its authority and increase the ranking in search results for visibility.
For this, they help you have a good Search Engine Optimization (SEO) strategy to rank in search results; and you can receive more organic results this way. You can read this article to learn more about SEO and Why SEO is Important for Your Business.
24*7 Maintenance and support
Once you have your e-commerce website up and running, it needs constant maintenance and support to ensure the smooth running of your business. When you work with an agency, they provide regular maintenance and support by performing comprehensive checks and keeping security intact so that your customer data is safe. They charge a price every month to maintain the website and the web development costs.
Easy Migration in case of need
As your business grows, you might find out that your e-commerce platform does not meet your growing needs or experience critical issues. If migration can be a solution, depending on the e-commerce setup, an agency can help you with the migration without any data loss.
Choosing an agency that has prior experience with e-commerce websites can be beneficial. Ask them for case studies or examples of how they could achieve them and their accomplishments if any.
A proactive team and a good website with appropriate content can help grow your business and if you are ready to team up with a digital agency and are not sure how to vet one, the following can help. Also, doing some preliminary research can help you choose a good agency and sign a contract with them.
Questions to ask before choosing an agency
As a business, you need a solid marketing strategy to thrive. Organizations that partner with an agency get wider expertise to broaden their reach. When you partner with a reputable agency, they know the ins and outs of every platform and manage everything for you, keeping the specifics in mind. Like any selection process, choosing an agency can be made easier with the right questions, and here they go.
Do they have any experience building e-commerce websites or in the industry? Can they show you some of their work for the same?
Do they have any case studies of any other clients in the same industry that prove the website's effectiveness?
What is the timeframe for each stage of the project?
Is there an ongoing price to maintain the website, and how much?
Where will the website be hosted? And if you want to change that, what is the process?
What web standards and practices do they use to ensure that your e-commerce website is responsive on different devices and is optimized for search?
Will they follow your brand guidelines (if any) & create a custom website based on your needs?
What measures will they take to maintain your website's security and protect it from spam?
The most important takeaway from all of this is taking some time and researching thoroughly before choosing an agency. You'll want to find one that not only has good experience and a proven track record but is also pleasant to work with and can align with your brand vision.
If you're wondering where to find an agency like that to build your website, you've got nothing to worry about, as we have covered that up as well.
Why Hire Website Learners to develop your website
Want to build a website that actually helps you grow your business?
With 7+ years of experience, we at Website Learners are here to take over the reins from you and create a professional e-commerce website that is fast, search engine friendly, and turns your visitors into customers.
Our design and development team has developed and deployed plenty of projects all over the globe. Whether your main goal is to generate sales or new prospecting clients, we know exactly how to create a stunning website that does just that and does it well.
Optimized for growth: Your website is blazingly fast, SEO-optimized to help your business grow, get better rankings on search engines, and designed to maximize conversion rate.
Excellent technical foundation: Your website is built using WordPress, which is the leading website framework in the world and gives us a solid foundation to build the perfect website for your business
Top-notch development process: We believe in constant communication, sticking to our deadlines, and providing excellent post-delivery support.
Schedule your free exploratory Zoom meeting with one of our experts. We'll discuss your requirements, business goals, and our vision for your project. Or if you prefer, you can use the button below to send us some details about your project, and we'll get back to you with a quote.
Get in touch with us today and see the Website Learner's difference!
Costs of developing a website with Website Learners
The prices may vary based on the requirements. A simple e-commerce website starts from ₹35,000* and it can go up to 6 Lakhs* too based on the need. If you wish to have a custom-coded e-commerce website, the price starts at ₹4 Lakhs* for a simple site and can go up to ₹15 Lakhs* based on the requirements.
Based on your website requirements and customizations, the prices mentioned above can increase or decrease.
You can schedule a call with us to know more and work with us.
(*Exclusive of GST. Prices may vary as per requirements)
Conclusion
The number of people turning to online shopping will only rise as time goes by. So take your business online with a cutting-edge e-commerce website, reach more audiences worldwide and stand out from your competitors.

With so many options to create an e-commerce website, there is no one-size that fits all solution that works perfectly for everyone.
When you begin creating your own website, it can be quite tempting to figure it out as you go but the reality is, it can be far from ideal. Your site needs to be professional, should be easy to navigate, rank well in search results, and ultimately get results.
And that is why we're here to help you find success on the web.
So, if you are ready to build a stunning E-commerce website that drives traffic & sales, hire Website Learners and let them take care of your website.

As a team with years of expertise and experience, we can work with you to create the e-commerce website of your dreams!

If you have more questions about eCommerce website design or want to know how much your eCommerce website will cost to build, Reach out to us today.

If you found this article helpful or have any doubts, please let us know in the comments!