Hey! Are you looking for a captivating brand name for your business?
But, every time you think of a unique name and search it on Google, you find that someone already owns it!
We know you're searching for a brand name that is memorable, captivating, and something that sparks conversations.
But you don't know how and where to find it?
Did you know 4.35 Million new brands came out in 2020, and according to US Business Formation Statistics (BFS), it's rising every year?
With these many brands coming up every year, it's so complex to find a great brand name.
An attractive brand name makes it incredibly easy for your customers to recall you when they need your product or service.
It will also help you to stand out from your competitors in the market.
So, in this article, we're going to show a straightforward process to choose a brand name for your business that's unique and memorable as well.
And trust me, if you stick to the end and follow the process, you will have a brand name in your hands before you close this tab.
But before moving ahead, let's first understand what a Brand Name is and why it matters.
What is a Brand Name & why does it matter?
A brand name is a unique name to identify a business. It can be a new word like Google, a combination of words like Facebook, or just the name of a company owner like Ferrari for Enzo Ferrari.
A unique name distinguishes your brand from thousands of other similar products or services. Just like there are many search engines, the word 'Google' sticks in the minds of its users.
Before we move on to creating your brand name, let's first understand the traits of a great brand name and how you can use them to create a "Great Brand Name for your Business".
4 Traits of a Great Brand Name
Your brand name is the first thing your audience interacts with, so understand how people portray your brand name.
For example, when you hear the word apple, it gives a classy, trustworthy, and healthy feeling. So the term 'apple' has positive connotations attached to it.
One of my favourites is the 'winter sun.' This name gives a cheery, warm, and peaceful feeling by beating your emotional cords when you hear it.
Thus, you must ensure that your brand name has positive connotations and no negative strings attached.
There are a few traits of a brand name with positive connotations, and here we're discussing some important ones that impact your audience.
1. Meaningful
Do you know the meaning of the word Nike?
It means the Greek goddess of victory. Thus, it gives the athletes a feeling of being unbeatable and making it meaningful for those who want to be the best in sports.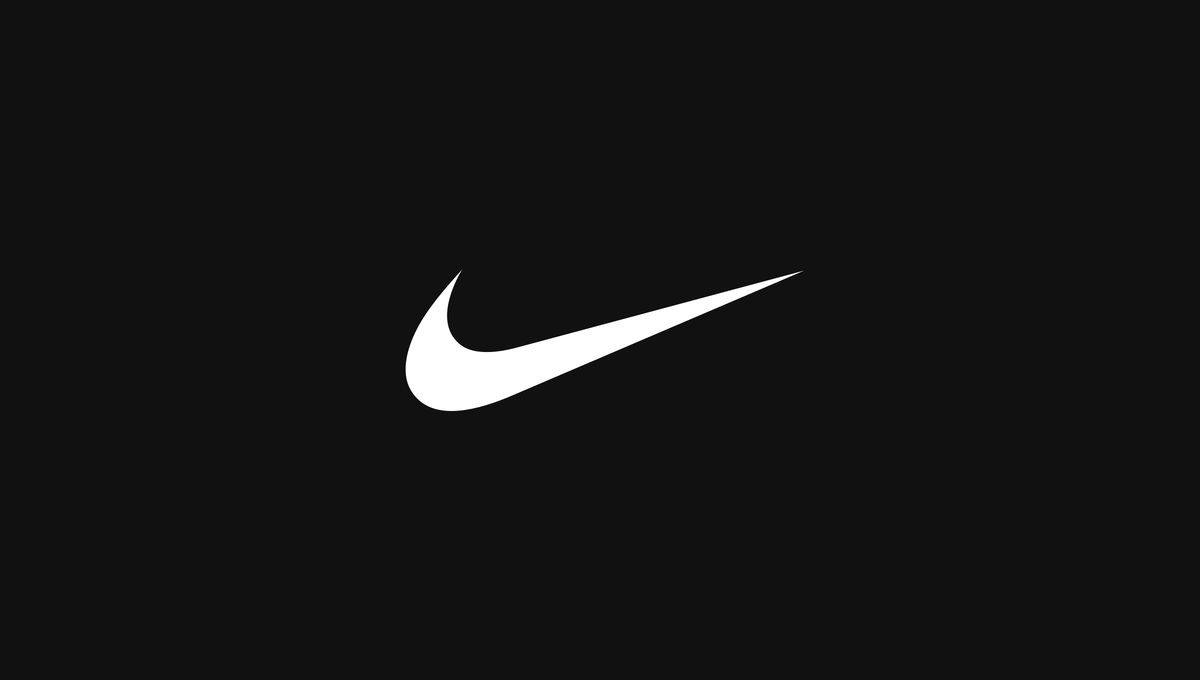 A meaningful brand name creates a clear picture of your business in the minds of your customers.
For example, Google's payment app 'Tez' (Renamed as Google Pay) conveys a meaning that it will make the payment process fast. Which it does, and thus makes it meaningful to the people who read it.
2. Memorable
If your business name has routinely used words, then it makes your brand name memorable.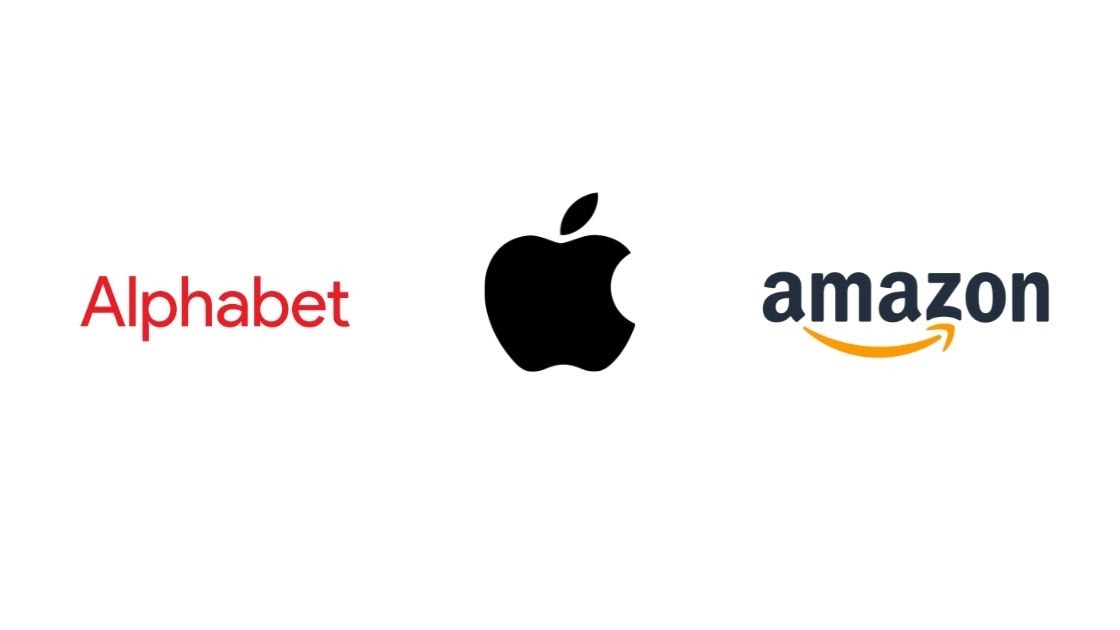 Brands like Amazon, Apple, or the alphabet are memorable as they're simple words that people use frequently.
It can also be a simple word that people can remember, like Ferrari. The key here is to find a word that's short and easy on memory.
3. Easy to Pronounce
Rhyming names like Coca-Cola or BlackBerry or simple names like Tesla or Apple fall into this category.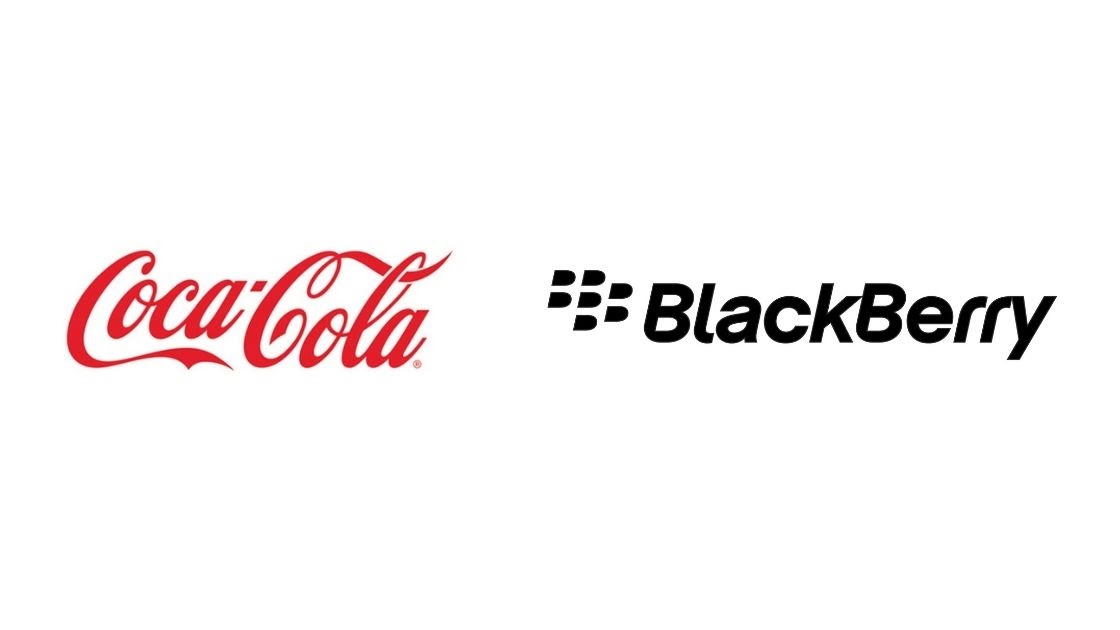 A complex name can make it painful for your customer to recall your brand. They may even misspell it while searching on Google, and if you're just starting your business, then Google will not show your brand at the top.
For example, the brand '1017 ALYX 9SM'…! Their website domain is alyxstudio.com. Now this name is so unparalleled that the customer will have to put in a lot of effort to remember it and it's not good for your business.
Though uniqueness also helps your customers remember your name, as we can see in the next section, it shouldn't come at the cost of simplicity.
4. Intriguing
A brand name that piques interest in the audience can also be a great choice. For instance – 72andSunny; the moment you hear it, you'll ask, 'what does that name mean?' And ta-da, it got your attention. By the way, I'm sure that some of you may be searching it on Google right now.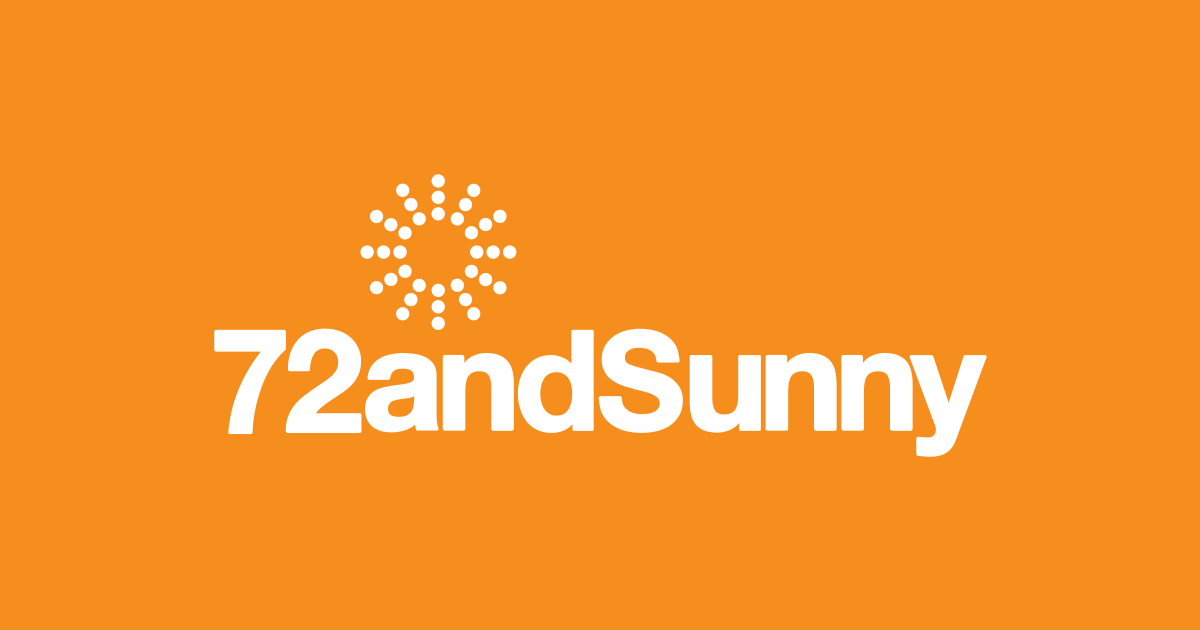 So now that you know the traits of a great brand name, it's time to understand the mistakes you shouldn't make when creating your brand name.
Mistakes to Avoid While Naming Your Brand
These are some mistakes that businesses make while naming their brand. Unfortunately, it's impossible to undo anything once the name is registered, so cross-check with these steps before finalizing your Brand name.
1. Too Generic
In other words, too generic means too simple or the dictionary words. I know you are thinking that earlier I told you to use simple words. But now, I am asking you not to do this.
Well, it's the world of the Internet, and before picking up a brand name, you have to ensure that a domain name with the same name is also available.
The generic names have already been acquired, so you'll have to struggle to find a good domain name. And there's a greater possibility that either your name is acquired by someone else or it's too expensive for you to afford.

For instance, look at the price of this domain 'homedecor.com.' The first round of your funding will go only in buying the domain name.

2. Descriptive
Your brand name is not required to be too long or descriptive. You don't need to tell the whole story from your brand name.
Long domain names are difficult to remember, and your audience may misspell the word if it's too long.
The ideal length for a name is 6 to 14 characters. Anything longer than that wouldn't be good for your domain name.
3. Controversial
Sometimes, we choose a good word that matches the criteria mentioned in the previous section but means something controversial in other languages.
It can have wrong implications for our business and may cause many backlashes if it somehow hurts people's sentiments.
To check it, just search the name on Google, and if it means something wrong, it will come out in the search results.
Now, when you know what elements you've to include in your Brand name and which ones to avoid, it's time to see how you can quickly come up with that brand name using a Tool.
How to Choose a Brand Name for your Business
Now to get our brand name, we're going to do three steps:
Bonus: Use the 'Brain Dump' and 'Steal the Tail' processes to find your brand name.
1. Choose a Keyword Related to Your Business
A keyword is a word that describes your business. So, if a company is related to fashion, then you can choose fashion as your keyword. In my case, let's say my business is related to shoes, then I'll choose 'shoes' as my keyword.
Once you have chosen your keyword, go to Namelix. This site will help us to find a brand name for our business.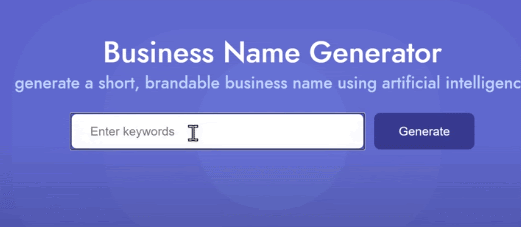 Once you are done, it's time to go to step 2, selecting the type of brand name of your choice.
2. Select the Features of Your Brand
Enter the keyword that we selected earlier in the section shown below.

As my business is related to shoes, I will enter 'shoes' here. You can also enter multiple keywords related to your business.
To do that, click 'generate,' and it will take you to this page.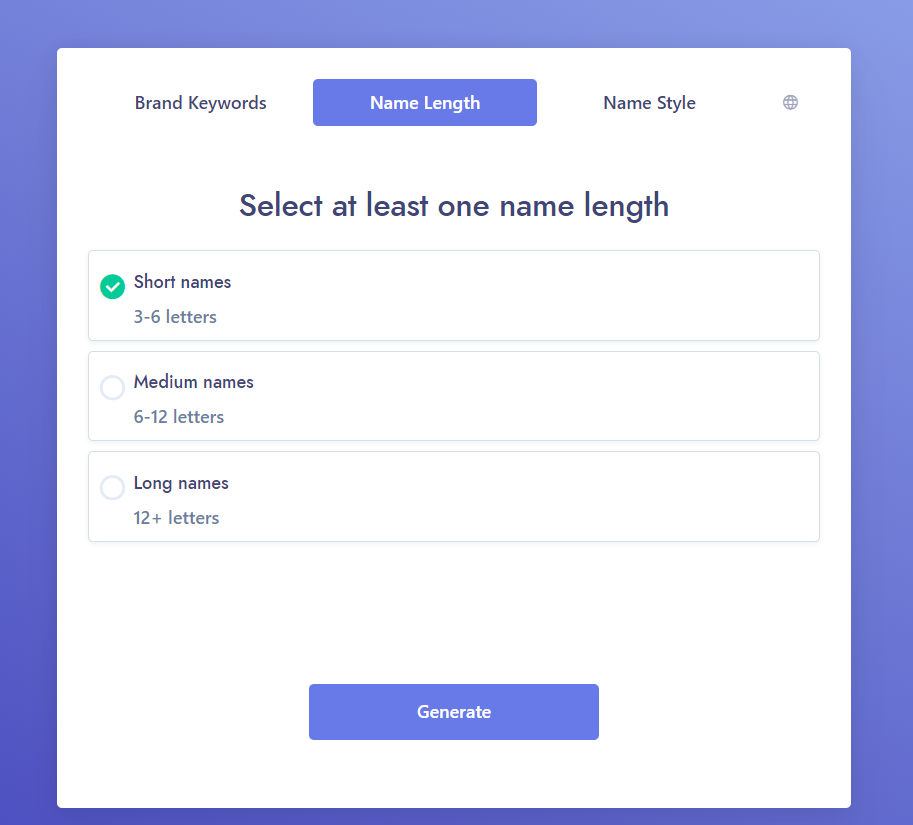 Now here, you need to select the length of your brand name. I am going to select 'short names' and click 'Next.'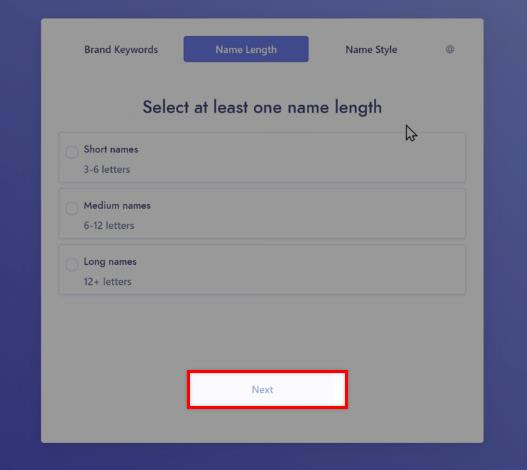 Now here you will get different styles for your brand name. You can select any style that you want.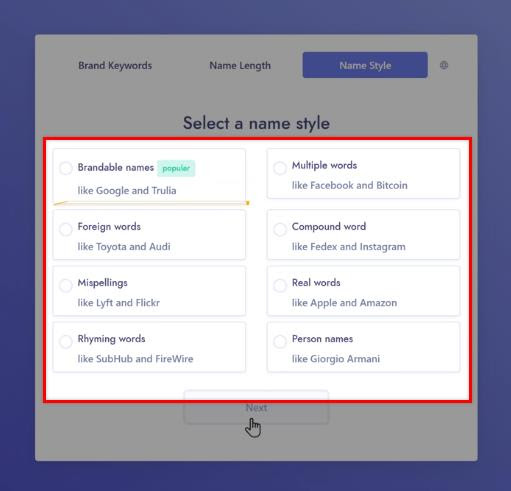 Once you have selected how you want your brand name to be, you can now go to the final step, which is to pick a brand name you like. So to choose your brand name, just click 'Generate.'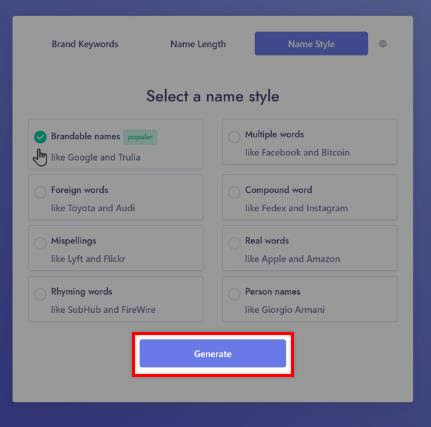 And here you can see, we have got lots of brand names related to the keywords we selected.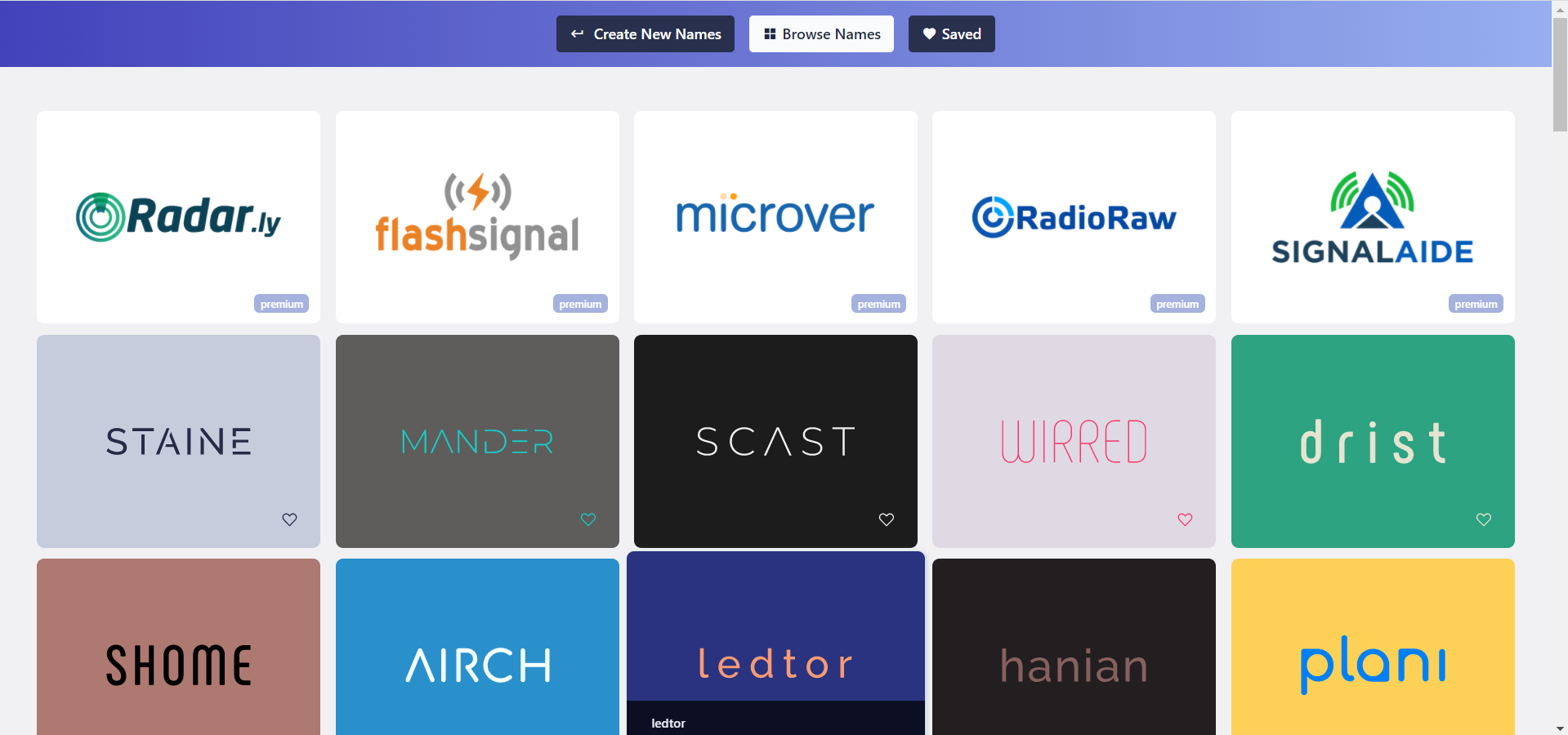 So now have a look at these names and pick a name you like. Now, if you don't find a name you want, just click on 'create new names.'

And then change the style of your brand name and then click 'generate.' Here, you will find new brand names with the style you selected. You can choose any name from here.
Now make sure you select a name that is easy to understand and pronounce so that people will retain your brand name quickly. Now I'm going to choose 'goshoes.'
So, this is how you can choose a brand name for our business. Once you've chosen a name for your business, it's a good idea to check if a domain name is available with this brand name.
3. Get Your Domain Name before anyone else
It will ensure that your company website will have the same name as your brand. This is important for two reasons:
People assume in hindsight that if your business name is Website Learners, then your website will be "websitelearners.com".
If someone else owns your domain name, it's challenging to find a good alternative for your business name.
So to see if a domain is still available under this name, go to WebSpaceKit.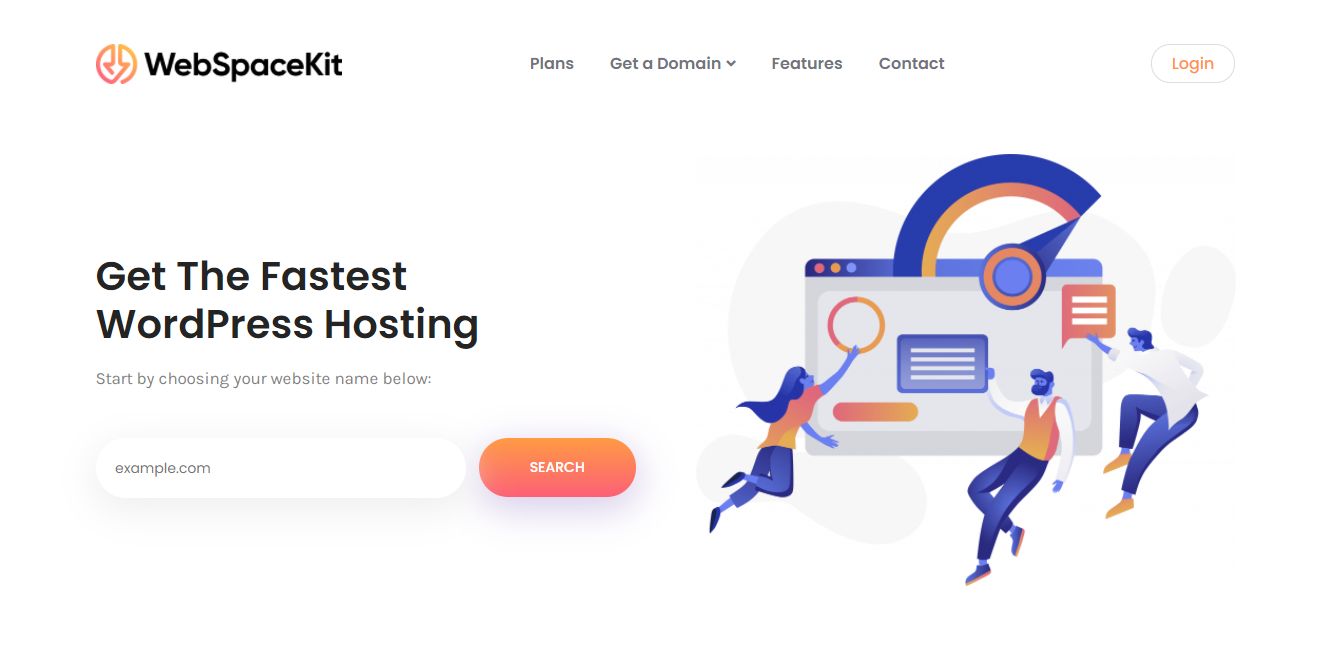 This is a place where you can buy your domain name.
Now here, enter your brand name plus the extension of your choice. It can be .com/.org or .net or any extension of your choice. I want my domain extension to be in .com. I will enter 'goshoes.com' and click 'search.'

Now, as you can see, this domain name is available. Make sure you buy it immediately before someone purchases it.
Now to purchase this domain name from WebSpaceKit, just click 'purchase.'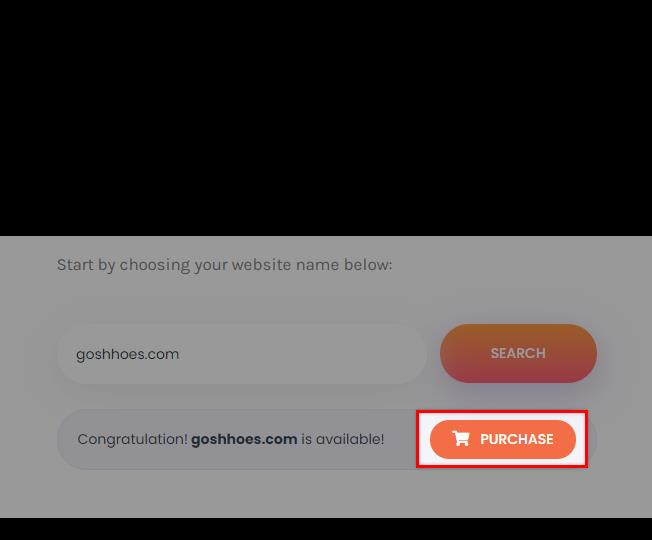 And it will take you to this page. Now, as you can see, our domain is still available,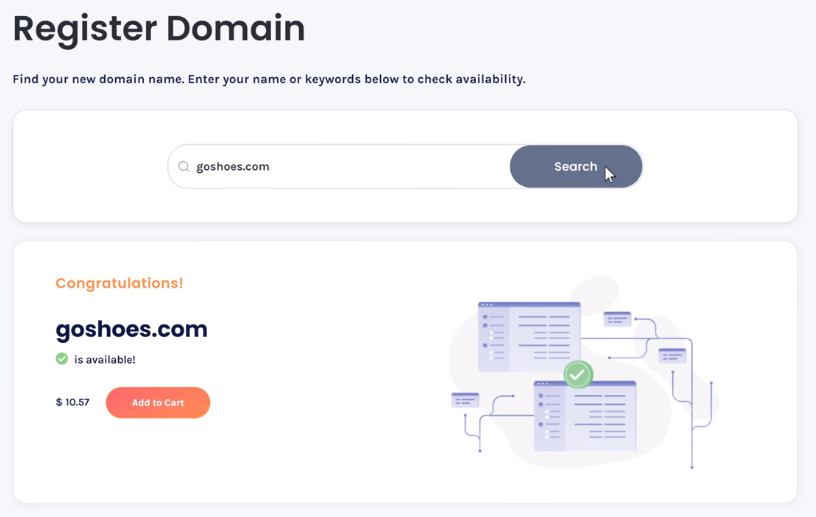 So let's click 'Add to cart.'

And click 'Continue.'

If you want to build a website for your business, you can choose a hosting plan as well from WebSpaceKit.
Hosting is where all the website files like images, text, etc., are stored in the servers. And hosting is crucial for the website to be LIVE and accessible to everyone on the internet.
So for a website to function, we need hosting, which will give the space for storing our website files.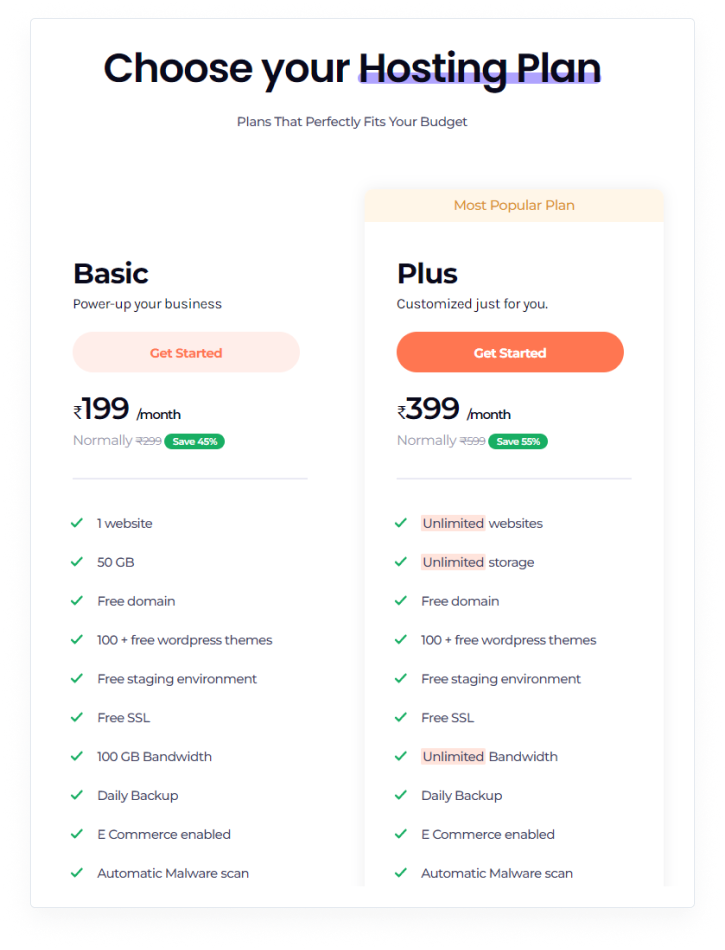 If you're going to buy only a domain, you can click 'skip.' It will take you to this checkout page, where you can enter these details and then purchase your domain name.
So, this is how you can choose a brand name for your business.
Bonus: Still Doubtful?
Are you still doubtful about the name that you've chosen? Not satisfied with the results that you've got?
There are two bonus methods that you can use to choose a brand name:
Brain Dumping
Steal the Tail
1. Brain Dumping
We will now use a manual brainstorming process to come up with a name. I call it the 'brain dumping process.'
In this process, all you've to do is just write down all the words that come to your customers' minds when they think of you.
Or, if you're a new company, think of the words that create positive connotations in the minds of your audience.
How do they feel?
What do they think?
What change do you bring to the life of your customers?
Just write down all the words in an excel sheet, search for their synonyms, and write them in front of each word.
Now try out the following techniques:
Try a combination of these words with your Business Keyword and see which one is delightful to hear.
Misspell these words and see if there's a unique word, e.g., Future as Futur. It also makes your name memorable.
If you're still not happy with the results, then don't worry, this last method will yield the best results.
2. Steal The Tail
This name is intuitive, isn't it, 'Steal The Tail.' So which tail are we stealing? Let's see.
Do you remember we chose a Keyword in the first step related to your business? For example, I want to start an Art School, so our keyword will be 'Art.'
Now go to NameLix and enter the keyword and repeat the process that you did in step two.
I know you're thinking, why am I repeating the same process, but here's the twist.
Let's start stealing the 'Tail'!
To steal the tail, just take the suffix from all the words and add them to your keyword one by one. So, for example, if the word is Strix, our name will become 'Artix.'
In the same way, repeat as many times as you want, and don't stop until you find a perfect name for your brand. I found a few examples: Artix, Arty, Artor (Artist + Creator), Artip (Art + Tip), Artine, Artle, etc.
These names are short, memorable, unique, and positive. Have a look at this Graphic to understand how I came up with these names.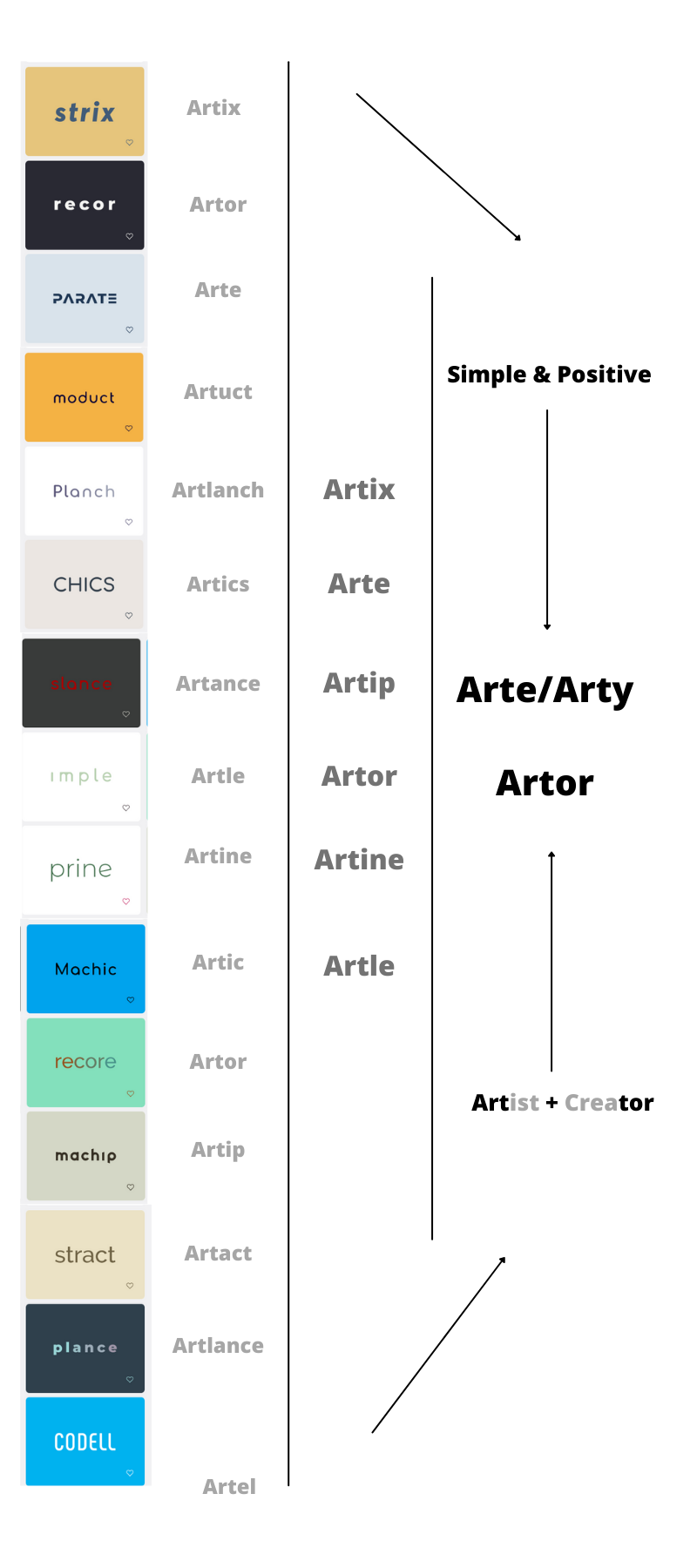 Come up with five to ten perfect names and brainstorm with your team to find two or three best ideas that are appealing.
But before going ahead, search these names on Google and check whether they already exist or not. As most of the time, they are already acquired. So, for example, we cannot take Artix because there's already a product with this name.
And once you're confirmed, go to your social media or WhatsApp status and ask people which name they like.
Take it as a rule of thumb, when in doubt – 'Ask people.'
But in the end, do what you and your team like.
Now, once your team has approved your brand name, just go to WebSpaceKit and buy your domain name before anyone else does it.
After Buying the Domain, if you want to create a Website for your business, you can watch this video tutorial.
Conclusion
Coming up with a great brand name is a tough job nowadays, and with new brands emerging every day, it's getting even more complex.
But, with the three-step formulae, you will find a great brand name for your business and immediately secure your domain name.
Start by selecting one or two keywords associated with your brand and insert them in the Namelix tool.
Now try out different versions by selecting the type of the brand name and noting them in an excel sheet.
Once you're confirmed with the name, buy the domain name before anyone else does it.
We also discussed a bonus technique if you want to dive deeper into the name-finding process.
Now that you know this method, I'm sure you can easily find your brand name in a few hours because some brands take years of brainstorming to find a brand name.
After finding the right brand name, it is crucial you also get a brand logo that goes along with it. A logo plays an important role in the branding of your company and helps clients recognize your business. If you are not sure how to create one, check out our video on How to Make a Logo in 5 Minutes or less.
After creating a brand name and logo, if you plan to set up a website for your business, consider checking out our WordPress courses that will make it a breeze to design your brand website.